Sports Bites
Cycling, Football, Golf, Pencak Silat, Wushu
Cycling: Cycosports Jungle Cross 4 Championships, OCBC cycle National championships 2021 urban MTB XCT-ITT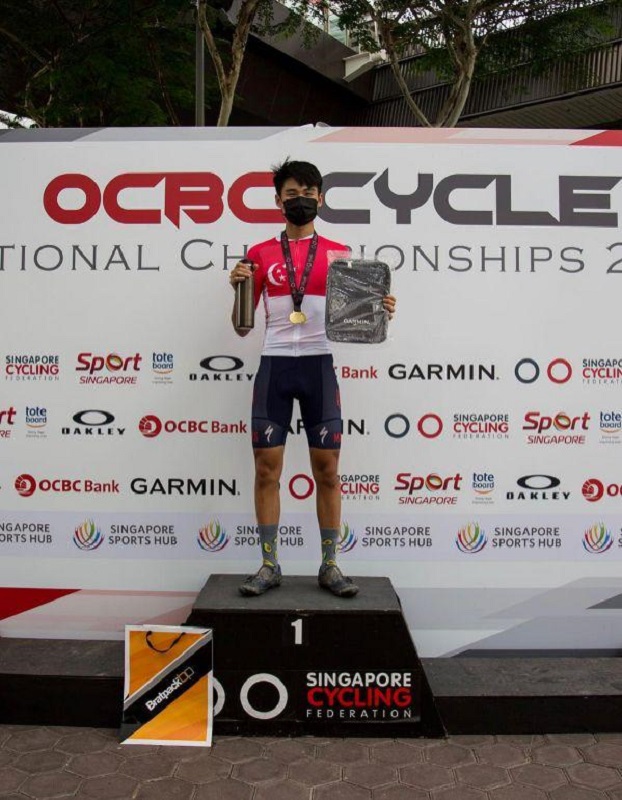 First-year Diploma in Business cyclist, Nicholas Chong Xin Le, has won two gold medals at cycling tournaments consecutively. After a series of silver and bronze medals this year, Nicholas finally cycled his way to a gold medal at the Cycosports Jungle Cross 4 Championships on 4 November 2021. As a road cyclist racing in the Gravel Bike category, Nicholas took longer route options that were available as opposed to the shorter but obstacle-laden routes that are tackled mainly by the BMX and mountain bikers. His brute strength and leg power brought him across the finish line ahead of the field of 20 riders in this Open Category.
His winning streak continued at the OCBC cycle National championships 2021 urban MTB XCT-ITT on 27 November where Nicholas emerged as the top cyclist in the youth category. He competed in the Gravel Cross (GX) segment and finished with a time of 3.03 minutes for the 1km race.
Football: ASEAN Football Federation (AFF) Suzuki Cup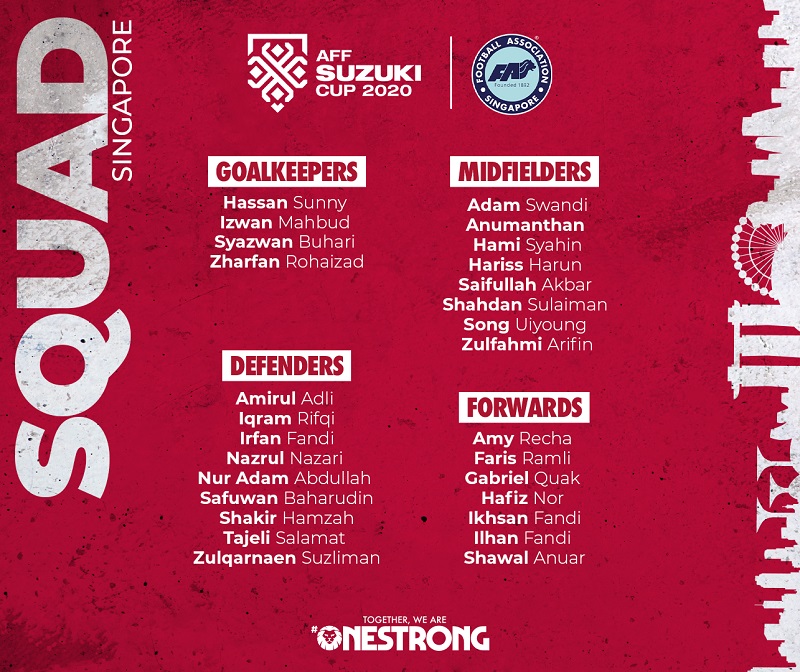 For the ASEAN Football Federation (AFF) Suzuki Cup which kicks off on 5 December 2021, 11 past and present student-athletes have been called up to be part of the 28-member national squad. Team Singapore Sports School makes up nearly forty percent of the national squad, making it the School's biggest representation in a senior national squad since our inception.
For five of them, current student-athlete Nur Adam Abdullah (DSPM Year 3) and past student-athletes Muhammad Hami Syahin Said, Muhammad Saifullah Mohammad Akbar, Muhammad Zharfan Rohaizad and Tajeli Salamat, this is their first appearance as part of the Singapore squad at Southeast Asia's flagship international tournament.
Past and Present Student-Athletes in National Team for AFF Suzuki Cup
Adam Swandi
Ikhsan Fandi Ahmad
Irfan Fandi Ahmad
Muhammad Amirul Adli Azmi
Muhammad Hami Syahin Said
Muhammad Safuwan Baharudin
Muhammad Saifullah Mohammad Akbar
Muhammad Syazwan Buhari
Muhammad Zharfan Rohaizad
Nur Adam Abdullah
Tajeli Salamat
Golf: Singapore Golf Junior Development Tour Series 8

Secondary 1 mid-streamer Chen Xingtong won Series 8 of the Singapore Junior Development Tour, held at the Laguna National Golf Resort Club. Her gross score of 232 was good enough to allow a 1-stroke margin over her closest rival. Her senior and teammate Denise Ng from Secondary 2 finished 3rd a further 4 strokes behind.
Pencak Silat: Rising to Greatness – The Beginning


After close to two years of competition hiatus, pencak silat exponents felt the adrenalin rush when competing at the Rising to Greatness – The Beginning, a competition held at Bedok Heartbeat from 20 to 28 November 2021. In total, our student-athletes were garlanded with 8 golds and 1 silver medal.
Abdul Raazaq Abdul Rashid (DSPM Year 3) did exceptionally well and walked away with the Best Athlete Award. Secondary 5 student-athlete Nadhrah Sahrin also had a noteworthy meet as she defeated a multiple SEA Games medallist in the final.
RESULTS
Gold Medals
Abdul Raazaq Abdul Rashid - Senior Male E
Aniq 'Asri Mohammad Yazid- Junior Male E
Mirza Sahrin - Junior Male J
Muhammad Naufal (Junior Male E)
Nadhrah Sahrin - Senior Female A
Nur Shaqira Sheik Alau'ddin - Junior Female H
Rifqah Mursyidah Mistam -Junior Female E
Siti Khadijah Mohamad Shahrem - Senior Female C
Silver Medal
Abdul Raaif Abdul Rashid - Junior Male A
Wushu: IWUF Wushu Taolu Virtual Competition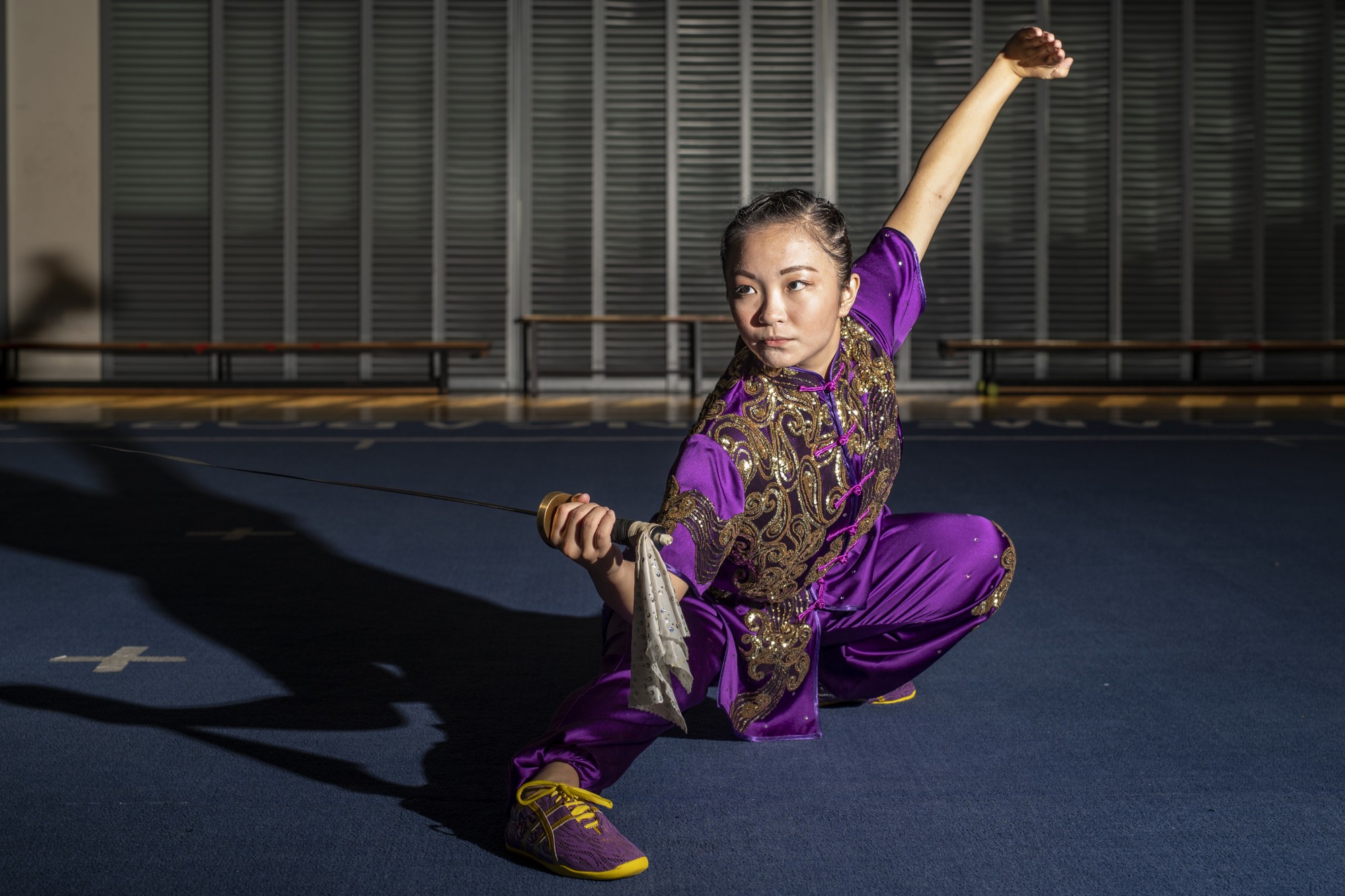 7 student-athletes and an alumnus competed in the first-ever International Wushu Federation's (IWUF) Wushu Taolu Virtual Competition, with almost all of them being awarded category prizes. Held from October to November, the 8 wushu exponents had the opportunity to demonstrate their martial arts techniques and abilities. They bagged eight 1st category prizes, five 2nd category prizes and a 3rd category prize.
Aimed at motivating athletes as the pandemic has impacted their training and their lives, the first virtual wushu competition attracted nearly 1,000 wushu athletes from 61 countries and regions. This makes it the largest international competition focussing on taolu event. Competitors used a customised app to submit one video recording of their performance.
RESULTS
Jolie Goh - 1/14 in Taijiquan B, 2/7 in Taijishan B
Chan Jun Kai - 3/10 in Taijiquan C, 3/11 in Taijijian C
Kassandra Ong Xue Ling - 1/17 in Daoshu B, 15/25 in Changquan B
Zoe Tan Ziyi - 3/7 in Daoshu B, 4/25 in Changquan B
Kimberly Ong Li Ling (Extended IBDP) - 4/17 in Daoshu C, 11/59 in Changquan C
Angus Quek Ngee Herng - 5/84 in Changquan C, 6/22 in Gunshu C
Jowen Lim Si Wei - 21/84 in Changquan C, 5/22 in Gunshu C
Continue Reading →