Cảm ơn (Thank You), SEA Games Athletes!
31st SEA Games 2021 in Hanoi, Vietnam (12 to 23 May 2022)


Photo: Sports Singapore and Singapore National Olympic Council
17 days. 59 medals. 88 past and present student-athletes. That sums up Singapore Sports School's performance at the 31st SEA Games in Hanoi, Vietnam. The 31st SEA Games showcased record-breaking feats, fighting spirit, and perseverance to defy the odds. Team Sports School, which includes past and present student-athletes, performed well and showed their strong will to make Singapore proud, and they did.
They contributed 16 gold, 17 silver and 26 bronze medals to Team Singapore's 164-medal count. This is Team Sports School's highest representation in the Singapore contingent and its best contribution to the overall medal tally yet.
Even with a significantly smaller contingent of 424 athletes, the 31st SEA Games marked Singapore's third-best showing at an away SEA Games.
First-Timers Shine Bright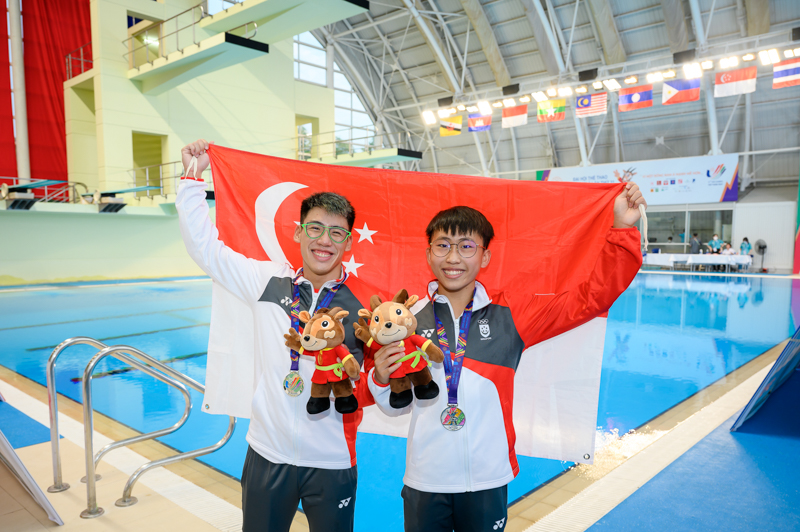 This SEA Games featured a large number of debutants, and they significantly contributed to the medal haul. 34 were from Team Sports School, of which 23 debutants medalled in their first Games. It is encouraging that most of the debutants are current student-athletes or recent graduates, proving that Sports School's support for high-performing athletes, even during the pandemic, has contributed to nurturing a new generation of young rising stars.
Some of the first-timers who stood out at this SEA Games are wushu exponent Kimberly Ong Li Ling (Alumna, Class of 2021), who was crowned champion in the combined Gunshu and Daoshu event; Max Lee Shen Oon (Secondary 3), the youngest competitor in Team Singapore, who won a silver in the 10m Synchronised Platform event (with Olympian Jonathan Chan); fencers Cheung Kemei (IBDP Year 5) and Chan Phu Xien (Alumnus, Class of 2021) who won an individual bronze and team gold each; paddler Zhou Jingyi (Alumna, Class of 2021), a double silver medallist who graduated at the end of 2021 to pursue table tennis full-time; shooter Fernel Tan Qian Ni, who graduated from her Diploma in Business Studies course in May, before she won two medals for 10m Air Rifle Team events; and Reuben Rainer Lee Siong En (Extended Diploma in Business Studies) who returned with a bronze medal for the 4 by 400m relay event, and a national record in Men's 200m.
Historic Victory
The most decorated medallist from Team Sports School is Maximillian Ang Wei (Extended Diploma in Sport and Leisure Management). He had his first SEA Games experience in 2019 in the Philippines where he won a bronze medal and broke the National Record for 200m Breaststroke. Since his debut, Max continued to grow from strength to strength, and even during the pandemic, he bettered his own national record a few times.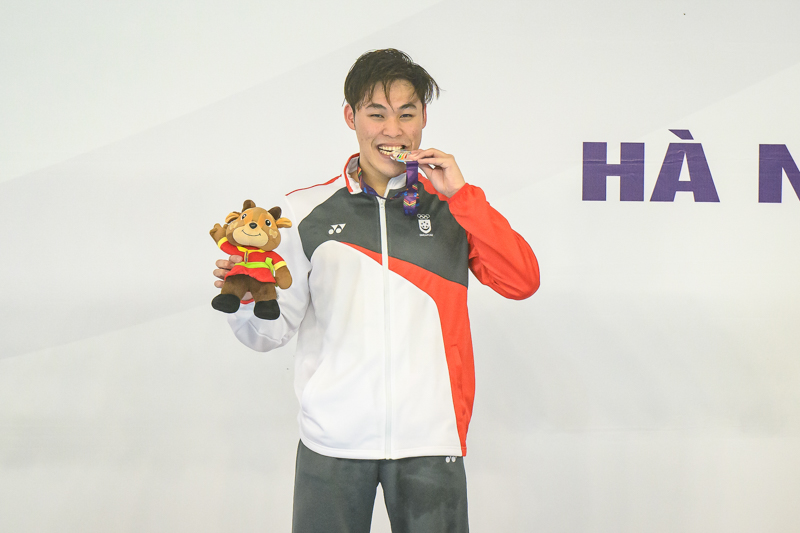 At the 31st SEA Games, Maximillian created history as he touched the wall first in 2:11.93 in his pet event, making him the first-ever Singaporean to win the 200m Breaststroke. He also smashed the SEA Games and national record with outstanding timing. He won another gold in the 4 by 100m medley relay together with teammates Joseph Schooling, Quah Zheng Wen and Jonathan Tan. Maximillian also brought home a silver and a new national record for 100m Breaststroke, and a bronze each for 50m Breaststroke and 200m Individual Medley. Maximillian also achieved two personal best timings at the Games.
Past and present student-athletes also made headlines for being part of some of the best moments in the Games. Alumna Shanti Veronica Periera ran to a gold-medal victory in the Women's 200m and set a new national record; Muhammad Iqbal Abdul Rahman won Singapore's first gold medal in Men's Tungal at his sixth SEA Games; and debutant Avvir Tham Pac Lun (Diploma in Business Studies, Year 2) started the momentum when he won Singapore's first medal – a silver for Men's 1m Springboard – at the SEA Games.
Giving A* Performances
The best-performing sports for Singapore at this edition of the Games are Bowling, Fencing, Pencak Silat, Swimming and Wushu. Team Sports School formed a sizeable proportion of the teams in some of these sports - Bowling (6 out of 8 members), Fencing (9 out of 24 members), Pencak Silat (9 out of 21 members) and Wushu (5 out of 8 members).
All of the medals won by the Wushu team were by the five past and present student-athletes. Besides Kimberly's gold medal, Zoe Tan Ziyi (Diploma in Business Studies, Year 1) clinched a silver, Jowen Lim Si Wen (alumnus) finished with 2 silvers and recent graduate Chan Jun Kai won a gold and silver. Similarly in bowling, 6 of its 7 medals were contributed by alumni from Sports School. More than half of the 15 medals won by the fencing team were contributed by past and present student-athletes. The fencing team's performance at this SEA Games is their best in history, placing them first among other countries.
A Celebration of Sporting Talents
While we celebrate medallists for their outstanding achievements, all 88 past and present student-athletes and the rest who qualified but could not compete should be lauded for being among the best in our nation to represent Singapore at the regional sporting event. They gained valuable experiences, unforgettable memories and the satisfaction that they had given their best for themselves, their coaches, and Singapore.
Cảm ơn (Thank You), SEA Games Athletes!
RESULTS
Gold
Aquatics (Swimming) Women's 4 X 100m Freestyle Relay – Amanda Lim Xiang Qi
Aquatics (Swimming) Men's 200m Breaststroke – Maximillian Ang Wei (New SEA Games Record, New National Record, Personal Best)
Aquatics (Swimming) Men's 4 X 100m Medley Relay – Maximillian Ang Wei
Athletics Women's 200m – Veronica Shanti Pereira (New National Record and Personal Best)
Bowling Women's Doubles – New Hui Fen
Bowling Women's Team – Bernice Lim Hui Ying, Daphne Tan Shi Jing, and New Hui Fen
Fencing Women's Team (Foil) – Cheung Kemei
Fencing Men's Team (Epee ) – Simon Lee Renjie and Si To Jian Tong
Fencing Men's Team (Foil) – Joel Chiu Ka Jyn and Matthew James Lim Quan Rong
Pencak Silat Women's Class E (65 - 70kg) – Tanding - Nurul Suhaila Mohamed Saiful
Pencak Silat Men's Tungal - Muhammad Iqbal Abdul Rahman
Pencak Silat Men's Class J (90 - 95kg) - Tanding – Sheik Farhan Sheik Alau'ddin
Table Tennis Mixed Doubles – Koen Pang Yew En and Wong Xin Ru
Table Tennis Men's Doubles – Clarence Chew Zhe Yu and Ethan Poh Shao Feng
Wushu Women's Daoshu + Gunshu – Kimberly Ong Li Ling
Wushu Men's Taijijian – Chan Jun Kai
Silver
Aquatics (Diving) Men's 1m Springboard – Avvir Tham Pac Lun
Aquatics (Diving) Men's 10m Sychronised Platform – Max Lee Shen Oon
Aquatics (Swimming) Men's 100m Breaststroke – Maximillian Ang Wei (New National Record and New Personal Best)
Aquatics (Swimming) Women's 50m Freestyle - Amanda Lim Xiang Qi
Athletics Women's 100m – Veronica Shanti Pereira
Badminton Men's Singles – Loh Kean Yew
Bowling Men's Doubles - Muhammad Jaris Goh Ali Akbar Goh and Timothy Theodore Tham Fu Rong
Fencing Women's Team (Sabre) - Lee Kar Moon and Nicole Wee Sher Tynn
Pencak Silat Men's Class F (70 - 75kg) – Tanding - Abdul Raazaq Abdul Rashid
Pencak Silat Men's Class G (75 - 80kg) – Tanding - Sheik Ferdous Sheik Alau'ddin
Shooting Mixed 10m Air Rifle Team – Fernel Tan Qian Ni
Table Tennis Women's Doubles – Zhou Jingyi
Table Tennis Women's Team - Goi Rui Xuan, Wong Xin Ru, Zhang Wanling, Zhou Jingyi
Table Tennis Mixed Doubles – Clarence Chew Zhe Yu
Wushu Women's Daoshu + Gunshu – Zoe Tan Ziyi
Wushu Men's Changquan – Jowen Lim Si Wei
Wushu Men's Daoshu + Gunshu – Jowen Lim Si Wei
Bronze
Aquatics (Diving) Women's 3m Springboard – Fong Kay Yian
Aquatics (Swimming) Men's 50m Breaststroke – Maximillian Ang Wei (New Personal Best)
Aquatics (Swimming) Men's 200m Individual Medley– Maximillian Ang Wei
Athletics Men's 4 X 400m Relay - Reuben Rainer Lee Siong En
Badminton Men's Singles – Jason Teh Jia Heng
Badminton Women's Doubles - Nur Insyirah Khan Abdul Hamid Khan and Bernice Lim Zhi Rui
Badminton Men's Doubles – Loh Kean Hean and Terry Hee Yong Kai
Badminton Women's Team – Bernice Lim Zhi Rui, Crystal Wong Jia Ying, Jaslyn Hooi Yue Yann, Megan Lee Xinyi, Nur Insyirah Khan Abdul Hamid Khan, Tan Wei Han, and Yeo Jia Min
Badminton Men's Team – Loh Kean Yew, Loh Kean Hean, Lim Shun Tian, Joel Koh Jia Wei, Junsuke Kubo, Terry Hee Yong Kai, Wesley Koh Eng Keat
Bowling Women's Singles – New Hui Fen
Bowling Men's Doubles – Darren Ong Wei Siong
Bowling Men's Team – Darren Ong Wei Siong, Muhammad Jaris Goh Ali Akbar Goh and Timothy Theodore Tham Fu Rong
Fencing Women's Individual (Foil) – Cheung Kemei
Fencing Men's Individual (Epee) – Simon Lee Renjie
Fencing Men's Individual (Sabre) – Chan Phu Xien
Fencing Men's Team (Sabre) – Chan Phu Xien and Dan Wei Zuo
Pencak Silat Women's Regu – Amirah Sahrin
Pencak Silat Women's Class F (70 - 75kg) – Tanding - Siti Khadijah Mohamad Shahrem
Gymnastics (Artistic) - Kaeson Lim Junyi and Mohammad Mikhail Haziq Mohammad Ghazali
Shooting Women's 50m Rifle 3 Positions - Martina Lindsay P Veloso
Shooting Women's 10m Air Rifle Team – Adele Tan Qian Xiu and Fernel Tan Qian Ni
Table Tennis Men's Singles - Clarence Chew Zhe Yu
Table Tennis Men's Doubles – Koen Pang Yew En
Table Tennis Men's Team – Clarence Chew Zhe Yu, Ethan Poh Shao Feng and Koen Pang Yew En
Taekwondo Men's Recognised Poomsae Team – Brandon Low Sze Sheng
Wushu Men's Taijiquan – Chan Jun Kai
Honourable Mentions
Athletics Men's 200m – Reuben Rainer Lee Siong En (New National Record and Personal Best)
Athletics Women's 100m Hurdles – Nur Izlyn Zaini (New National Record and Personal Best)
Aquatics (Fin Swimming) – Women's 800m Surface - Vanessa Ong (New National Record and Personal Best)
Aquatics (Fin Swimming) – Mixed 4 X 100m Relay Vanessa Ong and Jordan Ong Jun Han (New National Record)
Continue Reading →