Home
>
News and Publications
> Archive > MAY20 > First Batch Of Student-Athletes From Diploma In Business Studies Course Graduates
First Batch Of Student-Athletes From Diploma In Business Studies Course Graduates
Diploma in Business Studies (DBS) Class of 2020 Graduation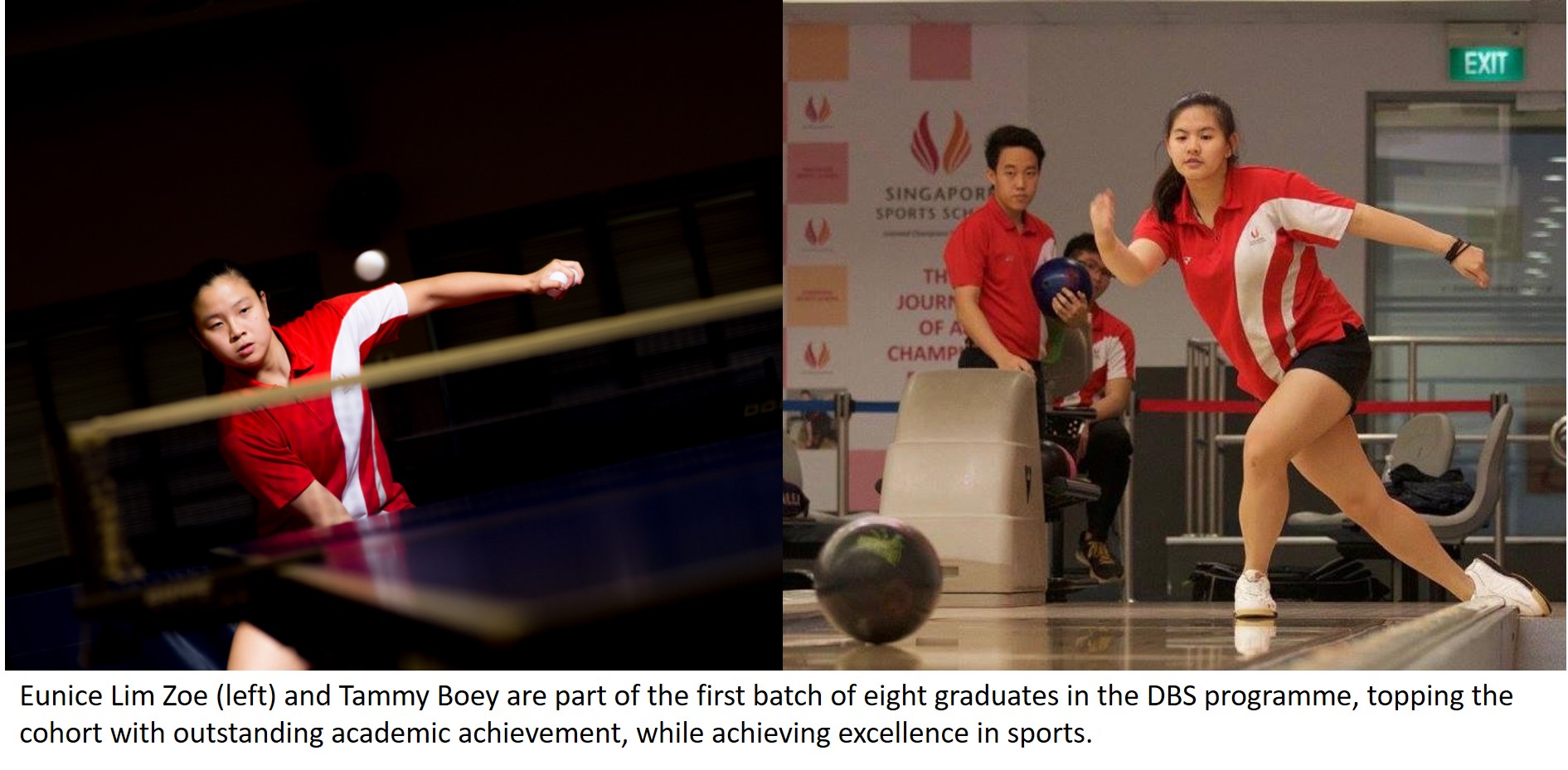 "When I first heard about the Diploma in Business Studies (DBS) programme that Ngee Ann Polytechnic was offering, I was very happy as I saw it as a golden opportunity to study something I enjoy and continue sport at a high level." said bowler, Tammy Boey as she recounted her decision to join the customised post-secondary programme in 2017.
Paddler Eunice Lim Zoe counted her blessings to be offered a place in the programme. The diploma programme offered her a perfect combination as she would be able to pursue both her passion in sports and her interest in business.
Today, both Tammy and Eunice are part of the first batch of eight graduates in the DBS programme, topping the cohort with outstanding academic achievements, while achieving excellence in sports.
Eunice, who clinched the Women's Team bronze medal at the 21st Commonwealth Table Tennis Championships in July last year, attributed her success to the athlete-friendly programme.
"Our timetable, from 12 pm to 4 pm, Monday to Thursday, is structured to accommodate our training timings. This way, we do not have to worry about missing training because of lessons, or vice-versa. Lessons are also conducted in the Sports School to cut down travelling time for us. With all these special arrangements, I have been able to fully concentrate on both sports and studies throughout my 3 years of studies."
Eunice also took advantage of the programme's flexibility which allows student-athletes to make academic arrangements to attend important training camps or participate in major tournaments without having to worry about missing lessons.
"I deferred one module because I travelled to Europe to participate in two competitions that lasted for 2 to 3 weeks. As a result, I was able to improve my game," shared Eunice.
The athlete-friendliness of the programme has also helped Tammy bag numerous sports and academic awards, such as achieving overall first place at the POLITE's Woman Team Event for three consecutive years in 2017, 2018 and 2019, and enabling her to receive the MOE Edusave Certificate of Academic Achievement and Towards Outstanding Performance (TOP) Students Award (2019) for excellent academic performance.
Summing up her post-secondary experience, Tammy said, "Embarking on the DBS pathway has been one of the best decisions I have made. From the flexibility of the programme, to its team of highly qualified lecturers, my 3-year diploma experience has been nothing short of a fun, engaging and enriching."
Tammy and Eunice have received offers from the top three local universities and will be furthering their interest in a business-related course.