Overseas Exposure Brings It Home For Brandon
1st National Ranking Game 2019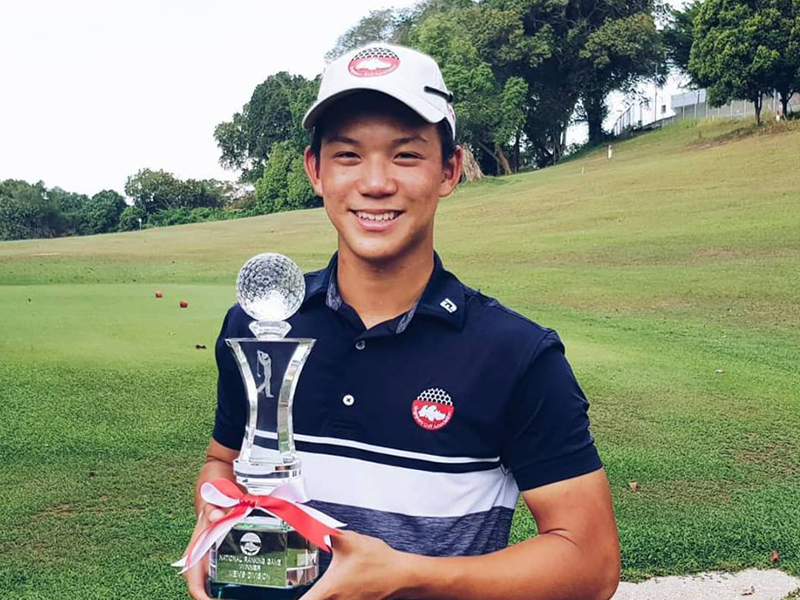 National golfers Brandon Han Zhen Guang and Justin Kuk Zheng Zhong teed off to a solid start at Singapore Golf Association's 1st National Ranking Game for 2019 on 23 April 2019, claiming the top two spots on the leaderboard with 69 and 70 strokes respectively. Both golfers, in Year 1 of Singapore Sports School's post-secondary programmes, maintained their positions as top two in the 14-strong field throughout the three-day tournament that concluded on 25 April.
Brandon, a Year 1 student-athlete in Singapore Sports School's customised Diploma in Business Studies, attributed his performance to the experience gained from competing against top Australian amateurs at the Australian Boys' Amateur Championship in Gold Coast.
"After my weeklong exposure in Australia, I realised that what separated me from the leaders was my short game. Coming into the NRG, I focused on my short game and stuck to my game plan of being more conservative off the tee," said Brandon, who finished with 208 strokes (69, 68, 71).
Enduring a rough Round 2 score of 75 which set him eight strokes behind Brandon, Diploma in Sport Management student-athlete Justin bounced back to card the tournament's lowest round score of 65 strokes, for a three-round total of 210 strokes (70, 75, 65).
Sports School alumnus Ryan Wong Wey Ren concluded strongly with 69 strokes to slip into third place, moving one spot up in the final round.
Alumna Nicole Mok Shue Ying was the only female challenger in the tournament held at Changi Golf Club. She finished overall 7th.
RESULTS
1st – Brandon Han Zheng Guang (208 strokes; 69, 68, 71)
2nd – Justin Kuk Zheng Zhong (210 strokes; 70, 75, 65)
3rd – Ryan Wong Wey Ren (219 strokes; 75, 75, 69)