Reuben Sprints Into Record Books
2019 South East Asian Youth Athletics Championships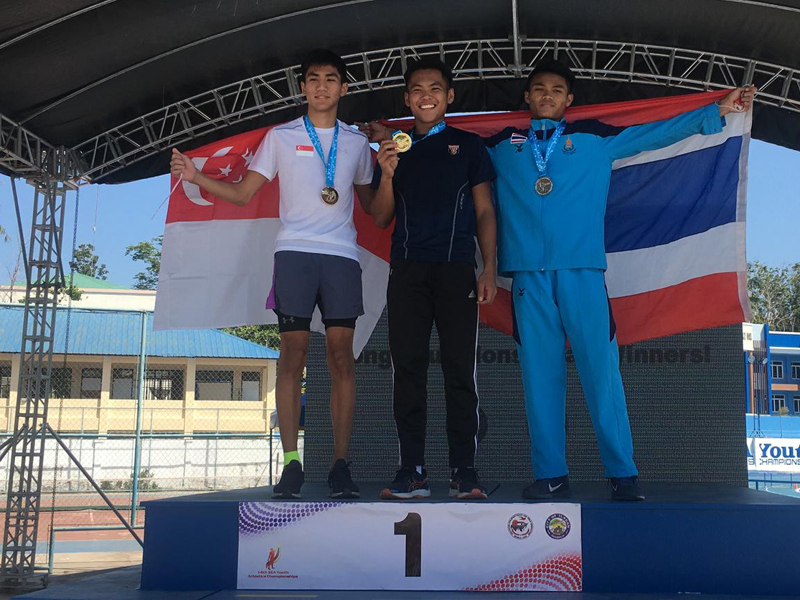 At the Kuala Lumpur 2001 Southeast Asian Games, Mohd Shameer Ayub ran a 200m National Under 18 best of 21.76s on 14 September 2001 – a year and three days before Reuben Rainer Lee Siong En was born. Fast forward 17-and-a-half years on 3 March 2019, Reuben shattered the record when he breasted the tape in 21.61s in the 2019 South East Asian Youth Athletics Championships Boys 200m.
16-year-old Reuben improved on his silver-medal performance of 21.83s in 2018, outrunning his competition and affirming his position as Southeast Asia's top Under 18 200m sprinter. The Year 1 post-secondary student-athlete in Singapore Sports School's customised Diploma in Business Studies programme also toppled the National U19 Record of 21.75s by Donovan Chan in 2012 en route to the gold medal.
"I felt slightly nervous but confident about my race as my preparation and progress at training and local competitions leading up to the SEA Youth Championships was on track. After finding out that I had broken two age-group records, I was elated that my hard work had paid off. However, it is not by my effort alone; the immense support and opportunities given to me by Singapore Sports School and staff, especially my coach Pedro Acuna, my parents and the teammates I train with, has all contributed to spur me on towards my goals," said Reuben.
Classmate Andrew George Medina managed to secure a podium spot in the Boys Triple Jump with a 14.36m Personal Best effort. Sports School's student-athletes contributed one of two gold medals won by Team Singapore at the 14th edition of the meet from 2 to 3 March 2019 in Ilagan City, Philippines, as well as a bronze medal.
RESULTS
Boys 200m
1st – Reuben Rainer Lee Siong En
New National Under 18, 19 Records
Boys Triple Jump
3rd – Andrew George Medina