Safuwan Is ST Athlete Of The Year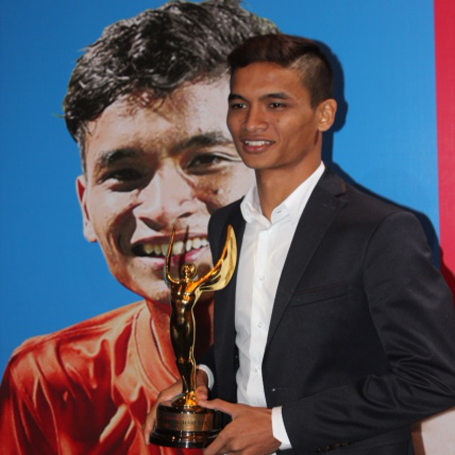 National football player Safuwan Baharudin was named The Straits Times Athlete of the Year 2013 on 28 February 2014. Safuwan, who was from the Singapore Sports School's pioneer batch of student-athletes in 2004, had an impressive 2013, starring for the LionsXII in the Malaysia League and Cup competitions and turning out for Team Singapore.
Safuwan's partnership with Baihakki Khaizan at the heart of the LionsXII defense was instrumental in helping the team clinch its first Malaysian Super League title in 2013. The team had the meanest defense in the league, conceding only 15 goals in 22 games. Besides preventing goals, he also contributed to the team's tally on the other end, scoring five times last season.
Safuwan was the Vice-Captain of the Young Lions team that competed at the Nay Pyi Taw 2013 Southeast Asian Games. His astute reading of the game, excellent positioning and technical ability enabled the team to win the bronze medal.
He was the first Sports School football player to be capped by Singapore in 2010 when he played Thailand in the King's Cup. While his football skills helped him stand out, he has another important attribute that distinguished him from others. He has the heart for the game; his passion and determination saw him play through the pain barrier on numerous occasions.
"I could tell that Safuwan was different from the other players. He was driven by a hunger to improve and possessed the right mentality on the pitch to match his desire to play for the national team. The coaching staff at Singapore Sports School was never in doubt that he would go on to represent Singapore one day, having seen him perform consistently well over the four years that he was at the Sports School," said Singapore Sports School Football Academy Senior General Manager, Subramaniam Varatha Rajan.
Acting Minister for Culture, Community and Youth Lawrence Wong presented The ST Athlete of the Year Award to Safuwan at a luncheon. Safuwan is the second winner from the Sports School. Swimmer Tao Li won the inaugural ST Athlete of the Year Award in 2009.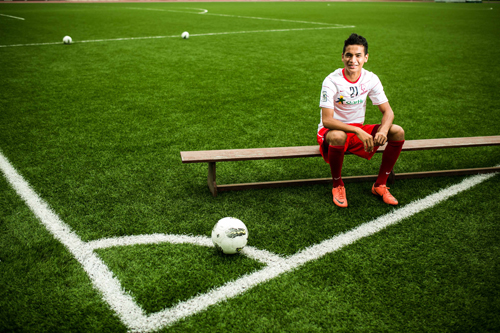 Safuwan was instrumental in helping LionsXII clinch its first Malaysian Super League title in 2013.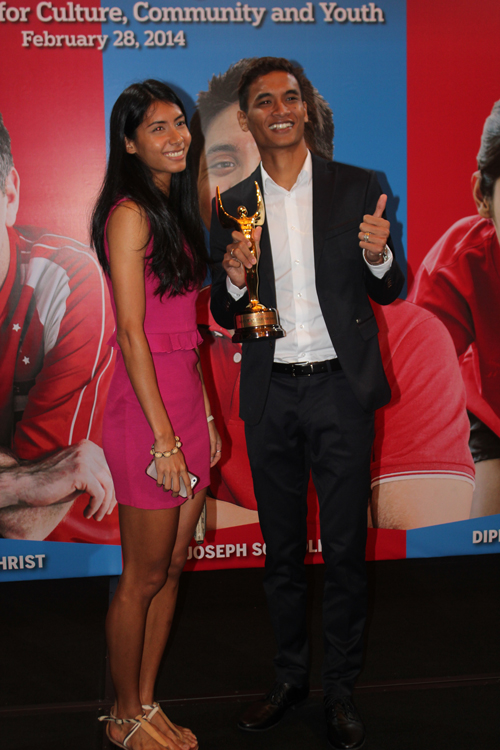 Singapore Sports School Alumni Dipna Lim-Prasad and Safuwan Baharudin at the The Straits Times Athlete of the Year 2013 Awards ceremony.