Going To The Max!
Student Feature: Reflection by Maximillian Ang Wei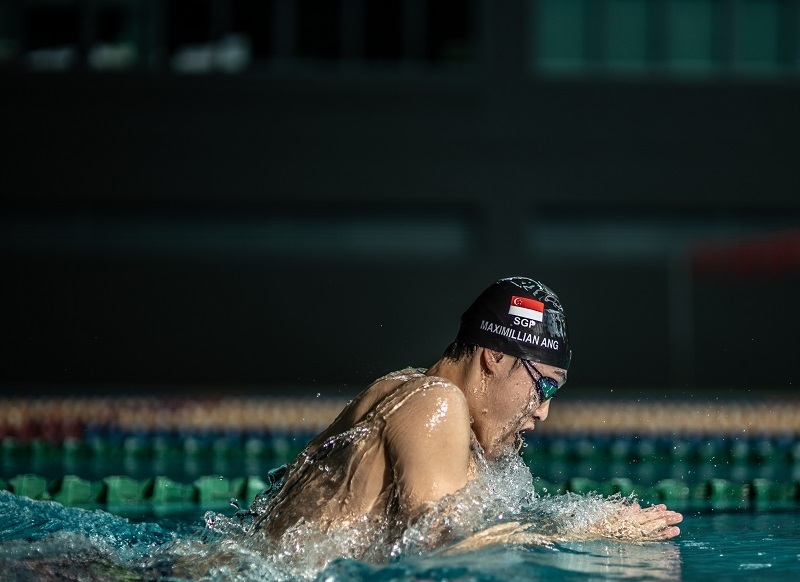 Written By:
Maximillian Ang Wei
Extended Diploma in Sport and Leisure Management, Swimming Academy
Background
I started swimming when I was five years old because my parents did not want me to drown when I go on beach holidays. It is a survival skill. The coaches saw potential in me and here I am, still swimming.
I joined the Singapore Sports School in 2014 under the Swimming Academy and have never looked back since. I knew that the Singapore Sports School was the only place for me to balance my sports and studies. During my time in the school, I broke the national Under-14 record in the Men's 400m IM event. In 2018, I took up the Diploma in Sports and Leisure Management programme jointly offered with Republic Polytechnic. And now, I am doing my internship at Singapore Sports School itself until I graduate.
Journey
The journey of an athlete is never ever easy. There will be ups and downs. Only the successful ones use their downs to learn and improve themselves. I remember there was a downtime when I wanted to quit swimming because it was tiring, but I thought to myself - pain is temporary, but quitting is forever. I will never ever know how far I can go if I give up.
Challenges
Some challenges I faced as an athlete include nutrition issues and psychological issues. I am different from others. Most people would think that swimmers eat a lot but for me, I don't. I am very fussy and always had trouble finishing my food. At Sports School, I have had the privilege of having access to a nutritionist and she guided me. My diet improved and so did my performance. On top of that, the psychologist at NYSI under Sports School also helped me developed good mental health and it made me more positive. Without their help, I would not be where I am today.
Managing Commitments
Being an athlete is all about balance. For me, the way I balance is to take things one step and one thing at a time. I will plan out a schedule, spread out my work and focus on what I am doing on that particular day. Most importantly, I made sure I had enough sleep of 8 hours and sufficient nutrients. A healthy athlete is a happy athlete.
Sporting Spirit And Achievement Mindset
As a national swimmer balancing both studies and sports. I go by the days with positive quotes and having a good mindset. Till this day, I still use this quote 'don't count the days, make the day count'. When I tell myself that, it reminds me that every single day matters and I am going to use it to become a better person.
How I Prepare For Competitions
To be honest, I just go with the flow. Trust the process, trust my coach. I don't think about the competition too much because I do not want to be too nervous or overconfident. Diet-wise, I make sure that I eat more carbohydrates and do less snacking.
How I Deal With Pressure
Pressure is real when everyone is rooting for you and wants you to win. I can get stressed out and end up performing badly. Based on experience, I learnt to shut out pressure and just focus on my race and myself. I always tell myself 'just do your best'. After all, there is nothing more I can do about it, I've already trained so hard and I just have to see how fast I can go.
How I Deal With Success And Disappointments
Success always seems better than failures because some believe that they can get more friends, more recognition, and even becoming a happier athlete. All those are good, but even if we succeed, we have to remain humble and acknowledge those that supported us throughout our sporting journey. However, failures are just as important. Failures teach us how to stay humble and learn from our mistakes. It basically serves as a learning curve in my sporting journey.
What is important to remember is that there can only be ONE winner. It is okay to be different. It is okay to be passionate about your goal. It is okay to have less social time because of training sessions. It is okay to struggle in your sports and studies. It is okay to be more exhausted than everyone else. People laugh at me because I am different, but I laugh at them because they are all the same.
Continue Reading →