Awards Spur Sport Excellence
Excellence Awards Supported By International Women's Forum and Singapore Olympic Foundation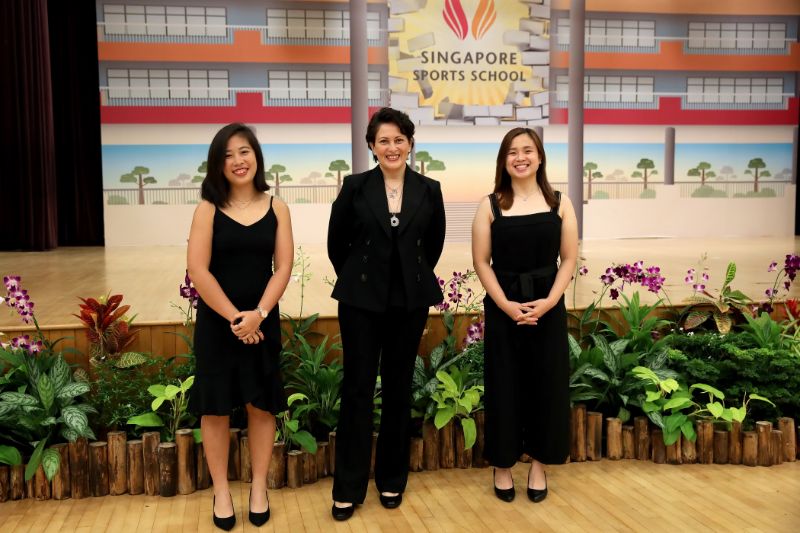 Annabel Pennefather Excellence Award recipients Au Yeong Wai Yhann (left) and
Eunice Lim with Ms Vanessa Ess (centre), daughter of the late Ms Annabel Pennefather
At Singapore Sports School's annual awards ceremony in January 2021, two awards were presented for the first time: The Annabel Pennefather Excellence Award, sponsored by the International Women's Forum (IWF), and the Tan Howe Liang Excellence Award, sponsored by Singapore Olympic Foundation (SOF). The awards are presented annually to four graduating student-athletes who have performed outstandingly in sport.
The Annabel Pennefather Excellence Award honours the late Ms Annabel Pennefather, who was a pioneer of female sports administrators and champion for women in sports. The Award, which aims to promote excellence in sport among young women, is funded by the IWF Singapore Education Grant and managed by the Community Foundation of Singapore. The Grant recognises deserving young women with character and commitment to achieve in their respective fields.
"I had thoughts of giving up the sport at some point after some discouragement. However, winning the Annabel Pennefather award had encouraged me to strive on. I felt that my effort were recognised, and I continue to put my heart into the sport that I love," said table tennis player Eunice Lim Zoe, a recipient of the inaugural Annabel Pennefather Award. Among Eunice's accolades is a bronze medal from the 2019 Commonwealth Table Tennis Championships. The other award winner is national squash player Au Yeong Wai Yhann who has 5 medals from the Southeast Asian (SEA) Games. Both Eunice and Wai Yhann also achieved top grades in their graduating year at Sports School.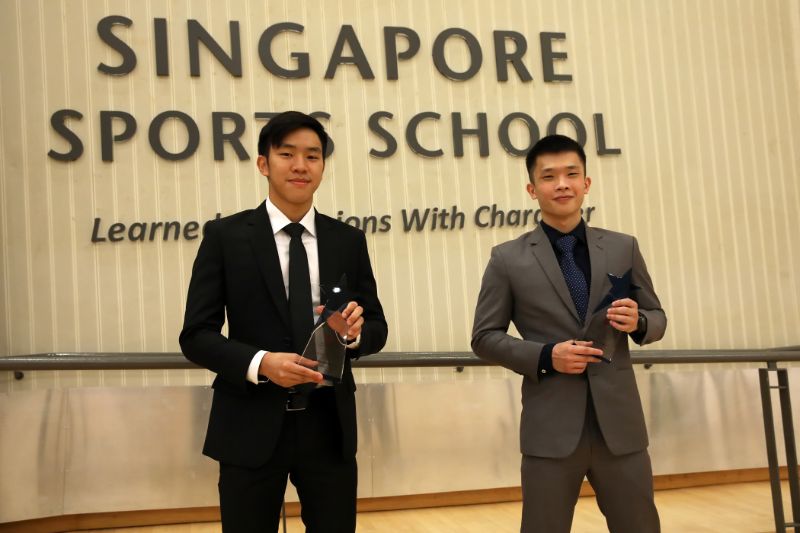 Tan Howe Liang Excellence Award recipients Nicholas Rachmadi (left) and Jowen Lim
Similarly, the Tan Howe Liang Excellence Award, sponsored by SOF, celebrates the sport successes of male youth athletes. The Award was launched in honour of Mr Tan Howe Liang, Singapore's first Olympic medallist who won a silver in weightlifting at the Rome 1960 Olympic Games. Triathlete Nicholas Rachmadi, a Philippines 2019 SEA Games silver medallist, and wushu exponent Jowen Lim Si Wei were presented the Award. Jowen, who has 2 golds and 1 silver from the SEA Games, said of Award: "The Award has been very encouraging to me after the sacrifices I have made and the hard work I have put into Wushu."
Read more