Fighter Lifts World Championship Belt
2019 World IBJJF Jiu-Jitsu Championship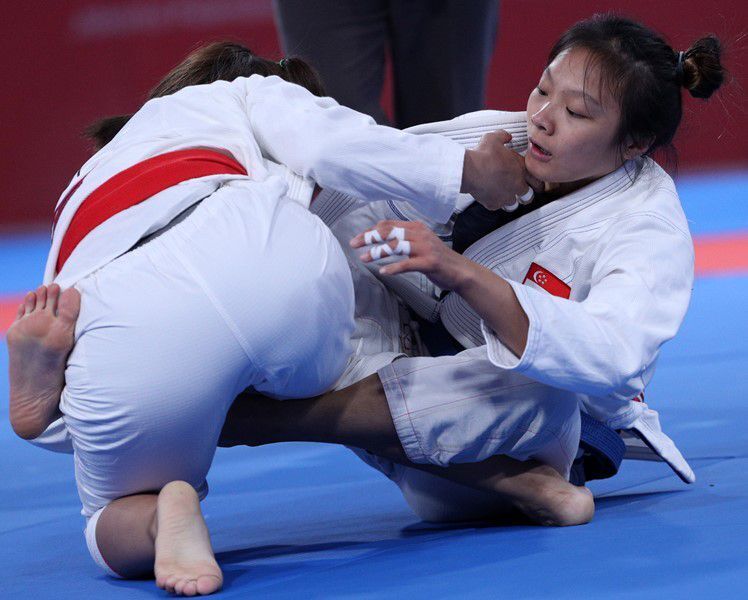 Constance Lien Tian-En at the Jakarta-Palembang 2018 Asian Games. Photo by Sport Singapore.
Constance Lien Tian-En is Singapore Sports School's newest world champion after defeating Jaine da Silva Fragoso of Brazil in the Women's Blue Belt Featherweight Final at the 2019 World IBJJF Jiu-Jitsu Championship on 30 May 2019.
The 19-year-old overcame six competitors at the Championship in Long Beach, California, to lift the Championship belt in the Under 62kg weight category. With 20s left on the clock, Constance, who had the lead with eight points to Jaine's three, pushed through a triangle choke to become the youngest world champion in all 24 editions of the Championship organised by International Brazilian Jiu-Jitsu Federation. The win also earned her promotion to the Purple Belt. She will be competing at the 2019 Jiu-jitsu Asian Championships in July in her new belt category.
Her achievement comes shortly after being named Sportsgirl of the Year at the Singapore Sports Awards on 14 May 2019 for her sport success in 2018. Since her foray into jiu-jitsu about three-and-a-half years ago, the Singapore Sports School Swimming Academy alumna has steadily broken new ground. With merely over one year of experience under her belt, Constance had already achieved a 4th-place finish at the 2017 Abu Dhabi World Championship. Another year later, the jiu-jitsu exponent was to add an Asian Games Women's Under 62kg silver medal at the Jakarta-Palembang 2018 edition. It was the sport's debut at the quadrennial Games and also Singapore's first for the sport.