Artistic Swimmers Score New Bests At World Series
2019 FINA Artistic Swimming World Series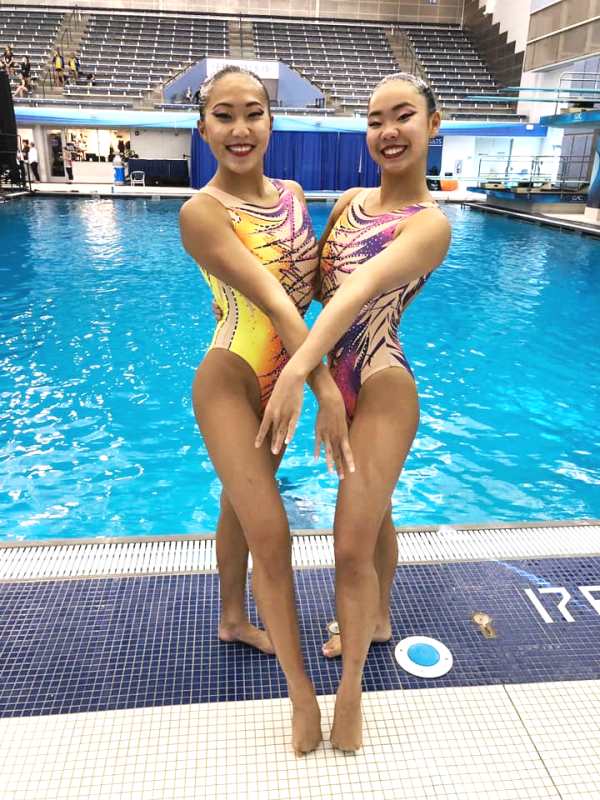 Photo Credit: Singapore Swimming Association
Singapore's top artistic swimming duo repeatedly created ripples in the pool, setting new Personal Bests in the Duet Free and Duet Technical events in almost every meet they featured in at the 3rd FINA Artistic Swimming World Series.
Southeast Asia's top artistic swimming pair Debbie Soh Li Fei and Miya Yong Hsing inch closer to their goal of qualification for the Tokyo 2020 Olympic games as they repeatedly better Personal Bests in the Duet Free and Duet Technical events.
Over four legs in the eight-part World Series, Singapore Sports School alumnae Debbie and Miya rewrote their PBs six times, including two more in the Team Free and Team Technical events at the Tokyo, Japan, leg from 27 to 29 April 2019. Post-secondary student-athletes Ariel Sng Kai Lin and Rachel Thean Rae Sze were also part of both Teams.
Debbie and Miya, both quintuple medallists at the Kuala Lumpur 2017 Southeast Asian Games, achieved significant milestones in back-to-back competitions in Greensboro, USA (Leg 6), and Quebec City, Canada (Leg 7) when they broke the 78 points barrier first in the Duet Technical, then in the Duet Free in the latter meet. Their Free routine score of 78.7333 points makes them the first Southeast Asian artistic swimming duet to garner more than 78 points in the event.
The duo earned an invitation to the Artistic Swimming World Series Super Final. The first-ever Super Final, held in Budapest, Hungary, from 14 to 16 June 2019, will see action from the top 12-ranked nations in each event.
RESULTS
Leg 1: Paris, France (28 February to 3 March 2019)
Duet Free – 77.1667 points (New Personal Best)
Duet Technical – 74.6926 points
Leg 4: Tokyo, Japan (27 to 29 April 2019)
Duet Free – 77.2667 points (New Personal Best)
Duet Technical – 77.0620 points (New Personal Best)
Team Technical – 74.8416 points (New Personal Best)
Team Free – 76.2667 points (New Personal Best)
Leg 6: Greensboro, USA (24 to 26 May 2019)
Duet Free – 77.5333 points (New Personal Best)
Duet Technical – 78.2622 points (New Personal Best)
Leg 7: Quebec City, Canada (30 May to 1 June 2019)
Duet Free – 78.7333 points (New Personal Best)
Duet Technical – 77.3859 points