Jaris Is SNOC's Choice For Sportsboy Of The Year
Singapore Sports Awards 2014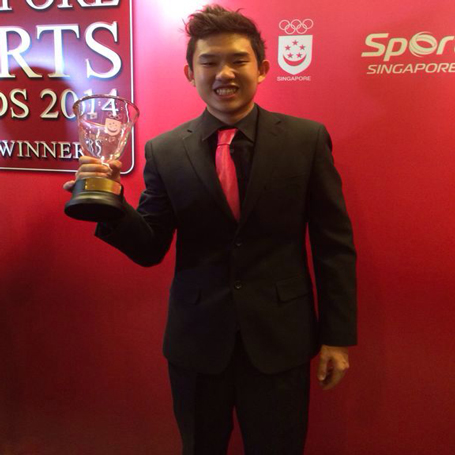 Alumnus Muhammad Jaris Goh Ali Akbar Goh was named Sportsboy of the Year by the Singapore National Olympic Council at the Singapore Sports Awards presentation on 7 June 2014.
"Although I had formal bowling training before I joined Singapore Sports School, it was the coaches at the Sports School who moulded me, and gave me opportunities to be spotted by Singapore Bowling Federation," said Jaris.
In particular, Jaris mentioned Mr Mike Lam, the former general manager of the Sports School's Bowling Academy, who is now heading Business and Boarding, and Mr David Tay, a bowling coach.
Jaris said they encouraged him every day, making sure that he also studied while he lost weight, became fitter, and better on the lanes.
"As a Normal Technical boy, I knew that I would be going to ITE. Mr Lam and Coach David kept telling me that ITE does not mean 'It's The End', and I should look further down the road and work towards that goal."
Jaris was recently accepted into the Republic Polytechnic-Singapore Sports School Diploma in Sports and Leisure Management programme, customised for elite student-athletes and taught at the Sports School.
"I shall always be grateful to the Sports School for giving me endless opportunities, and guidance along the way. I would not have been named Sportsboy of the Year if I didn't come to the Sports School," said Jaris.
Last year was Jaris' breakthrough year and he got 2013 off to a bright start with outstanding performances at the VI Commonwealth Tenpin Bowling Championships in Auckland, New Zealand, in February. It was his first major tournament representing Singapore, and he struck gold in the Men's Doubles and Mixed Team events and silver in the Men's Singles event. His consistent high scores saw him finish second in the Men's All-Events. Along with fellow Singapore Sports School alumni Bernice Lim Hui Ying and Javier Tan Jun Juan, as well as national teammate Geraldine Ng, the team set a new record with 5,273 pinfalls over 6 games in the Mixed Team event on route to the gold medal.
Competing against Asian's top bowlers, Jaris reached the Quarter-Finals stage of the Men's Singles event at the 2013 Asian Indoor and Martial Arts Games in Incheon, South Korea, July. Jaris was also part of the Singapore men's team that competed at the 2013 World Tenpin Bowling Association World Championships in Las Vegas, USA, in August.
In December, Jaris finished 3rd in the Men's Open category in the 44th Singapore National Bowling Championships. He also made an impact across the Causeway, finishing 4th in the 14th MILO International All-Stars Boys' Open Masters, scoring his career second Perfect Game along the way.
Jaris is also SBF's Youth Bowler of the Year 2013.
On the day when he was named Sportsboy of the Year, Jaris placed third at the 47th Singapore International Open Tenpin Bowling Championships Men's Open Division Masters Final Stepladder, displacing two well-renowned professional bowlers along the way.