Four National Athletes On The Rise
National Athlete Features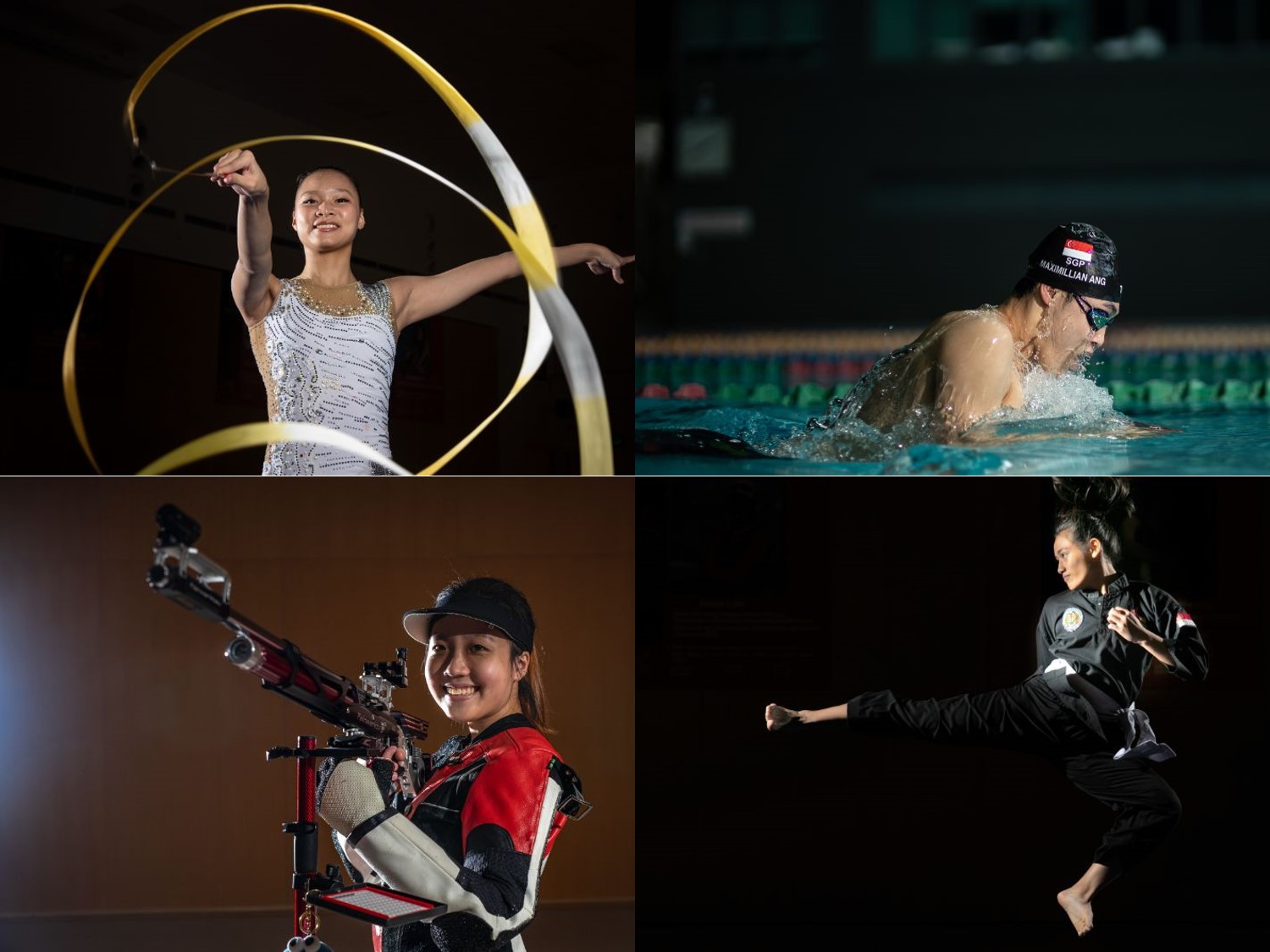 (Clockwise from top left) Leah Chew, Maximillian Ang, Siti Khadijah Mohamad Shahrem and Fernel Tan
Singapore Sports School's core aim is to nurture Champions in Sports, Champions for Sports and Champions in Life. Underpinning Sports School's sports programmes is the long-term athlete development model to enable student-athletes to reach their full potential.
As the pipeline for athletes into the national teams, Sports School works closely with Sport Singapore, Singapore Sport Institute (SSI), National Youth Sports Institute (NYSI) and the various National Sports Associations (NSAs) to develop sport champions.
We profile four young, promising student-athletes who have made it to the national teams and continue to perform well in regional competitions.
---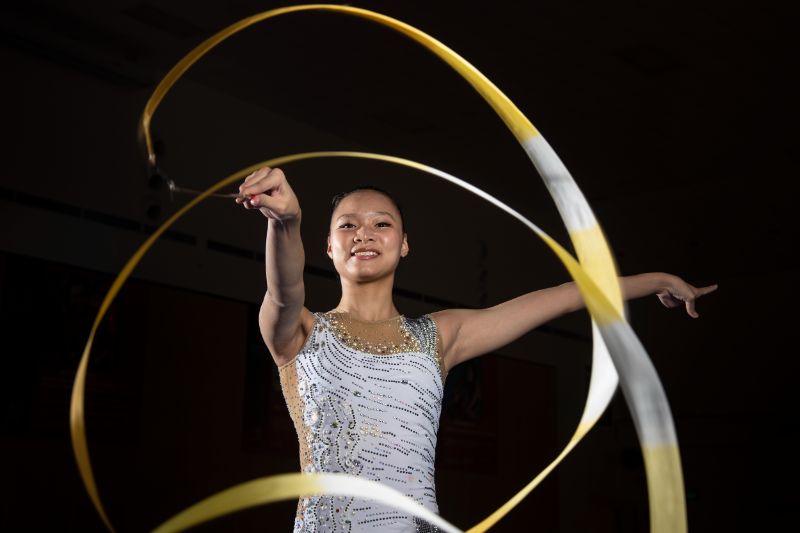 Leah Chew

Diploma in Sports Management (Year 2)
Age: 19
Sport: Rhythmic Gymnastics
Influenced by her older sister, gymnast and alumna Jael Chew, Leah decided to take up rhythmic gymnastics. She started when she was just seven years old, and she has been in the sport for 12 years.
"Singapore Sports School has a strong support system for all student-athletes. Teachers are always ready and prepared to help students in advance if they were to go for a competition. Hence, students need not worry about falling behind in their academics. It was because of the support that allowed me to train and compete without worrying too much about my studies being neglected," explained Leah as why she readily chose to study in Sports School.
She also credits Singapore Gymnastics, for putting her and her fellow gymnasts' well-being first and supported them in every way. The national sport association (NSA) also found suitable training grounds (OCBC Arena) for them to train comfortably so that Leah and her peers can focus better during training. Leah also points out Singapore Sport Institute (SSI)'s sport physiology sessions as essential for athletes to remain in top shape to train and compete.
Leah came in fourth in the ball event at the Philippines 2019 Southeast Asian (SEA) Games, and was the champion in the 2020 rhythmic gymnastics virtual competition. Leah also received the Senior International Athlete of The Year for Rhythmic Gymnastics at the Singapore Gymnastics Annual Awards 2020. She also bagged the silver in the FIG Senior Individual All-Around, another silver in the Ball routine and 3 bronzes in the Hoop, Clubs and Ribbon routines in the 2021 Singapore National Gymnastics Championships.
---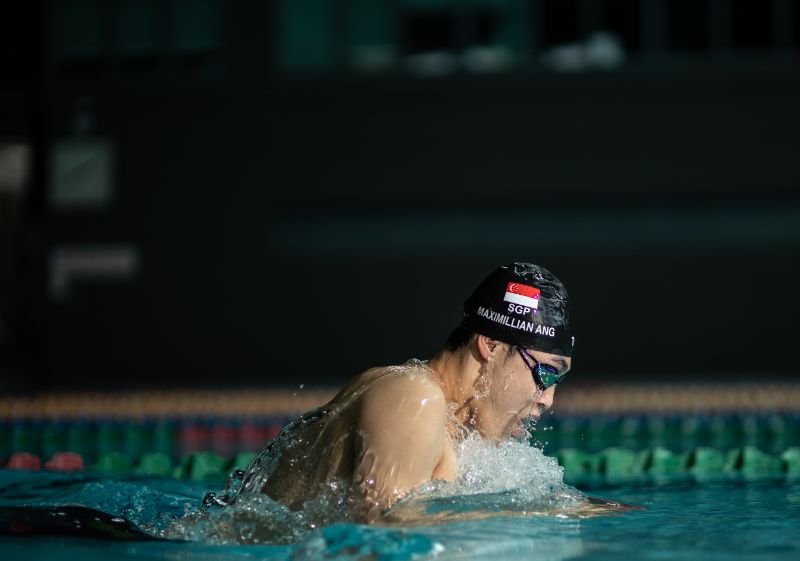 Maximillian Ang Wei
Diploma in Sports and Leisure Management (Year 3)
Age: 20
Sport: Swimming
"I started my swimming journey when I was about five years old. My parents initially just wanted me to learn basic swimming skills to survive in the water. However, a coach noticed my potential in swimming and here I am today, pursuing swimming competitively and working hard to fulfil my dream of being an Olympian," said Maximillian, who holds the national record for the Men's 200m Breaststroke.
Some of his career highlights include breaking several age-group and national records, and winning the 200m Breaststroke bronze medal at the Philippines 2019 SEA Games. The breaststroke specialist has also represented Singapore at the Buenos Aires 2018 Youth Olympic Games, and FINA World Junior Swimming Championships. Maximillian will be headed to the Hanoi 2021 SEA Games, which has been postponed to next year due to the pandemic.
"Sports School has amazing facilities for athletes to work with – two world-class Olympic-sized swimming pools, high quality gyms and top class coaches. The staff and coaches are always super encouraging and motivating and the support from NYSI which include nutrition, physiotherapy and psychology are why I decided to join the School to balance my sport and studies. I am also surrounded by supportive peers who have built up a strong camaraderie."
Max has also had the opportunity to train three times at the Brisbane Aquatic Centre in 2019 and 2020, thanks to a recommendation from Singapore Swimming Association, and sponsored by his spexScholarship from SSI.
He expressed his appreciation for Sports School and Republic Polytechnic for granting his leave of absence, SSA for helping to choose a challenging training stint, and SSI's spexScholarship for funding his stints: "Solo trips like this develop me not only in the pool, but prepare me for life as a professional athlete and my journey to the Olympic Games. My stints at the Brisbane Aquatic Centre have given me the confidence that I can only get better and stronger when overcome the mental struggle of pain and fatigue and push beyond my limits."
---
Siti Khadijah Mohamad Shahrem
Diploma in Sports Management (Year 2)
Age: 20
Sport: Pencak Silat
Khadijah first came into contact with pencak silat by way of her biological father, who encouraged her and her younger sister to join a mosque's pencak silat classes. She instantly fell in love with the sport from the first kick she made, and never missed a single session. After training for just two weeks, her coach sent her for a friendly trial held in Johor. It was Khadijah's first-ever fight, and her opponent was 10 years older than her, but Khadijah soundly defeated her 5-0.
She then decided to pursue the sport professionally: "I decided to join Sports School because I trusted their support and guidance they give to their student-athletes. The School teaches me three strong values that all student-athletes must have in order to strive, and those values are discipline, determination, and sacrifice. Staying in Sports School allows me to stay focus and stay driven to achieve my said goals. It gave me a safe space to help me embrace my growth as both a student and an athlete."
She also highlighted that Singapore Silat Federation's CEO and former world champion Dr Sheik Alau'ddin, as well as high performance manager Nurul Khairunnisa Fiona Azlani, a Sports School alumna, had encouraged her to join the school to better develop her talents.
"No doubt that there were times I did not have my moments too – such as being at my lowest. But Sports School gave me a home that I find a sense of belonging in where I can seek comfort from my mentors, teachers, and peers. I found a family in there that motivates me to be the best version of myself."
Khadijah who made her major Games debut at the Jakarta-Palembang 2018 Asian Games, was the youngest on the national team, yet managed to win the bronze medal in the Women's Match Class "C" category. Capping off a successful year, she also took home another bronze in the Women's Match "C" category at the 2018 World Pencak Silat Championship.
The following year, Khadijah won the gold in the Women's Match Class "C" in the 5th Asian Pencak Silat Championship, and a bronze in the Women's Match Class "B" in the 2019 World Beach Pencak Silat Championship.
She thanked her NSA for providing opportunities for her to travel and compete, helping to support her to reach her fullest potential, as well as SSI for its team of supportive staff that ensures she is always at her best and ready to perform.
Khadijah is also one of the recipients of SSI's 2021 spexScholarship, and the spexScholarship assists her and other student-athletes in their education, career and personal development with financial and programmatic support to enable them to do well in major Games such as Asian and World-level competitions.
---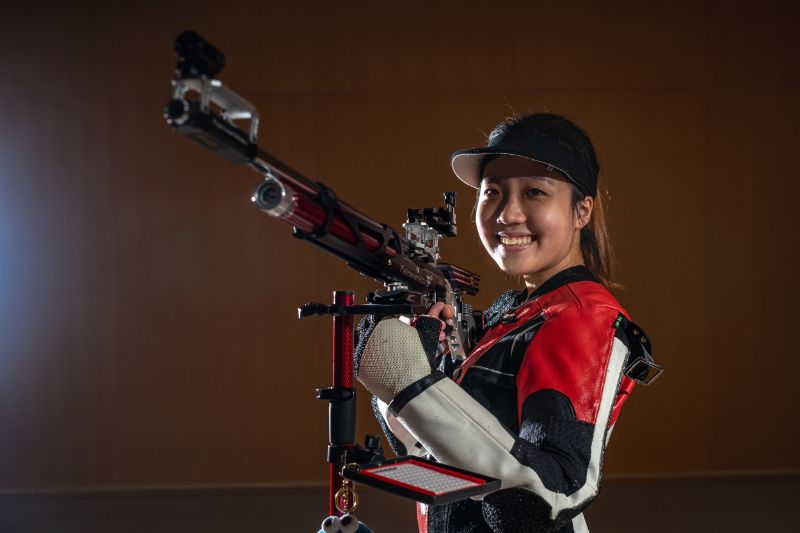 Fernel Tan Qian Ni
Diploma in Business Studies (Year 2)
Age: 19
Sport: Shooting
Fernel was inspired by her older sister, Sports School alumna Adele Tan Qian Xiu, who was doing an amazing job balancing both her shooting and her studies. Fernel took part in the Learn-To-Shoot programme, which had a partnership with her primary school, Chongfu School. She was later selected to further develop her talent in the sport and enrol in Sports School.
"I am very thankful for Sports School, as they have provided me with so many resources, such as the convenient training-study ground, where I can head down for lessons immediately after my morning training. Additionally, I get one-to-one makeup classes with my lectures whenever I'm out for overseas competitions, making sure that I do not fall behind on my academics too."
Also, the School has world-class facilities such as a strength and conditioning gym and a 30-lane shooting range, which has helped me get to where I am today. Not forgetting my coach Lim Chea Rong who has been guiding me patiently since I started Shooting."
Fernel also thanked her NSA, Singapore Shooting Association and SSI for being supportive throughout her sporting journey: "SSI's physiotherapist Jaylene Ho Jiaying was always there for me, accommodating my needs whenever I have back pains, and SSA has been constantly checking in with me if I am doing fine in balancing both my sports and studies, as it can be exceptionally difficult whenever I have to travel for competitions."
Fernel set a new National Record of 634.0 points in the Women's 10m Air Rifle at the 2021 SSA Shoot in January this year. Her score surpassed her older sister's previous mark of 632.5 points set almost a year ago at Munich's H&N Cup on 26 January 2020. The new National Record also equals the Qualifying World Record by Chinese Zhao Ruozhu at the New Delhi World Cup on 23 February 2019.
Some of Fernel's achievements include coming in 1st in the Air Rifle Women in two editions of the South East Asia Shooting Championships (2019 and 2020), and taking the top spot in the Air Rifle Women events in two editions of the East Asia Youth Airgun Competition (2019 and 2020).
Fernel will also be making her mark at the Hanoi 2021 SEA Games, which has been postponed to 2022 due to the pandemic.
Continue Reading