Brandon Caps Final NSG Outing With Third Consecutive Title
2021 National School Games: Taekwondo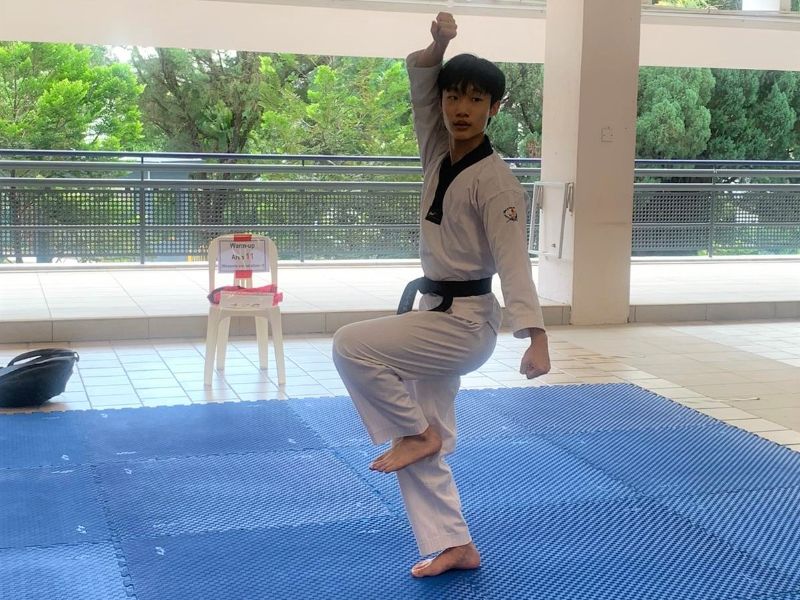 More than two months following the completion of his National School Games competition on 29 April 2021, Brandon Low Sze Sheng received joyous news from the organisers that he had topped a field of 18 competitors to clinch the gold medal in the A Division Boys Black 2 category in the poomsae event.

Brandon, Sports School's only Taekwondo exponent, is a 2nd dan black belter and specialises in the poomsae which is a set of movements comprising defence and attack forms. He had won the B Division Boys gold medal in two consecutive years – 2018 and 2019. As the reigning champion in his age-group for his belt category, it was only natural that he felt some pressure entering the competition.
For Brandon, an International Baccalaureate Diploma Programme Year 6 student-athlete, this year is also his final year that he can compete in the inter-school competition.
Brandon overcame the internal stress to emerge champion in the A Division Boys Black 2 event with 5.34 points. Hwa Chong Institution's Zhu Kunyuan and Ronan Ho came in 2nd and 3rd, scoring 5.17 and 4.97 points respectively.
In the past, the competition venue would've been bustling with competitors, team managers and officials; excitement and energy almost tangible in the air. However, the pandemic has changed the way competitions are conducted and events have lost that electric atmosphere. Some athletes, like taekwondo and wushu exponents in the NSG, have to adjust to performing in front of a camera instead of live judges or audience. "It felt odd and I was not used to it," said Brandon.
In this current pandemic situation riddled with uncertainty, competition opportunities are scarce and may be hard to come by. "I was glad I was able to compete in the NSG as it allowed me to re-evaluate my performance especially in a competition setting where there is added pressure," said a grateful Brandon who eyes a spot on the Hanoi 2021 Southeast Asian Games team. As the Hanoi SEA Games has been postponed to 2022, Brandon is focused on preparing himself to compete in the final leg of the Online 2021 World Taekwondo Poomsae Open Challenge series scheduled to take place in December.
Continue Reading