How Are Sport Champions Made?
Sport Development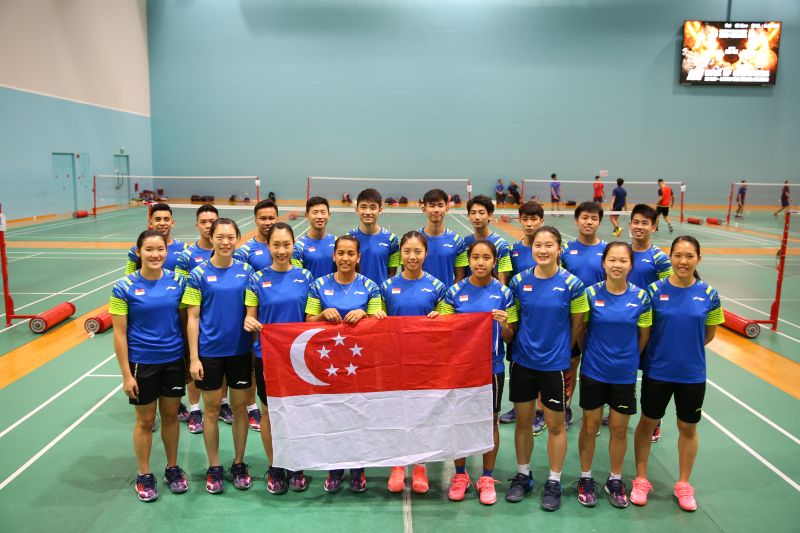 Singapore's badminton team at the Philippines 2019 Southeast Asian Games. The 19-strong team
comprised 14 (about 74 per cent) present and past Singapore Sports School student-athletes.
Photo by Singapore Badminton Association.
The phrase "it takes a village to raise a champion" is often used to describe the importance of the support system surrounding an athlete. This "village", however, does not solely refer to the people in the ecosystem, but also includes the infrastructure and initiatives necessary in producing Champions in Sport, Champions for Sports and Champions in Life.
At the heart of Singapore Sports School's core business is the desire to nurture sport champions for Singapore. The four components of philosophy, infrastructure, human resource, and programmes and initiatives create a sound sport development system for the School to achieve its aim.
The Philosophy
Undergirding the Sports School's sport programme is the long-term athlete development model which is believed to enable athletes to reach their full potential. The LTAD is an athlete-centric approach that focuses on the long-term success of the athlete in sport, thereby minimising the chances of burnout and increasing their performance and growth, rather than immediate, short-term results. The LTAD approach discourages early specialisation in sport which could lead to burnout and thus primes them for success at the senior level.
While there are a few sports offered at Sports School, such as gymnastics, which require early specialisation, many sports are categorised as late specialisation. One such academy in Sports School is the Track and Field Academy which focuses on a multi-event approach at the lower secondary levels, exposing student-athletes to the various events – from sprints to long distance, the jumps to the throws – so as to develop their fundamental motor skills, with the intention of cultivating more well-rounded athletes.
Infrastructure
To support sport training and minimise travel time, Singapore Sports School's 7-hectare campus houses training facilities suitable for more than 10 sports, as well as boarding dormitories to optimise student-athletes' rest time. International-standard sport facilities that include two all-weather Olympic-size swimming pools, a 12-lane bowling centre, a 30-bay indoor shooting range and a two-storey strength and conditioning gym among others.
Due to Singapore's tropical climate, it is inevitable to experience rainfall and thunderstorm during training sessions. However, to minimise disruption to training caused by inclement weather, Sports School also caters alternative training venues for student-athletes participating in outdoor sports to continue their training at. The most recent physical development in the school is The Cage, a sheltered, turfed area for footballers to train at instead of the outdoor field.
Aside from the physical, social infrastructures are equally important to provide an athlete-friendly system for student-athletes to excel in high-performance sport. The availability of through-train pathways allow student-athletes to bypass the national examinations during a critical developmental phase of their sport journey. With the seamless progression into post-secondary education that's uninterrupted by examinations, sport is able to take centre stage.
As part of a larger sport ecosystem, Sports School works with local and overseas sport organisations to ensure that its student-athletes are presented with opportunities to develop and excel in their trade. As the pipeline for athletes into the national teams, Sports School partners and collaborates closely with Singapore Sport Institute, National Youth Sports Institute and the various National Sports Associations to develop sport champions who will go on to bring glory for Singapore. While connections in the local fraternity is important, Sports School also recognises the wealth of exposure and talent that resides off the shores of the Republic, thus explaining the partnership it has with more than 10 organisations – a growing number – worldwide. These overseas opportunities, which provide quality training, sparring and knowledge sharing essential in their sport development, can be found as close as across the Causeway in Malaysia, in Japan and even farther still in Germany.
Human Resource
The Sports School engages qualified coaches with experience in youth development to provide top-notch coaching to maximise the potential of student-athletes. The coaching team – a good mix of talent with overseas and local experience – brings a diverse flavour and knowledge to the sport academies, thereby raising the quality of play of student-athletes, as well as in the sport community. An added benefit of the close working relationship with NSAs also allow for the secondment of national coaches to Sports School, thereby streamlining efforts and programmes with those of the national set-up, and encouraging a smoother progression for student-athletes transitioning into the national teams.
Sport science is also an important element in sport development, providing the necessary support for athletes to make the quantum leap. With the NYSI Hub located within Sports School, student-athletes and coaches have access to the array of sport science services, such as physiotherapy, psychology, performance analysis, strength and conditioning, and nutrition. Sport coaches and strength and conditioning coaches in consultation is a common sight for the planning of sport-specific workouts that are age-appropriate. Performance analysts are also often seen at different training venues to conduct tests which provide coaches a more accurate measure of their student-athletes' improvement over time.
Programmes and Initiatives
Coaches play a vital role in the development of athletes not only in the sport, but also as an individual. The Sports School does not merely wish to produce ordinary sport champions, but ones who excel academically and exemplifies good character. To develop thinking athletes with a Champion's Mindset, Sports School delivers a sport-focused education which encompasses reflection-writing. Student-athletes reflect on training and competition in their Sportsman's Journal, while coaches and sport staff provide mentorship to cement character and personal growth points.
In addition to overseeing the development of its student-athletes, Sports School is also committed to nurturing talented athletes downstream through its Learn-To-Play programmes and in the Ministry of Education's Junior Sports Academy. The LTP programmes introduce the respective sports of fencing, shooting, and swimming to interested children, imparting fundamentals of the sports in alignment to the Sports School philosophy, and thereby building on the pipeline of talent for Sports School and Singapore. One such academy with a successful LTP programme is the Shooting Academy. As shooting is not offered as a sport to primary school pupils, the Learn-To-Shoot programme remains the Shooting Academy's sole talent identification and recruitment platform. Among its pioneer batch of LTS participants is 2014 world champion Martina Lindsay P Veloso, who is the youngest shooter to win an ISSF World Cup at 14 years old. The Shooting Academy continues to produce high-performing athletes who are medallists at major Games and finish among the top eight at world-level competitions.
Conclusion
As Sports School strives to deliver a superior sport programme, the strong support of its stakeholders – namely SSI, NYSI, NSAs, sport and educational partners, sponsors and parents – is crucial in developing sport champions for Singapore, and the School is grateful for the continued partnership it has received through the years.