Swimmers Affirm Position In Marathon Event
2019 PD 10km Marathon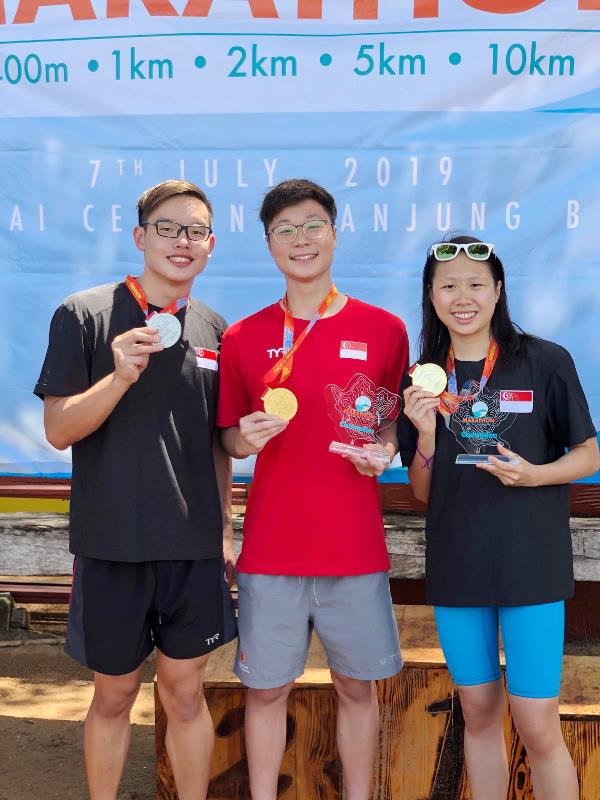 From left, Luke Tan Yu Yang, Ritchie Oh Rui Zhi and Regine Goh Xuan Xuan
He swam the seas but the water conditions – and rivals – in Singapore and Malaysia posed little challenge for Ritchie Oh Rui Zhi, as he won his third consecutive open water title at the 2019 PD 10km Marathon.
Racing in the 10km Marathon distance in Tanjung Biru Port Dickson in Malaysia, Singapore Sports School's Ritchie had a clear lead over his competitors as he finished the race in 2:10:50.90s, ahead of fellow Sports School post-secondary swimmer Luke Tan Yu Yang in second (2:15:37.12s). Both Singaporeans ended the race ahead of Malaysia's Kelvin Yeap (2:15:46.32s), the Kuala Lumpur 2017 Southeast Asian Games Men's Open Water gold medallist.
In the Women's category, Regine Goh Xuan Xuan, a Year 6 International Baccalaureate Diploma Programme swimmer, clinched her first open water title in 2:35:09.18s. Regine and Ritchie, top swimmers in the 16 to 29 years old age-group, as well as in the overall men's and women's field, were named Most Valuable Players in the meet.
RESULTS
Men's 10km
1st – Ritchie Oh Rui Zhi (Most Valuable Player Award)
2nd – Luke Tan Yu Yang
Women's 10km
1st – Regine Goh Xuan Xuan (Most Valuable Player Award)