Sports School Shooters Sight Sea Games Target
Singapore Shooting Association Southeast Asian Games Selection Trials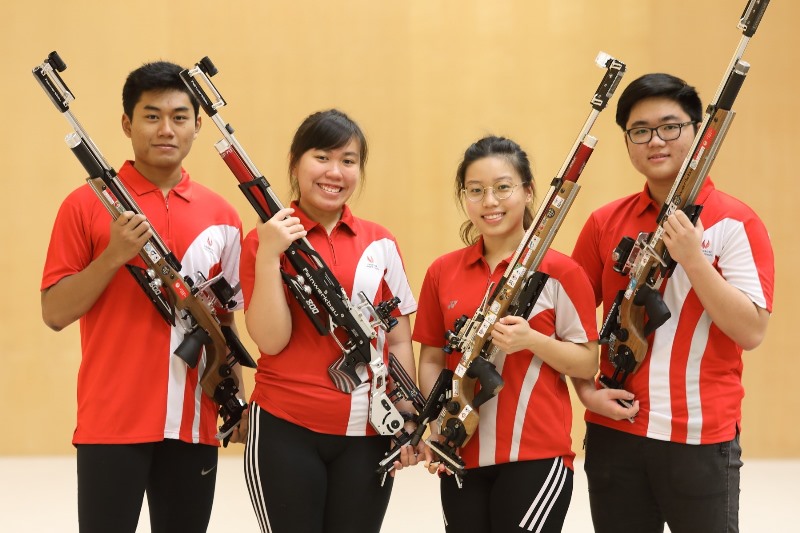 From left, Muhammad Irwan Abdul Rahman, Ho Xiu Yi, Adele Tan Qian Xiu and Emmanuel Chan En Yue

Four Singapore Sports School air rifle shooters are looking forward to competing at the Philippines 2019 Southeast Asian Games at the end of the year after emerging top two men and women in Singapore Shooting Association's SEA Games Selection Trials. The quartet of Secondary 4's Emmanuel Chan En Yue, post-secondary student-athletes Adele Tan Qian Xiu, Ho Xiu Yi and Mohamad Irwan Abdul Rahman claimed all four spots available for air rifle events at the biennial Games.
IBDP shooter Adele, who is on the Extended programme, overcame her nerves to overtake her teammates in the national squad after ranking fifth at the end of the first of two selection trials. Moving into the second round, Adele had to overcome a 1.3-point deficit from fellow Extended IBDP student-athlete Xiu Yi and Tessa Neo who were joint leaders. Adele was ranked fifth, while alumna Martina Lindsay P Veloso was third after the first round on 8 June 2019.
Competition was stiff among the women. However, the 20-year-old managed a high score of 629.5 points in the second trial round on 22 June, to shoot up to first place, overtaking Xiu Yi (625.7 points) who came in second overall. Both girls in Sports School's extended International Baccalaureate Diploma Programme (IBDP) earned selection for representation at the SEA Games.
In the Men's trials, Emmanuel led the field a significant margin, while Diploma in Sports and Leisure Management student-athlete Irwan finished ranked second over two trial sessions. Ryan Dayne Phang (Diploma in Sport Management Year 1) and IBDP Year 6 Muhammad Izzat Junaidie were in fourth and fifth place respectively.