Golfers Dominate In Batam
2019 SSG-Tering Bay International Amateur Championship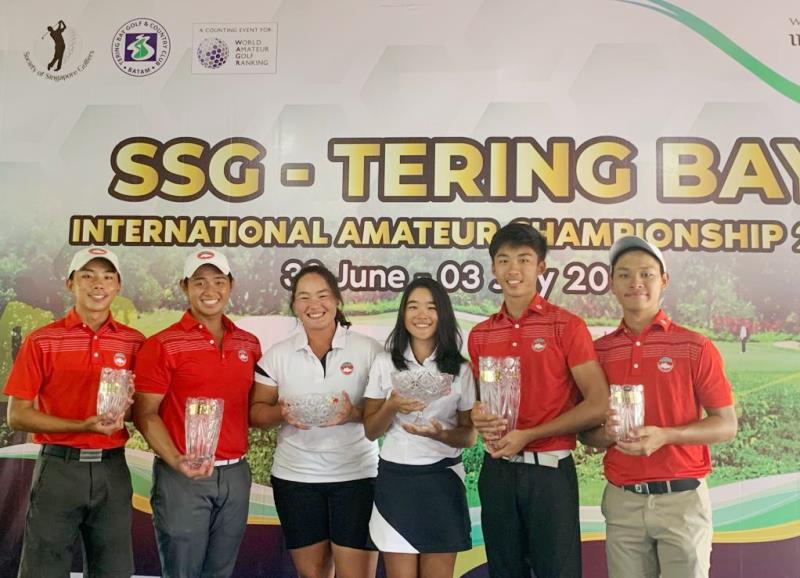 Team Singapore winners (from left) Justin Kuk Zheng Zhong, Nicklaus Chiam Yew Chun, Callista Chen Wan Qing, Hailey Loh Suanne, Sean Lee and Nathen Tan

Singapore Sports School student-athletes and alumni flew Singapore's flag high at the 2019 SSG-Tering Bay International Amateur Championship, claiming four out of eight awards on offer in the Batam tournament from 30 June to 3 July 2019.
Hailey Loh Suanne and Callista Chen Wan Qing made it a 1-2 finish for Singapore in the Ladies event, carding three-day totals of 219 and 221 strokes respectively. Secondary 4's Hailey shot 73 strokes in Round 1 of the tournament to gain an early lead in the 18-woman field. She successfully held on to her dominant position over the next two days with 74- and 72-stroke rounds to secure the Championship trophy. Recovering from a dismal first game that placed her in 4th position at the end of the round, alumna Callista steadily worked her way up to 3rd, and eventually 2nd after carding two even-par 72 stroke rounds.
The Men's Division was dominated by Singapore's golfers as they claimed the top four positions among 58 other golfers. Alumnus Nicklaus Chiam Yew Chun shot a creditable 1-under 215 strokes over three rounds for the Runner-Up trophy, while Diploma in Sports and Leisure Management Year 2 golfer Justin Kuk Zheng Zhong finished 3rd Runner-Up with 219 strokes.
RESULTS
Ladies Division
1st – Hailey Loh Suanne (3-over 219 strokes, 73, 74, 72)
2nd – Callista Chen Wan Qing (5-over 221 strokes, 77, 72, 72)
Men's Division
2nd – Nicklaus Chiam Yew Chun (1-under 215 strokes 74, 69, 72)
4th – Justin Kuk Zheng Zhong (3-over 219 strokes 74, 73, 72)