Fernel Shoots World Best Score
2021 SSA Shoot (January)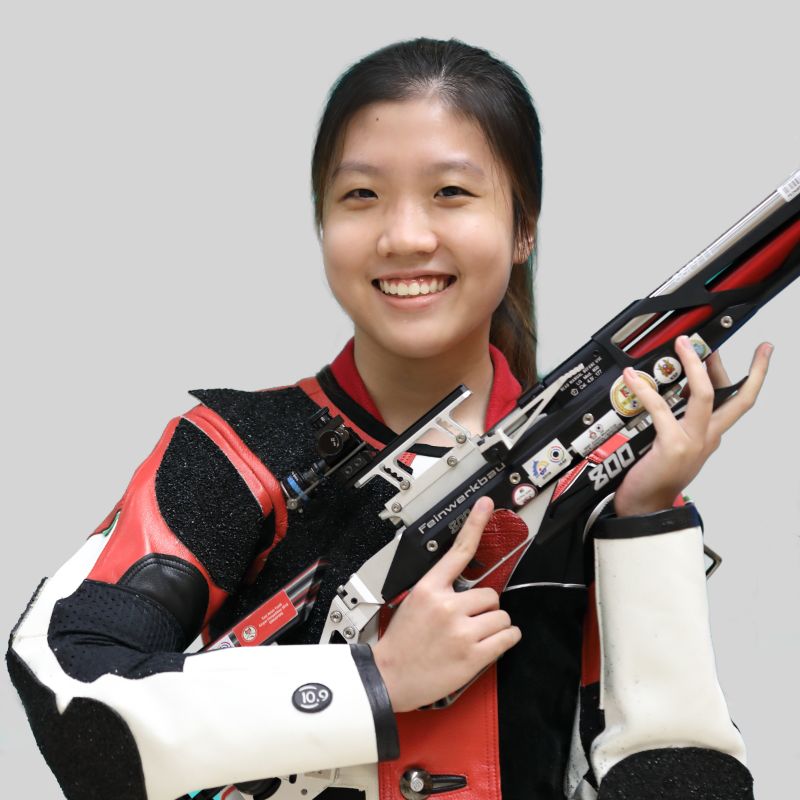 Fernel Tan set a new National Record in the Women's 10m Air Rifle at the
2021 SSA Shoot (January), equalling the Qualifying World Record
The atmosphere in SAFRA Yishun's shooting range was filled with tension as 17 female shooters lined up for the 10m Air Rifle event. It was the first shooting competition of 2021 – SSA Shoot (January) – organised by Singapore Shooting Association and the ladies were up first in the two-day competition on 16 and 17 January 2021. The competition was also a selection trial for shooters gunning to represent Singapore at the Tokyo Olympic Games in July 2021.
The qualification round got off to a start, and Olympian Jasmine Ser led the field after the first series of 10 shots. But Fernel Tan Qian Ni found herself right on target shortly after, taking the lead and steadily extended it.
By the end of the 60-shot round, the 18-year-old Singapore Sports School student-athlete had created a chasm between her and her rivals as she finished with a score of 634.0 points for a new National Record. Her score eclipsed older sister Adele Tan Qian Xiu's previous mark of 632.5 points set almost a year ago at Munich's H&N Cup on 26 January 2020. The new National Record also equals the Qualifying World Record by Chinese Zhao Ruozhu at the New Delhi World Cup on 23 February 2019.
"My sister shot an extremely high score, but I'm not surprised that she broke the National Record because Fernel's ability is world-class. I am very happy that my sister, who trains with me every single day, broke it. This is evidence that our coaches at Singapore Sports School are doing something right. Such high scores definitely help to raise the standard of the women's 10m Air Rifle scene in Singapore," said Adele.
Fernel led the field of eight qualifiers for the final which included four other Sports School student-athletes and alumni. The Final proved to be a nerve-wracking affair for Adele, Fernel and alumna Ho Xiu Yi as they vied for the top prize.
"Although I'm not in the Olympic squad, I wanted to give my best and fight on for every shot fired. I was definitely happy after setting a new national record, but there was still the Final and I knew I had to remain focused on my routine going into the next round," said Fernel, a Year 3 student-athlete in Sports School's customised Diploma in Business Studies (DBS) programme.
After 22 shots, the sisters found themselves in the top two positions. Only two shots remained. Fernel, with unwavering focus, fired 10.7 points in both attempts to overtake Adele – who scored 10.6 and 9.9 – by just 0.1 points.
"The finals didn't start off well for me, but I didn't give myself the excuse to give up. I fought on, giving my best effort in each shot till the last."
The Women's 10m Air Rifle event concluded with the top four spots going to Sports School's student-athletes and alumni as DBS Year 3's Cecilia Ng finished in 4th. IBDP Year 6's Callie Siah Yong Xin managed a 7th-place finish.
In the Men's Air Rifle, former Sports School student-athlete Marat Lleyton P Veloso took the runner-up title with 244.1 points in the final, while Diploma in Business (DBIZ) Year 1's Tang Hong An and Diploma in Sport Management (DSPM) Year 3's Ryan Dayne Phang came in 4th and 6th respectively.
Day 2 of the competition saw the air pistolers taking their spots where both Shirlene Hew Yun Ting (Extended IBDP) and Teo Jia En (DBIZ Year 1) ranked 5th in their respective categories.
RESULTS
Men's 10m Air Rifle
2nd – Marat Lleyton P Veloso
Women's 10m Air Rifle
1st – Fernel Tan Qian Ni
2nd – Adele Tan Qian Xiu
3rd – Ho Xiu Yi