Go For 2020 Goals!
Lessons From The Champions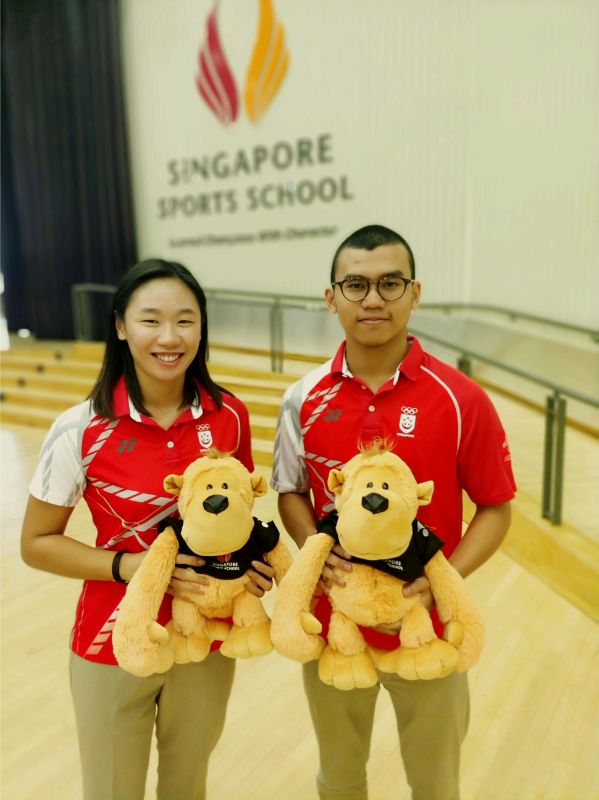 Sheena Soh (left) and Nujaid Hasif Zainal Abidin, gold medallists at Philippines 2019 SEA Games,

shared tips on goal-setting at Singapore's Sports School's first Lessons From The Champions for 2020.
Student-athletes started the new year with tips on goal-setting from Philippines 2019 Southeast Asian Games gold medallists, Sheena Soh and Nujaid Hasif Zainal Abidin. As student-athletes were required to set their sport goals for 2020, the lessons from the champions were useful before they take to task to work with their coaches on their short-term goals for the year. They also shared with student-athletes their personal experiences, and valuable insights on looking ahead to the future and working towards long-term aspirations.
Sheena and Hasif have different personal experiences and sport journeys that student-athletes can draw inspiration from. Sheena is from the first batch of student-athletes and made her debut at this edition of the Games, with the addition of Underwater Hockey as one of the sport events. Sheena only joined Underwater Hockey a few years ago, as she was interested to join a sport that would help her rekindle her passion for sport. The Women's Underwater Hockey team won a historic two golds at the games. Hasif, on the other hand, is an IBDP student-athlete who has been doing pencak silat since he was 6 years old. The 2019 SEA Games was his second go at the regional games and he won a gold in the Men's Artistic Team event.
Student-athletes quizzed the duo on how they have kept their passion for the sport alive throughout the years, and what helped them work towards their dream. The two of them also shared their SEA Games experience, and their sport goals for the year.
The candid session was certainly a motivation for student-athletes, and was beneficial in helping them evaluate their goals for 2020.