Combining Sport And Studies, Third Cohort Strikes Fine Balance
2017 November IBDP Examinations Results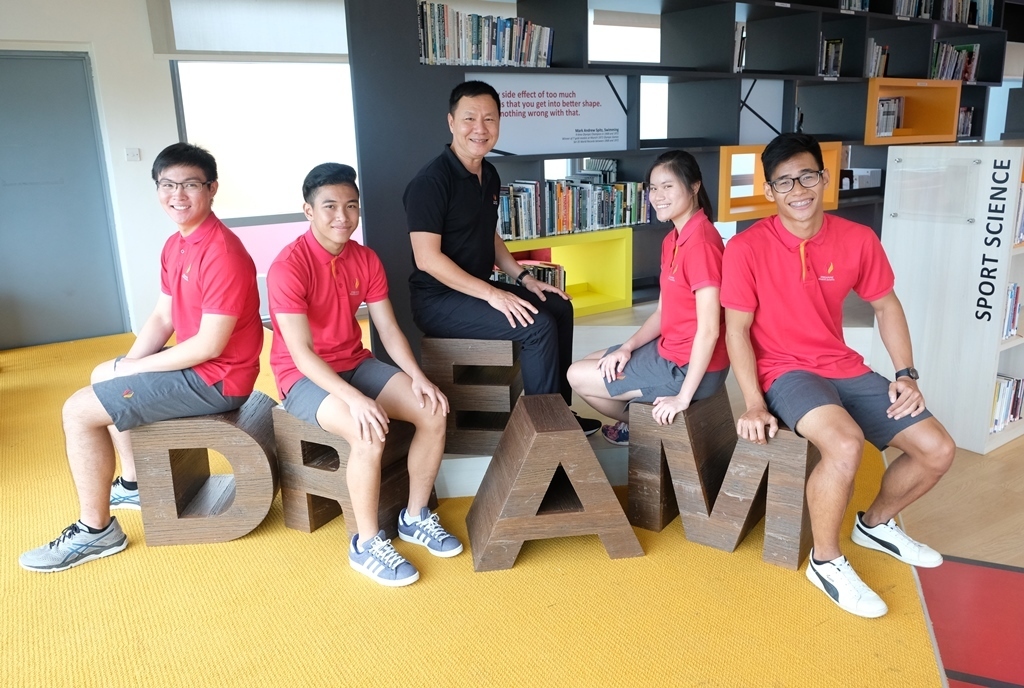 From left: James Stuart Lowe Heng Leong (Bowling Academy, 43 points), Muhammad Amirul Haikal Mohamed Hassim (Football Academy, 41 points), Principal Mr Tan Teck Hock, Tan Zay Hua (Netball Academy, 43 points), and Adlan Syaddad Mohamad Yani (Track and Field Academy, 43 points)
In August 2017, while many 18-year-olds were taking out their books and pens to prepare for the biggest examination of their lives, Tan Zay Hua was donning national colours as a member of the Women's Cricket Team and living her sport dream at the Kuala Lumpur 2017 Southeast Asian Games.
With barely three months to the International Baccalaureate Diploma Programme November 2017 Examinations after returning from the SEA Games, Zay Hua went back to the grind of studying. Her hard work paid off when, on 5 January 2018, she learnt that she was among three Singapore Sports School student-athletes who scored 43 points.
Zay Hua, a member of the Netball Singapore's Under 21 squad at 16 years old, picked up Cricket in 2017. She soon made the National Cricket Team and earned selection to represent Singapore at the regional Games. Zay Hua credited her academic performance to the support received from her teachers.
"My teachers have been more than dedicated in my academic progress, ensuring that I'm on top of my studies even when I'm overseas for competition. I'm grateful to Sports School for the opportunity to chase my sport dream, and my mentor Ms Ng Sho Ching for continuously supporting me emotionally on my journey as a student-athlete," said Zay Hua.
Besides Zay Hua, James Stuart Lowe Heng Leong (Bowling Academy) and Adlan Syaddad Mohamad Yani (Track and Field Academy) also scored 43 points.
The cohort of 20 student-athletes did well with 65 per cent of them scoring 40 points and above, maintaining Sports School's three-cohort average at 40 points. Among the 13 high scorers is footballer Muhammad Amirul Haikal Mohamed Hassim. Like Zay Hua, he was turning out for Team Singapore until the third-quarter of the year, competing in the 2017 ASEAN Football Federation Under 18 Championship in September; Amirul managed a creditable 41 points in the IBDP Examinations.
"Many of our IBDP student-athletes are in the national open or age-group teams. Like the previous cohorts, this batch had put in tremendous hard work to pursue their sport dreams and maintain academic excellence," said Principal, Mr Tan Teck Hock.
"Recording an average score of 40 points for a third consecutive year is testament to the athlete-friendliness of our academic programme and the support from their teachers and coaches," Mr Tan added.