Paddler Koen Pang Shines In Army and Sport
2021 NSF of the Year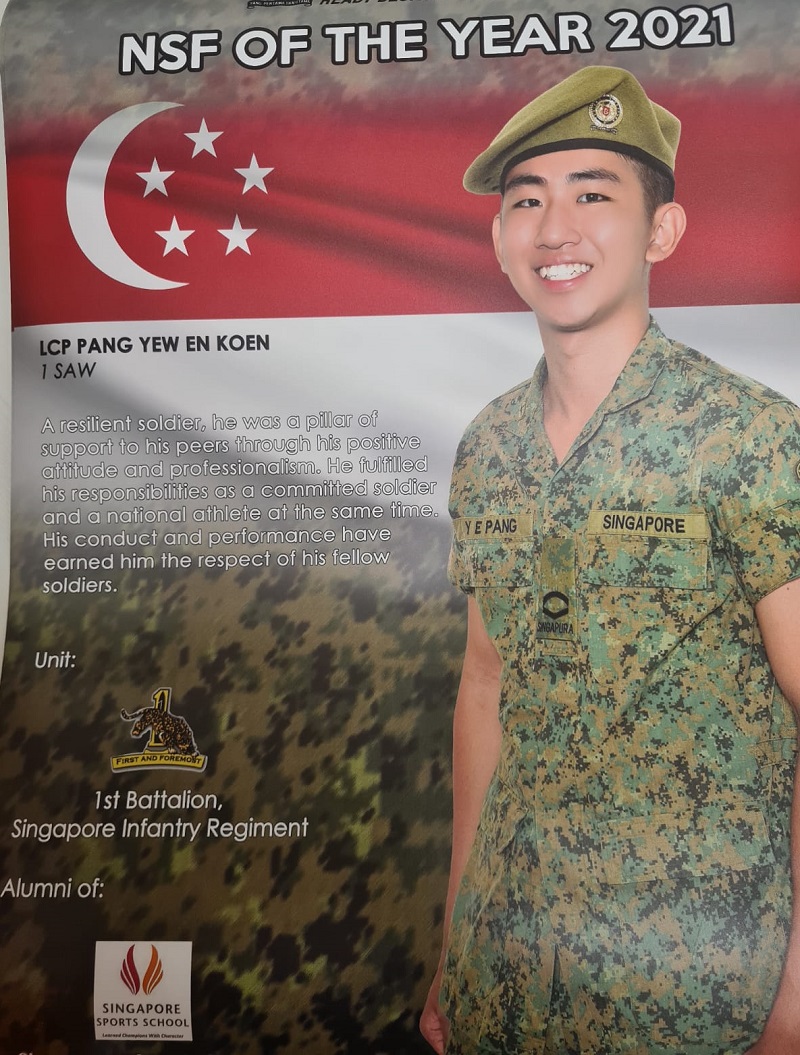 Paddler Koen Pang Yew En has been awarded the 2021 NSF Of The Year by the Singapore Army. The award is presented to outstanding full-time National Servicemen (NSF) who have demonstrated professionalism, leadership and exemplary conduct during their National Service.
The alumnus, who is now a Lance Corporal with the 1st Battalion of the Singapore Infantry Regiment, was recognised for his "resilience, positivity and professionalism", and his "commitment as a soldier and national athlete" which "earned him the respect of his fellow soldiers".
"I feel happy to receive this award because there are many other deserving people who are serving, and I am honoured to be one of the few who has received this award," shared Koen.
Despite currently serving the National Service, Koen has been flying the Singapore flag high as a national athlete. The World No. 161 Koen participated in World Table Tennis Championships held from 23 to 29 November 2021 in Houston, United States, and upset Brazil's 38th-ranked Gustavo Tsuboi 4-2 to reach the last 32 and put up a strong fight against former world No. 1 Timo Boll.
"It is definitely challenging to balance both National Service and sport but you have to find time to train and make things work. I have learnt to be more disciplined, to persevere through hard times and learnt how to manage my time properly," said Koen who usually finds time to train on Saturdays and his days-off on weekdays.
Koen, whose National Service will end in May 2022, is looking forward to play full-time for the rest of 2022 before pursuing his studies. He will be representing Singapore in a few major Games next year – Southeast Asian Games, Commonwealth Games and Asian Games.
CITATION
A resilient soldier, he was a pillar of support to his peers through his positive attitude and professionalism. He fulfilled his responsibilities as a committed soldier and a national athlete at the same time. His conduct and performance have earned him respect of his fellow soldiers.
Continue Reading →