29 For Nanjing 2013 Asian Youth Games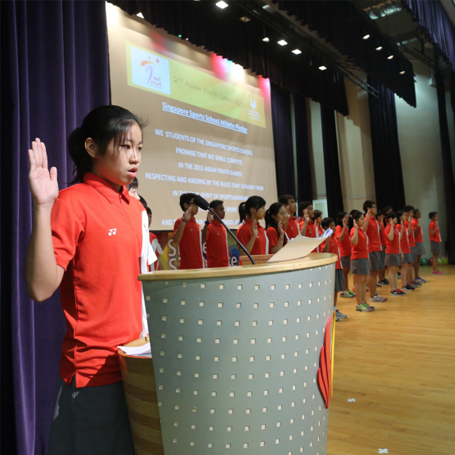 Singapore Sports School held a send-off ceremony on 7 August 2013 for its 29 student-athletes heading for the Nanjing 2013 Asian Youth Games.
Track and Field Academy Girls' Team Captain, Kerstin Ong Jing Rong, led in The Athlete's Pledge. Sports School student-athletes and alumni take The Athlete's Pledge before they compete in major Games.
Team Singapore's Chef de Mission Sharon Tan Paey Fern, who had represented Singapore in table tennis at 10 Southeast Asian Games, three Commonwealth Games, three Asian Games and the Athens 2004 Olympic Games, was the guest-of-honour.
"The Asian Youth Games is a wonderful opportunity for you to compete against the best youth athletes in Asia. I hope that your experience at the Games will motivate you to train even harder so that you can compete on the biggest stage of all – the Olympic Games," said Ms Tan, in her speech.
Badminton player Liang Xiaoyu, World No. 10 in the Badminton World Federation Junior Rankings, is looking forward to competing at the Games.
"I may be No. 10 in the Badminton World Federation Junior Rankings but there are some very good players from China, Japan and Thailand competing at the Games. I hope to play well and do Singapore proud. Attaining a podium finish will be a bonus for me," said Xiaoyu.
The Nanjing 2013 AYG will be held from 16 to 24 August.
Singapore hosted the inaugural Singapore 2009 Asian Youth Games. Thirty-one student-athletes from Singapore Sports School competed at the Games and they won 5 gold, 5 silver and 5 bronze medals.
Student-Athletes At Nanjing 2013 AYG
Badminton
Liang Xiaoyu
Yeo Jia Min
Diving
Fong Kay Yian
Fencing
Nicole Mae Wong Hui Shan
Zachary Chen Yi
Football
Aaron Tang Jun Jie
Alif Iskandar Abdul Razak
Danish Irfan Azman
Ikhsan Fandi Ahmad
Muhammad Amirul Haikal Mohamed Hassim
Muhammad Saifullah Mohammad Akbar
Muhd Nazhim Harman
Shooting
Martina Lindsay P Veloso
Swimming
Hoong En Qi
Lim Ching Hwang (Representing Malaysia)
Phiangkhwan Pawapotako (Representing Thailand)
Table Tennis
Angeline Tang An Qi (Representing Malaysia)
Edric Lim Zheng Jie
Yee Herng Hwee
Track and Field
Gary Wee Wei Zong
Jay Choo Zhan Xian
Keith Yong Sheng Wei
Kerstin Ong Jing Rong
Kugapriya d/o Chandran
Muhammad Adnan Hakim Samri
Muhammad Afiq Hassan
Muhammad Syazani Abdul Wahid
Nur Izlyn Zaini
Raja Afiqah Qistina Raja Mohamad Aris