Divers Plunge To Victory
12th Singapore National Diving Championships

Written By:
Yim Shek Yen
Secondary 4, Aquatics (Diving)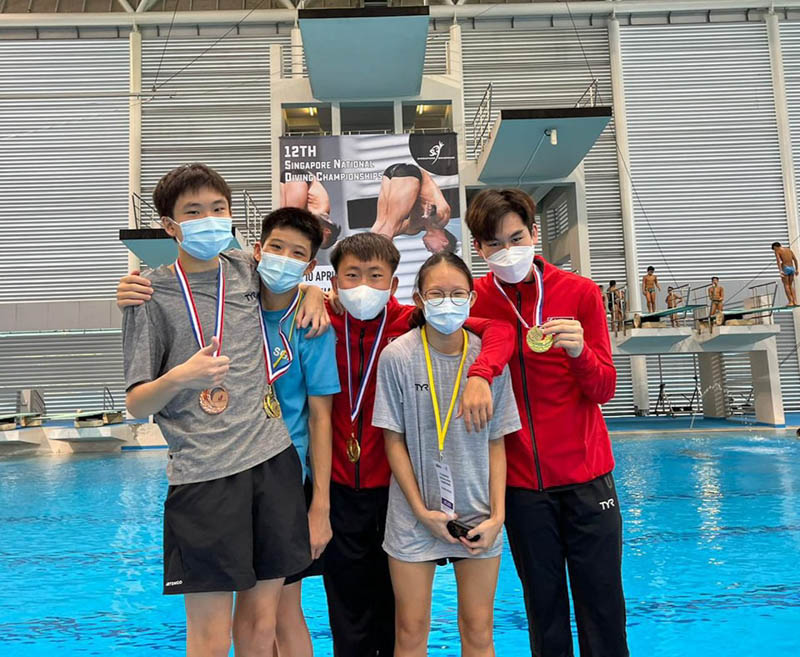 The 12th Singapore National Diving Championships, which took place on 9 and 10 April 2022, brought back the competitive spirit of diving which was otherwise lacking due to the absence of competitions.
The training leading up to the competition was filled with a nervous atmosphere layered with tension; everyone had forgotten the once-familiar thrill and anxiety of performing their dives in front of a sizeable audience. The gruelling two days of competition, which hosted a fantastic display of abilities, garnered applause, satisfaction, relief, and disappointment.
Singapore Sports School's divers performed well in the competition. Avvir Tham Pac Lum (Diploma in Business Studies, Year 2) emerged first in the Men's Open 1m Springboard (304.90) and Men's Open 3m Springboard (343.70). Joel Chiew (Secondary 4) also took first place in the FINA Age Group A/B Boys Synchronised 3m (171.51) and third place in the Men's Open 3m Springboard (194.35). Max Lee Shen Oon (Secondary 3) was first in the Men's Open Synchronised Platform (320.16). Together with his synchronisation partner, Jonathan Chan, they both made the qualification score for the Asian Games. Yim Shek Yen (Secondary 4) also stood out from the crowd with first place in the Men's Open Platform (241.65). Karen Kang Kit Ang (Secondary 3) got fourth place in the Women's Open 3m Springboard (160.35).
Overall, the event was a great experience as it managed to re-introduce competitiveness to the sport, pushing Sports School student-athletes to rise to the challenge.
Continue Reading →