Sports School Hits 10 Golds At NSG
2021 National School Games: Bowling, Golf, Shooting, Rhythmic Gymnastics
After the cancellation of the National School Games in 2020 – the first in its 61-year history – and early postponements to the 2021 edition, Singapore's largest inter-school competition is back in action, but with only 12 out of the usual 29 sports.
The 2021 NSG, which officially kicked off on 31 March 2021, sees Singapore Sports School student-athletes from the sports of Bowling, Golf, Gymnastics (Rhythmic), Shooting, Taekwondo and Wushu put their best foot forward to clinch top honours in their respective events and divisions.
Sports School's student-athletes performed creditably in the annual competition. Student-athletes raked in 32 medals from the Bowling, Golf, Shooting and Rhythmic Gymnastics competitions, which included 10 golds, 6 silvers and 12 bronzes. Results from the Taekwondo and Wushu competition will released in May.
Bowling

Sports School's A and B Division bowlers were out on the lanes between 7 April and 27 April, with the upper secondary student-athletes up first for the B Division competition. They did well to emerge among the top 4 places in four events, winning 2 silvers in the Boys Quartet and All Events, 2 bronzes in the Girls Doubles and Quartet, as well as another 4th-place medal in the Girls Quartet. Their performance was sufficient to earn them the overall schools Runner-Up titles in the both the Boys and Girls categories.
Secondary 5's Gerald Teng Woo Kiat was the only individual medallist as he took home the Boys All Events silver medal. His total score of 3,924 pinfalls was just 6 pinfalls shy of winner Ryan Toh's, a Westwood Secondary School student.
The A Division bowlers took to the lanes next. During the Boys Doubles event on 21 April, Jovan Chua Min Han found his line in the sixth and final game, and struck home for his first official perfect game.
"Going into the competition, I actually did not expect much. I just wanted to give it my best shot and not give up no matter what," said the IBDP Year 6 bowler.
"During my last game, I concentrated on repeating my shots and taking note of how the previous shot reacted so that I could adjust my shots accordingly. Focusing on the process also helped to not let the score get into my head.
"It was a proud moment for me and to have done it while representing Singapore Sports School as I have never gotten a perfect game during a tournament before. It was a memorable way to end off my last-ever NSG representing Sports School."
As Sports School's only representative in the Boys A Division, it eliminated Jovan's chances to win medals in the team events like the Doubles and Quartet. Instead of focusing on missed opportunities, it served as motivation for Jovan to do well in the All Events. His combined score of 3,773 pinfalls placed him 5th in the All Events, and while he missed out on a medal by 23 pinfalls (medals are presented to top four bowlers), he "had given it my all and I have no regrets."
Mandy Koh Mun Leng (IBDP Year 5) and Evangeline Foo Shi Yun (IBDP Year 6) featured in the Girls A Division, with the former placing 6th in the All Events.
RESULTS
B Division
Boys Quartet
2nd – Darius Huang Weixiang, Ethan Tan Jing Zhi, Gerald Teng Woo Kiat, Joshua Gaza Soo Chak Kuen
Boys All Events
2nd – Gerald Teng Woo Kiat
Girls Doubles
3rd – Jade Ooi and Taneisha Kaur Teo Eelin
Girls Quartet
3rd – Ashley Victoria Lok, Jade Ooi, Shirlene Wong Xue Lin and Taneisha Kaur Teo Eelin
4th – Felicia Leong Yong Mei, Jerlyn Lam Si Ting, Lim Shi En, Victoria Annabelle Huang You Hui
Overall Championship
Boys Team: 2nd
Girls Team: 2nd
Golf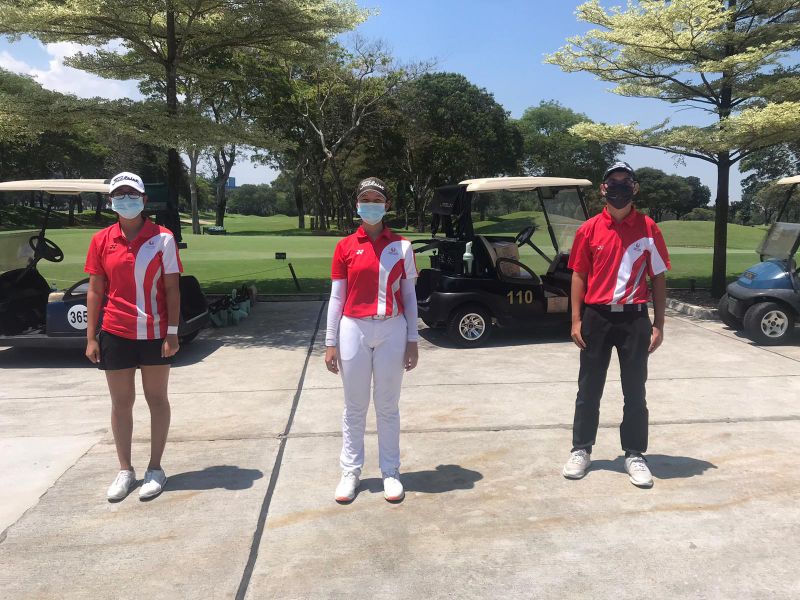 From left: Inez Ng, Jaymie Ng and Eng Wei Jin
Eng Wei Jin and Inez Ng Xin Yi dominated in the 2021 National School Games Golf A Division, winning their events by convincing margins. Wei Jin, an Extended IBDP student-athlete, was the only golfer to finish in the reds in the single-round competition on 20 April. His score of 3-under 69 strokes gave him a 5-stroke lead over Boys runner-up Austin Anderson Tan from Anglo-Chinese School (International), while Anglo-Chinese Junior College's Darryl Tan completed the top three standings in the 18-player field.
He said: "I'm very happy with my win. It has been a tough 12-month stretch for all of us and I'm grateful to be given the opportunity to represent the school in the National School Games for the final time before I graduate at the end of this year. A lot of hard work has been put in the last few weeks so I'm glad it has paid off."
Golf is one of 12 sports contested in the NSG in 2021; the NSG featured 29 sports in 2019. Also unlike previous years, golfers competed in only the individual event and over one round as compared to the usual two rounds.
"It could have been anyone's game, so it was especially important for me to perform well as I only have one round. Therefore, in the weeks leading up to the NSG, I made sure to focus on my accuracy and my wedge game as I know that I will have a lot of wedge approaches at Laguna National Golf and Country Club's Masters Course.
"During the tournament, I was able to stick my approaches close to the flag and take advantage of any birdie opportunities I had."
In the Girls event, IBDP Year 6's Inez carded 2-over 74 strokes to beat Jaclyn Choo from Catholic Junior College by 8 strokes (10-over 82), and ACJC's Angelica Tay by 12 strokes (14-over 86).
Sports School's third representative, Jaymie Ng Wan Xin (Secondary 4), concluded the 18 holes with 9-over 81 strokes to rank 5th in the Girls B Division.
RESULTS
A Division
Boys Individual
1st – Eng Wei Jin (3-under 69 strokes)
Girls Individual
1st – Inez Ng Xin Yi (2-over 74 strokes)
B Division
Girls Individual
5th – Jaymie Ng Wan Xin (9-over 81 strokes)
Shooting

Shooting Academy's upper secondary and IBDP student-athletes were in action from 12 to 22 April and won 5 gold, 2 silver and 3 bronze medals. They also set three new Championship Records in the process.
Secondary 4's Ariana Beh Yoke Ching was all fired up, shooting her way to the B Division 10m Air Rifle Women Individual gold medal with a score of 622.2 points which was a new Championship Record. Her score, combined with Faithe Odelia de Souza's (Secondary 3) – who finished third in the Individual event – and Soh Yi Wei's (Secondary 3), earned her the Team gold medal and a second Championship Record (1,847.8 points).
"I was quite relieved when I performed how I did," said Ariana who had two rough competitions before her event at the NSG, coupled with the pressure brought about by the performance of her predecessors and also competing in her final year in the B Division.
"There was definitely a sort of pressure as Sports School's B Division rifle girls always did exceedingly well in the National School Games in previous years. The one year break did also give me a bit more pressure because it is my last year shooting in the B Division and I wanted to make sure I did well."
Having performed below expectations in two competitions leading up to the inter-schools, Ariana knew she had to focus on the more important aspects. "I went into the NSG focusing more on my routine and mental management, rather than the outcome, and that helped me to calm down and shoot better. My coach, Head Coach Lim Chea Rong, also called me out to rest in the middle of my shoot as she noticed I was mentally fatigued. This contributed to the success of my last series (of shots)."
Shirlene Hew Yun Ting (Extended IBDP) also contributed 2 golds to Sports School's tally with her wins in the A Division 10m Air Pistol Individual and Team events. Sports School's third Championship Record (1,629 points) came from the A Division girls' pistol team comprising Shirlene and IBDP Year 6 student-athletes Chan Yi Xuan and Chin Khar Ann. Khar Ann also won the Individual bronze medal. The A Division Air Rifle quartet of Edlyn Nadra Mohammed Sophian, Callie Siah Yong Xin, Emma Jane Pragasam and Irna Qistina Noorazlin also clinched a gold medal.
RESULTS
B Division
10m Air Pistol Team
2nd – Adrian Osman, Au Yong Qing Yong, Eugene Kek Jia Jian, Lau Yew Liang
10m Air Rifle Women Individual (New Championship Record)
1st – Ariana Beh Yoke Ching
3rd – Faithe Odelia de Souza
10m Air Rifle Women Team (New Championship Record)
1st – Ariana Beh Yoke Ching, Faithe Odelia de Souza, Soh Yi Wei
A Division
10m Air Pistol Women Individual
1st – Shirlene Hew Yun Ting
3rd – Chin Khar Ann
10m Air Pistol Women Team (New Championship Record)
1st – Chan Yi Xuan, Chin Khar Ann, Shirlene Hew Yun Ting
10m Air Rifle Women Individual
2nd – Edlyn Nadra Mohammed Sophian
3rd – Callie Siah Yong Xin
10m Air Rifle Women Team
1st – Edlyn Nadra Mohammed Sophian, Callie Siah Yong Xin, Emma Jane Pragasam, Irna Qistina Noorazlin
Rhythmic Gymnastics
Rhythmic gymnast Low Yu Yenn brought in Sports School's first gold at the 2021 NSG on 8 April. The Secondary 4 student-athlete claimed the Individual All-Around title in the B Division FIG category, including four more medals in the Hoop (gold), Clubs, Ribbon (silver) and Ball (bronze).
"I feel really satisfied for achieving these results after not being able to compete at the NSG last year. Winning the Individual All-Around gold means a lot to me as it shows what I am capable of doing and that all my hard work over the past year has finally paid off. I am also glad to be able to represent the school and do the school proud," said Yu Yenn.
"Going into NSG this year was definitely not easy as it was difficult for me to get back into the competition mood and feel, and also having to perform live in front of judges again. I was nervous at the start, but I managed to maintain my composure and fight against the pressure so that I could perform to the best of my ability."
Abie Chi En Shuen (Secondary 4) and Sophia Ho Jin Wen (Secondary 3) also won medals in the IAA after finishing 4th and 6th respectively. Abie, Sophia and Lim Jia Min (Secondary 3) also collected more medals in the individual apparatus. Altogether, Sports School's rhythmic gymnasts won 15 medals which includes 3 golds, 2 silvers and 7 bronzes. Fourth- to sixth-place finishers were also awarded medals.
RESULTS
B Division
Abie Chi En Shuen
3rd – Ball, Hoop, Ribbon
4th – Individual All-Around
Lim Jia Min
3rd – Clubs, Ribbon
8th – Individual All-Around
Low Yu Yenn
1st – Individual All-Around, Hoop
2nd – Clubs, Ribbon
3rd – Ball
Sophia Ho Jin Wen
1st – Ball
3rd – Clubs
6th – Individual All-Around