The Inner Strength of Sportsgirl of the Year, Ser Lin Qian
Student Feature – Ser Lin Qian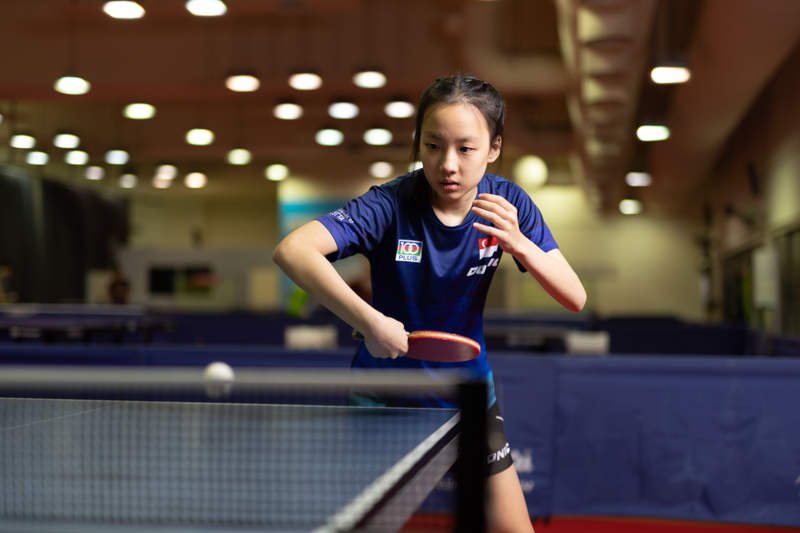 Paddler Ser Lin Qian (Secondary 4) started the year on a high note as she earned her promotion to the National Team in January. She continued her winning streak at the World Table Tennis (WTT) Youth Contender in Metz, France, where she took both the U17 and U19 Girls' Singles titles. To top it off, Lin Qian is ending 2022 on a winning note, as she won the Sportsgirl of the Year Award at the Singapore Sports Award 2022 held on 10 November 2022.
The Award is extra meaningful to the alumna of Nanyang Primary School student, as it is a recognition of her sporting excellence, hard work and tenacity in overcoming challenges in her sporting journey.
"Every achievement, regardless big or small, means a lot to me. They are all equally important to my sporting journey as it gives me assurance and confidence. Receiving the Sportsgirl of the Year Award is really a bonus reward, and it was a huge surprise gift for me," said Lin Qian whose biggest goal is to represent Singapore in Major Games, especially the Olympics.
Behind her achievements, there have also been a fair share of challenges, such as injuries, self-doubt and anxiety during trainings and competitions. However, Lin Qian's tenacity and resilience have kept her going.
"At first, it was because I was reluctant to give up a sport that I have been training hard for more than 10 years, but what actually motivated me more was that I wanted to push myself beyond my limits and prove to myself that I am stronger and more capable than what I thought I am," said Lin Qian who started learning Table Tennis when she was 5 years old, as she took it on as a hobby to strengthen her immune system.
"What I've understood from my journey so far is that success doesn't lie in a one-off upset against a big player or just having a few good results. It lies in consistent control of your habits, emotions and mindset. Even I still struggle to have trust in myself. It takes time to be not afraid of failure, but I believe that I will get there eventually," shared Lin Qian.
On her goals for 2023, Lin Qian, who is still recovering from her back injury, hopes to focus on recovering fully. She said, "I will monitor and make sure that I don't over-train. Although it may be tough to accept that I may not be at my peak form, I hope that I can take this time to build up my physical and mental strength. I will give my best, and overcome any challenges that may come my way."
Continue Reading →