Environment Makes A Difference
Singapore Sports School Review Committee Recommendations
Having the right environment makes a difference to student-athletes' performance where quality coaching and specialised support have become increasingly important in their athletic development, said Ms Grace Fu, Minister for Culture, Community and Youth.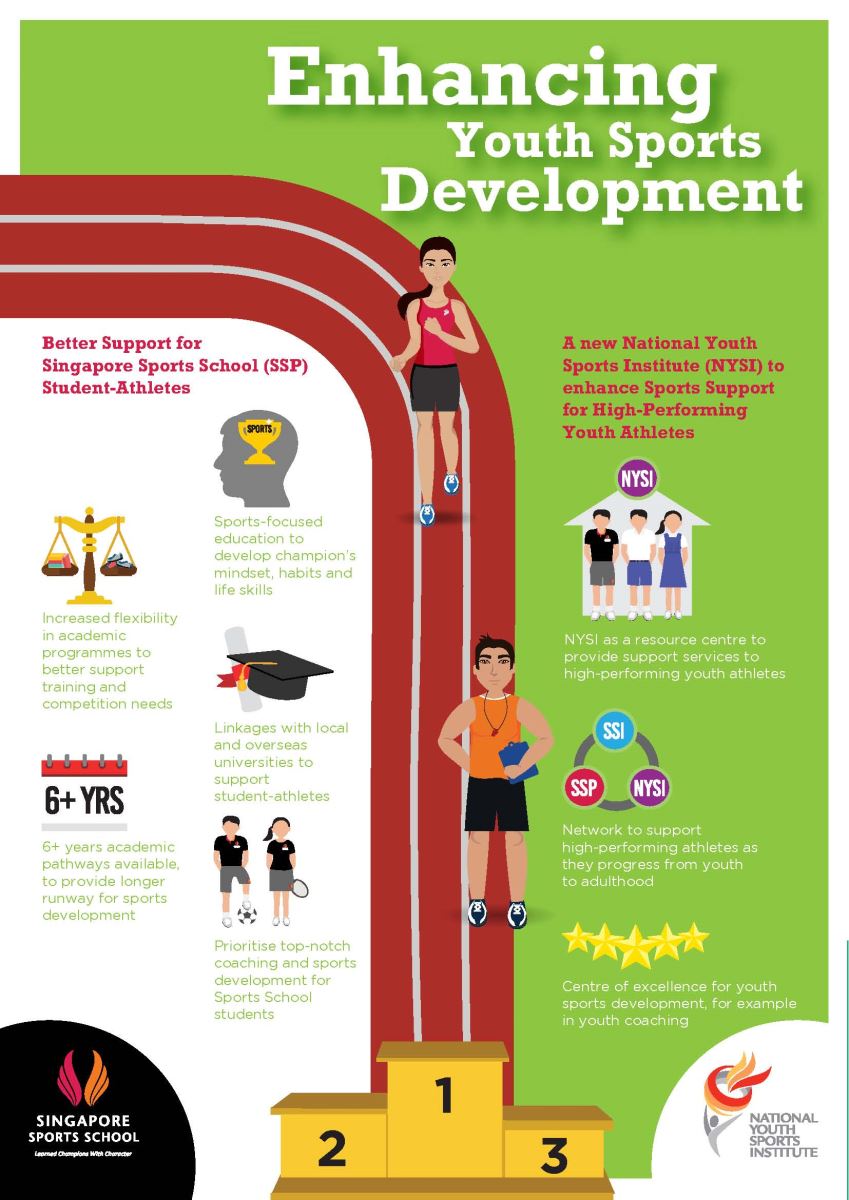 At The New Paper School Sports Star Awards presentation ceremony on 16 November 2015, Ms Fu, the guest-of-honour, cited the example of Brian Cheong Sze Kai who had the support of his family and school to get back on competition track after he was diagnosed with diabetes two years ago.
The 16-year old student-athlete from Singapore Sports School was caught in a dilemma – if his poor health would force him to give up his sport, or if there was any way that he could continue to pursue his passion for fencing. Thanks to family encouragement and support from his coach and mentor, the Secondary 4 student-athlete won an individual silver medal at National Schools Fencing Championships earlier this year, all this while he was preparing for his GCE "O" Level Examinations.
"While student-athletes from the Sports School such as Brian have the benefit of training in an athlete-centric environment, we wanted to see how similar services can also be extended beyond the Sports School, to support the sporting aspirations of more of our young athletes," said Ms Fu.
Prime Minister Lee Hsien Loong had challenged the Sports School last year, on its 10th anniversary, to "become a national sports academy of excellence 10 years from now". In response, a Review Committee was formed to examine the role, positioning and integration of the Sports School within Singapore's sports excellence ecosystem.
The Committee, co-chaired by Ministry of Culture, Community and Youth's Permanent Secretary, Ms Yeoh Chee Yan, and Sport Singapore Chairman, Mr Richard Seow, looked at ways to improve the Sports School's sport and academic programmes, and how it can play a bigger contributing role to Singapore's sporting landscape.
Singapore Sports School Review Committee Recommendations
A key recommendation is to extend the development pathway for Sports School student-athletes. The Sports School will therefore offer additional 6+ years' through-train programmes over the current 4-year secondary programme, and also strengthen linkages with local and overseas universities to provide a wider range of athlete-friendly post-secondary pathways.
"Alongside these academic pathways, Sports School will also prioritise top-notch coaching for its student-athletes and provide a distinctive sports-focused curriculum. Aspiring student-athletes will be able to benefit from modules such as sport physiology and nutrition to help student-athletes develop to their fullest potential."
Ms Fu said Singapore saw glimpses of this in the Sports School's past and present student-athletes at Singapore 2015 Southeast Asian Games in June.
"Many would remember Veronica Shanti Pereira's historic win in the Women's 200m final with a record time of 23.60s. Shanti has been an inspiration to her juniors, including Diane Hilary Pragasam… Diane recently equalled Shanti's four-gold feat at the National Schools Track and Field Championships, and she hopes to emulate Shanti's achievements on the regional stage one day.
The 14-year old Sports School sprinter was named TNP School Sports Star Award winner. Fencer Brian Cheong Sze Kai was a top-5 finalist and badminton player Darryl Sim Jing Quan was a nominee.
Ms Fu said that with the enhancements to the Sports School's programmes, student-athletes like Diane can look forward to even greater curricular flexibility to help her balance the demands of competitive sport and a sound academic education.
Setting Up Of National Youth Sports Institute
To further raise the overall standard in the youth sports excellence eco-system, the National Youth Sports Institute will be set up to provide specialised services and support to high-performing youth athletes in both mainstream schools and the Sports School.
Ms Fu said NYSI will benefit student-athletes like Dineshraj Naidu, a 17-year-old hockey player from St Andrew's Secondary School, a finalist of the TNP School Sports Star Award this year, who hopes to follow in his father's footsteps to become a national hockey player.
"NYSI will provide student-athletes like Dineshraj with greater opportunities to train with hockey players from National Age-Group teams and other Singapore School Sports teams. It will also provide sports medicine and sports science services to these young athletes, including athlete education and career guidance.
"Building on the foundation of the last 10 years, Sports School has made significant positive impact to the education and development of young athletes. Over the last 10 years, it has accumulated valuable experience and expertise. It is now in a good position to share its expertise more widely to support the sporting aspirations of student-athletes in mainstream schools and make a greater impact in youth sport.
"Sports School will need to continue working closely with our stakeholders including the National Sports Associations, sporting and education fraternities, the students and their parents to provide our youth with the best support in their pursuit of sporting excellence and nurture a new generation of accomplished athletes."
Inspiring The Singapore Spirit Through Youth Sporting Excellence
Ms Fu said these measures signify a broader commitment to provide continued support for youth sports.
"Our goal does not stop at nurturing champions; we aim to develop the youth athletes of today into sporting heroes of tomorrow.
"At the Sea Games this year, 96 past and present Sports School student athletes represented Singapore, winning a total of 32 gold, 19 silver and 19 bronze medals. The gold medals make up about 40% of the 84 won by Team Singapore athletes.
"More importantly, we saw how the new generation of athletes like Shanti can inspire a nation and bring us all together as One Team Singapore. So I urge all our student-athletes to dream big and persevere in your sporting pursuits. You will not be alone in this journey. Those who demonstrate the right attitude and potential can look forward to greater support from the Sports School and the new NYSI."
"Over the last 10 years, it (Singapore Sports School) has accumulated valuable experience and expertise. It is now in a good position to share its expertise more widely to support the sporting aspirations of student-athletes in mainstream schools and make a greater impact in youth sport."
Grace Fu, Minister for Culture, Community and Youth
"I urge all our student-athletes to dream big and persevere in your sporting pursuits. You will not be alone in this journey. Those who demonstrate the right attitude and potential can look forward to greater support from the Sports School and the new National Youth Sports Institute."
Grace Fu, Minister for Culture, Community and Youth
Singapore Sports School Review
Press Release on Singapore Sports School Review