Yipee, Chiang Yee's Epee Champ!
2019 Modern Fencing Minime International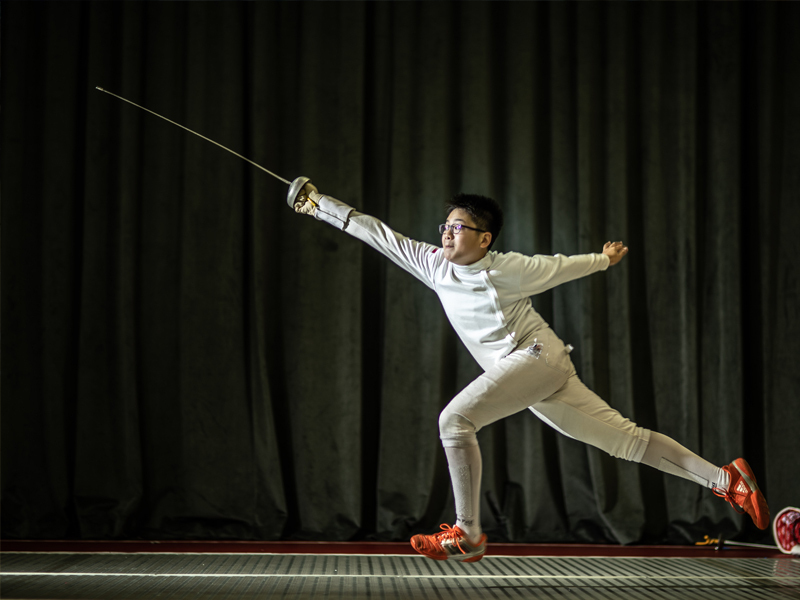 Seeded second after the Pools, Secondary 1 fencer Chiang Yee steadily progressed in the elimination rounds to clinch the Men's Under 14 Epee Individual gold medal at the 2019 Minime International.
The Minime International for U14 fencers saw participation by 50 clubs from seven countries, namely China, Hong Kong, Indonesia, Malaysia, Philippines, Thailand and Singapore.
Singapore Sports School's Chiang Yee chalked up four wins in as many bouts in the Pools, allowing an average of one point to be scored against him over the four matches. His good run in the competition continued in the knockout stage, lunging into an all-Sports School final against Neo Se Ian, save for a 15-14 scare in the Quarter-Finals against compatriot Trevor Chow.
Se Ian proved to be strong rival. However, Chiang Yee kept his form to defeat his Secondary 2 opponent by a single point to claim the individual Epee title, while Se Ian settled for the silver medal.
Secondary 2 student-athlete Juliet Heng Jie Min was Sports School's other gold medallist, winning the Women's U14 Sabre Individual event. Seeded third entering the knockout stage, Juliet defeated two teammates before a second encounter against Malaysia's Resha Shaveena Sabaratnam. Determined not to let history repeat itself after losing narrowly to the Malaysian fencer in the Pools, she dug deep, and with swift movements, ended the Semi-Final match quickly with a score of 15-5. The Sports School student-athlete secured her final victory in the tournament with a 15-14 win over compatriot Teh Liang Yu.
Altogether, Sports School Secondary 1 and 2 student-athletes won 2 gold, 1 silver and 3 bronze medals at the tournament organised by Modern Fencing from 27 to 28 April 2019.
RESULTS
Men's U14 Epee Individual
1st – Chiang Yee
2nd – Ian Neo Se
Women's U14 Epee Individual
3rd – Li Yalu
Men's U14 Foil Individual
3rd (Joint) – Tan Yun Kai, Sean Ho
Women's U14 Sabre Individual
1st – Juliet Heng Jie Min