Squash
Squash: 2021 ONCOCARE SGSquash Junior Circuit

The first leg of the 2021 ONCOCARE SGSquash Junior Circuit was held from 15 to 20 March 2021 at the Kallang Squash Centre. 14-year-old Au Yeong Wai Iynn (Secondary 2) who participated in the Girls Under 19 event comfortably reached the finals after winning all her games (3-0, 3-0) in the first two rounds. However, she faced stiff competition from 15-year-old Gracia Chua in all three games in the finals, and finished second-place in the event.

Triathlon
Triathlon: 2021 MetaSprint Series Aquathlon Origin

Singapore Sports School alumnus Luke Chua Li Rong placed first in the Sprint Aquathlon Male (20-24 Years) category, at the MetaSprint Series Aquathlon Origin, held from 27 to 28 March 2021 at Sentosa. Participants had to complete a 750m swim and a 5km run. Luke set the dominant pace at 26:43. Coming in hot on his heels at second place in the same age category is another alumnus Nicholas Rachmadi, who also clocked an impressive timing of 28:13s.
In the Sprint Aquathlon Female (20-24 Years) category, alumna Regine Goh Xuan Xuan triumphed, taking the top spot this year at 33:48s, while her fellow alumna Shermaine Tung Kaixin secured the first place with her time of 35:37s in the Female (25-29 Years) category.
In the Discovery Aquathlon, comprising a 250m swim, followed by a 2.5km run, alumnus Kok Kiat Xuan came in first in the Male (16-39 Years) category, with a timing of 13:22s.

Water Polo
Water Polo: 2021 ActiveSG x SSA 4x4 Water Polo

Three post-secondary water polo players from Singapore Sports School contributed to their team's win at the 2021 ActiveSG x SSA 4x4 Water Polo from 15 to 19 March 2021.
The team, comprising Sports School's Celeste Ferrao Wan (DBIZ Year 2), Lau Wei Na (IBDP Year 5), Michelle Tan Ting Yee (IBDP Year 6) and Ranice Yap from Nanyang Girls' High School (NYGH), defeated seven other teams to clinch the gold medal in the Girls Under 18 category.
The combined team of Sports School and NYGH players won all three round-robin matches in the group stage. They dominated the Group B pool, scoring 53 goals and conceding just four. Their lead in Group B secured them a place in the gold medal-playoff where they met Queenstown 1. An impressive score of 15-0 handed the Sports School-NYGH team the champion title.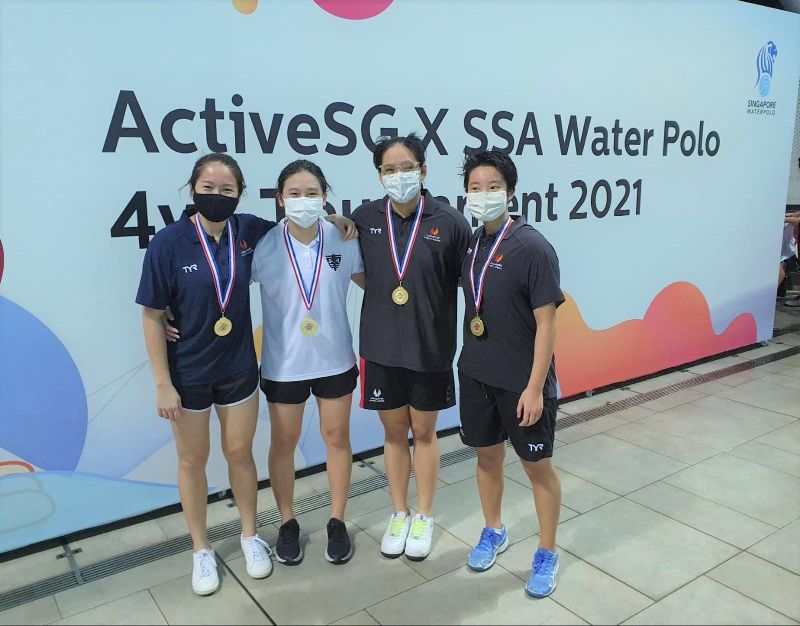 Weightlifting
Weightlifting: 2021 Singapore Weightlifting Open

At the 2021 Singapore Weightlifting Open from 27 to 28 March 2021, Muhammad Aiman Mohamad Azhar lifted a total of 152kg to finish 6th in the Men's 73kg weight category. The Secondary 4 student-athlete registered 72kg in the snatch and 80kg in the clean and jerk.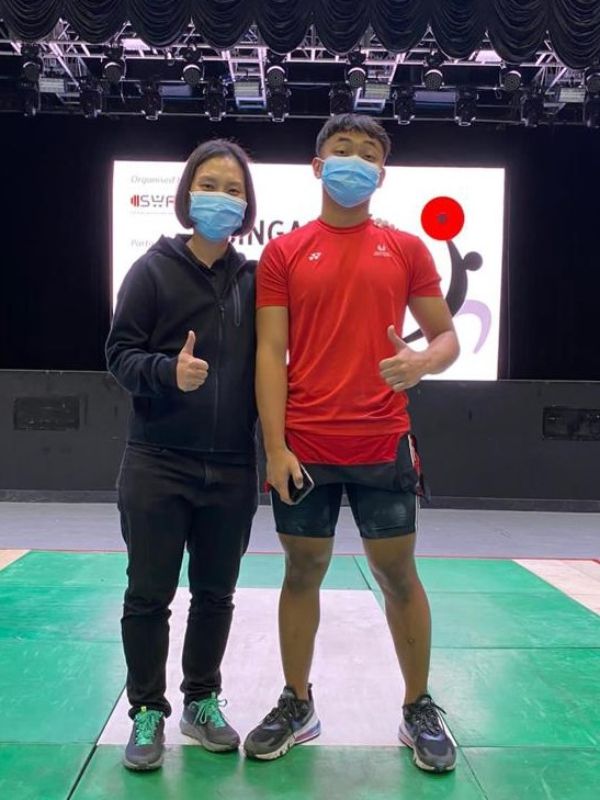 Wrestling
Wrestling: 2021 Wrestling National Open and Team Trials

Heba Lutfina gained the upper hand over her competitors at the 2021 Wrestling National Open and Team Trials held from 20 to 21 March 2021. The Secondary 1 student-athlete won all three of her bouts at the Women Freestyle Wrestling – 53kg event, as well as bagging another gold at the Mixed Under 15 Freestyle Under 53kg event.