Young Paddlers Win Big In Sweden
2020 ITTF World Junior Circuit Swedish Junior and Cadet Open, Safir International Tournament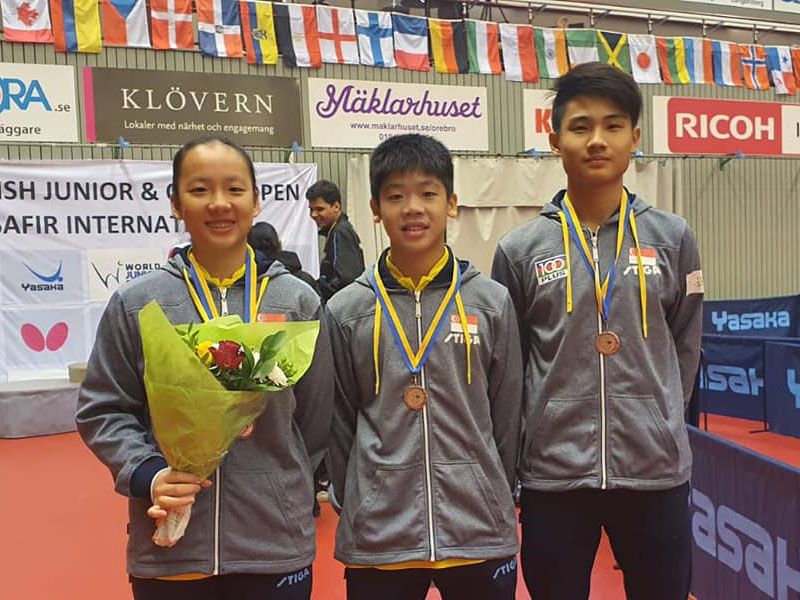 From left, Ser Lin Qian, Izaac Quek Yong and Nicholas Chong Xin Le
At just 13 years old, Izaac Quek Yong has won his first gold medal at the Cadet Boys' Singles event in the International Table Tennis Federation (ITTF) World Junior Circuit, Swedish Junior and Cadet Open.
The top seed, listed third place on the current under-15 Cadet Boys' world ranking, punched above his weight in the Cadet Boys' Singles matches on 23 February 2020. Without conceding a single match, he took on Sohan Gilles of France (11-3, 11-5, 11-6), Conor Green of England (12-10, 11-5, 14-12) and Oscar Birriel (11-8, 11-9, 11-6) Puerto Rico, before continuing his outstanding form to beat Simeon Martin of Canada in the finals. Izaac ended the day with a convincing win of 11-8, 11-9, 11-8. Izaac has also bagged two bronzes in the Junior Boys' Singles and Doubles event with Nicholas Chong Xin Le, while Jayden Tan Kai Yang came in third at the Mini-Cadet Boys' Singles.
"I'm very happy, this is my first victory on the ITTF World Junior Circuit. It was difficult to win and I had to work hard but I won all matches 3-0 in games. I have improved a lot lately and in this tournament, my forehand drive was much better. I practise five hours a day six days a week." said 13-year-old Izaac.
The girls produced equally stunning results. Ser Lin Qian impressed with a Junior Girls' Singles silver, while Zhou Jingyi brought home a bronze from the Cadet Girls' Singles match.
At the Safir International Tournament, Izaac, Koh Junhao and Jingyi also put up a strong showing with a gold and bronze from Izaac in the Under 14 and Under 16 Boys' Singles events respectively, a gold from Jingyi in the Under 16 Girls' Singles event, and a bronze from Junhao in the Under 14 Boys' Singles event.
RESULTS
2020 World Junior Circuit, Swedish Junior and Cadet Open
Cadet Boys' Singles
1st – Izaac Quek Yong
Cadet Girls' Singles
3rd – Zhou Jingyi
Junior Boys' Singles
3rd – Izaac Quek Yong
Junior Girls' Singles
2nd – Ser Lin Qian
Junior Boys' Doubles
3rd – Izaac Quek Yong and Nicholas Chong Xin Le
Mini-Cadet Boys' Singles
3rd – Jayden Tan Kai Yang
Safir International Tournament
Under 14 Boys' Singles
1st – Izaac Quek Yong
3rd – Koh Junhao
Under 16 Girls' Singles
1st – Zhou Jingyi
Under 16 Boys' Singles
3rd – Izaac Quek Yong