Corporate Partnerships For Sporting Success
Partnerships
IBDP Year 5 fencer Cheung Kemei has had a colourful first half in 2022. At 17 years old, she made her debut at the 31st Southeast Asian Games (SEA) in Hanoi, Vietnam, making her one of the youngest competitors in the Team Singapore contingent. She proved that age or the lack of competition experience during COVID-19 was not a deterrent to reaching the podium. Kemei finished her SEA Games debut with two medals – a gold in the Women's Foil Team event and a bronze for the individual Women's Foil event. Her fine form continued at the Asian Fencing Championships (
Read more
) held in June as she contributed to the team's joint-bronze medal.
Kemei has been able to focus on sporting excellence because of solid support from the School and corporate organisations, which have recognised her potential to excel.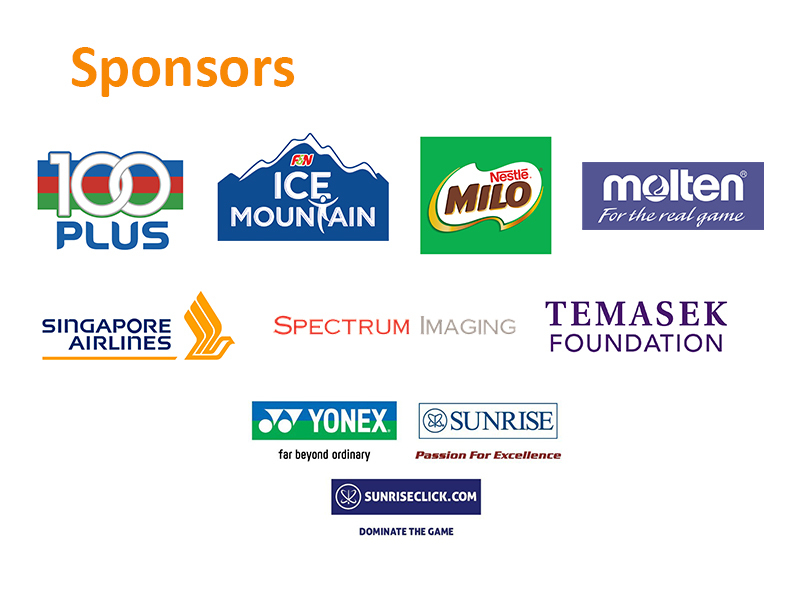 Temasek Foundation, one of Singapore Sports School's key partners since 2011, awarded her the prestigious EW Barker Scholarship. Both the EW Barker Scholarship and EW Barker Study Award presented to deserving student-athletes yearly stem from the EW Barker Endowment Fund, which aims to nurture talents in sports.
In 2022, 23 student-athletes were offered the EW Barker Scholarship, which enables them to receive partial to a full subsidy of their school fees for two years. This has helped Kemei ease her mind and focus on achieving her sporting goals. Her IBDP Year 5 classmate, Zeanne Law Zhi Ning (
Read more
), who also went to her first SEA Games to compete in Wushu, received the EW Barker Scholarship and is thankful for the scholarship: "The scholarship helped to put off the financial stress of training and studying simultaneously. It gives me the opportunity to pursue my sporting interest and achieve greater heights."
Likewise, the EW Barker Study Award is a cash award given to secondary and post-secondary student-athletes with good potential to excel in sport, have good character and have attained satisfactory academic results. The cash award aims to provide them financial support to defray costs as they work towards their goals. In 2022, 104 talented student-athletes were given the EW Study Award.
Earlier this year, Kemei was presented the Annabel Pennefather Excellence Award, sponsored by the International Women's Forum (IWF) Singapore Education Grant and managed by the Community Foundation of Singapore. Singapore Olympic Foundation also presents a similar Excellence Award in the name of Olympian Tan Howe Liang to male graduates. Both Excellence Awards have been given out since 2021 to recognise graduating student-athletes with outstanding sports achievements and character to encourage them to continue pursuing sports excellence.
Kemei was also further supported through the Singapore Olympic Foundation-Peter Lim Encouragement Awards (
Read More
) which was set up to help promising young student-athletes continue achieving their sporting goals. In 2022, a total of 77 student-athletes received a boost through the Encouragement Awards.
Besides scholarships and awards, companies have come forward to offer products or services to our student-athletes to contribute to their sporting journey. Singapore Airlines, a partner since the School started in 2014, provides complimentary flights for overseas trips. The operations of Academies is also supported by the provision of products by sport companies. For example, Sunrise & Co (Pte) Ltd sponsors Yonex apparel and equipment for the Badminton Academy; Pacific Sports Ptd Ltd is the Netball Academy's equipment sponsor; and Spectrum Imaging is the official timekeeper for the Swimming Academy and offers maintenance of its scoreboard.
All student-athletes have benefitted from the beverage sponsorship from Nestlé Singapore (MILO) and F&N Interflavine Pte Ltd (100PLUS, Ice Mountain). The beverage sponsorship contributes to their overall nutrition and hydration needs as a student-athlete.
Sports School has been privileged to be supported by corporate sponsors since its establishment. While some of the support student-athletes get from corporate organisations alleviate their financial burden, other sponsorships support their training needs and overall well-being. The sponsorships in the form of awards, products or in kind, are also a form of encouragement and recognition for student-athletes.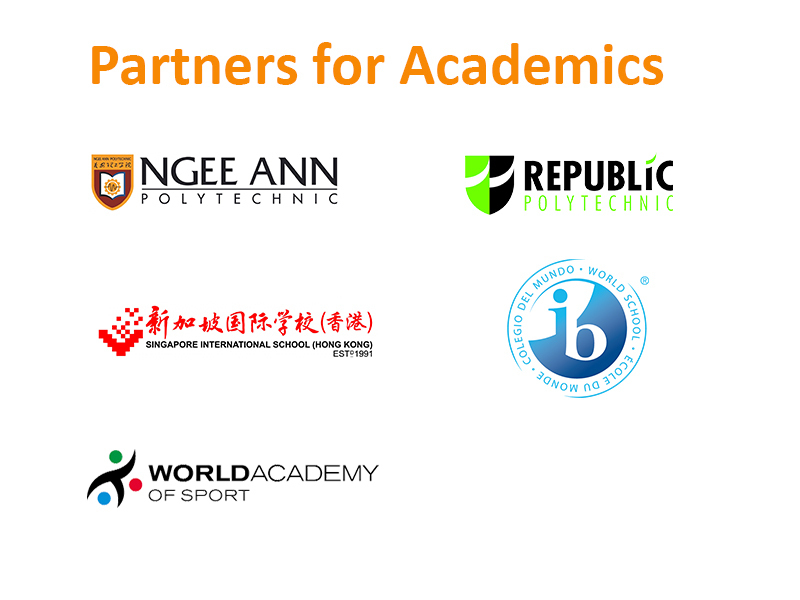 Beyond sponsorship, Sports School has joined hands with other academic and sports organisations to enhance opportunities for student-athletes. Sports School ties up with Ngee Ann Polytechnic and Republic Polytechnic to offer joint through-train Diploma programmes, and works with the International Baccalaureate Organisation to offer the IBDP programme. The Singapore International School (Hong Kong) enriches learning through student exchange opportunities. Another key partner for the School is the World Academy of Sport which collaborates and provides accreditation to ensure Sports School is an athlete-friendly education institution.
Sports School's key partners in sports are the National Sports Associations for the nine Academies offered in the School, and Kochi Prefectural Board of Education, Omiya Ardija FC, Sportschule im Olympiapark, and Ulsan Sports Science Secondary School, which provide overseas training and development experience for student-athletes.
The generosity and strong support from corporate partners has been encouraging and invaluable to Sports School in its academic programmes, sports training, and holistic development of Learned Champions With Character.
We would like to thank all our sponsors and partners for being on this journey with us. We appreciate their partnership and support.
Continue Reading →