First Batch Of 20 RP-SSP DSLM Elite Student-Athletes Graduates
Diploma in Sports and Leisure Management Graduation 2014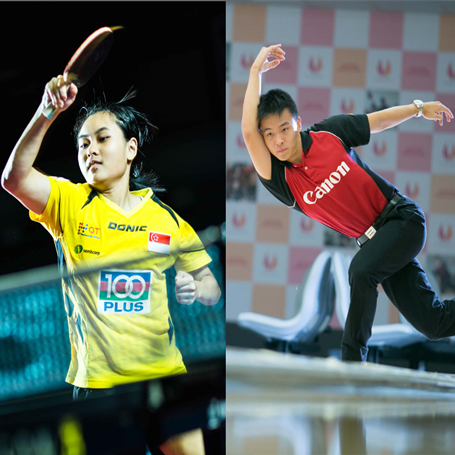 Isabelle Li (left) and Brandon Lee (right) among first batch of 20 Singapore Sports School student-athletes that graduated from the RP DSLM Programme on 23 May 2014

The first batch of 20 Singapore Sports School student-athletes on the through-train Republic Polytechnic-Singapore Sports School Diploma in Sports and Leisure Management programme graduated on 23 May 2014.
The two schools signed a Memorandum of Understanding in 2009 for RP's DSLM programme to be taught at the Sports School. The allowance for a condusive time table, customised to meet the needs of elite student-athletes who have to travel overseas for training and competitions, enabled several of them to represent Singapore at the Southeast Asian Games in 2011 and 2013 and the World Youth Bowling Championships in 2012, and winning medals. They include Sasha Siew Hoon Christian, who won 1 gold (Wakeboarding), 2 silvers (Water Skiing Slalom and Mixed Team Wakeboarding) and 1 bronze (Women's Waterski Overall) at the Jakarta 2011 Sea Games. At the same Sea Games were Pang Xue Jie, who won the Table Tennis Men's Doubles gold medal, Isabelle Li Siyun, who won the Table Tennis Women's Singles silver medal and Brandon Boon Ji Xing, who won the Swimming Open Water 5,000m bronze medal. Then, at the Nay Pyi Taw 2013 Sea Games, Xue Jie won the Men's Team gold medal and Isabelle won the Women's Team gold medal besides the Women's Singles silver medal.
At the World Youth Bowling Championships in Bangkok in 2012, Ng Chiew Pang won the Boys' Team silver medal and Ilma Nur Jannah Fadzal, the Girls' Team silver medal.
Isabelle, who graduated with a Grade Point Average of 3.98 out of a maximum 4.0, is RP's top graduand and was the selected Valedictory Speaker for the School of Sports, Health and Leisure Graduation Ceremony.
In her three years on the RP-SSP DSLM programme, Isabelle had to juggle school work and national team commitments. She was training up to 13 times a week, around three hours each session, and travelled overseas frequently for training and competition.
"Since I was 8 or 9 years old, I had dreamed of representing Singapore in table tennis. I articulated this wish to my coach at Chongfu Primary School, and he helped me to play at a level that caught the eyes of talent scouts from the Sports School a year later. The Sports School told my parents, 'We can help Isabelle to realise her dream of representing Singapore. We would like to offer her coaching. As in now.'," revealed Isabelle.
When Isabelle started training with the Sports School, she was barely 10 years old.
"I was very privileged to be able to train at the Sports School alongside Zena Sim Kai Xin and Tan Hui Min, who were already with the Sports School and in Singapore Table Tennis Association's National Youth Development Squad. I wanted to be like them. When it was time to choose a secondary school, Singapore Sports School was my clear choice."
Isabelle said she appreciates that the Sports School offers students, who are serious about sport, a uniquely flexible academic system.
"When I was at the Sports School, I travelled extensively to play in competitions that would determine my world ranking. I got to represent Singapore at the 2009 Asian Youth Games and the 2010 Youth Olympic Games. After the YOG in August 2010, the Sports School organised a team of teachers to help me catch up on the many, many lessons I had missed, and I was able to graduate at the end of the year and step onto the pathway to RP – in particular, the RP-SSP DSLM programme.
"Republic Polytechnic has also been as accommodating, and I was able to represent Singapore as many times as Singapore required me to in the three years when I was an RP student.
"That I was able to experience such pride standing on the topmost step of the prize podium with my team, singing the 'Majulah' after we won the Team gold medal at the 2013 Sea Games – I owe much to Chongfu Primary School, Singapore Sports School and Republic Polytechnic, the three schools' leaders, coaches and teachers."
Isabelle acknowledged that without the Sports School, RP and STTA, she would have struggled trying to juggle sports and studies. She was presented the Republic Polytechnic Board of Governors Award for the Most Outstanding Graduate of the Year during RP's Graduation and Awards Presentation Ceremony on 19 May 2014. She also received the Singapore Sports Council Gold Medal Award.
"I thank STTA for the many opportunities that I have been given. I am blessed that STTA has a president, Er Dr Lee Bee Wah, who has shown me such care and concern, who has anticipated my needs, and taken away any uncertainties of the future such as a university education."
Isabelle said that she will be deferring her university studies to play table tennis fulltime.
"I look forward to representing Singapore for many more years. I want to win a gold medal at the 2015 Sea Games which Singapore is organising – and giving Singapore something to cheer for. I want to go to the Olympic Games. I don't know if I would be able to win a medal there. But I will surely train my hardest and do my best. I want to make Singapore and Singaporeans proud."
Five of the 20 RP-SSP DSLM graduands have confirmed places in university.
Isabelle has been accepted at Yale-NUS but will defer her tertiary education for a couple of years to prepare for the Singapore 2015 Sea Games and Rio 2016 Olympic Games.
Brandon Lee Bing Xiang, who graduated with a 3.94 GPA, has accepted the Yale-NUS Dean's Scholarship (Philosophy, Politics and Economics), to start his tertiary education in 2016 after completing National Service. He had competed at the Singapore 2009 Asian Youth Games and won a silver and a bronze in bowling events.
Habibah Hajihahbi Ahmad, who graduated with a 3.88 GPA, has been presented the Goh Chok Tong Youth Promise Award (Merit Award). Habibah and national bowlers Ilma Nur Jannah Fadzal and Tay Huiwen have been accepted by NTU to read Sport Science and Management.