Young Talents Make Their Commonwealth Games Debut
2022 Commonwealth Games in Birmingham, England
23 past and present student-athletes are in Birmingham, England, for the 2022 Commonwealth Games from 29 July to 9 August 2022 (SG time). They are among the 66-member Team Singapore contingent who will compete in 9 sports against the best-of-the-best from Commonwealth nations.

Let us meet four young current student-athletes who are ready to set the stage on fire with their performance at their first Commonwealth Games.
Name: Sophia Ho Jin Wen
Sport: Rhythmic Gymnastics
Level: Secondary 4
Age: 15
Former School: Paya Lebar Methodist Girls' School (Primary)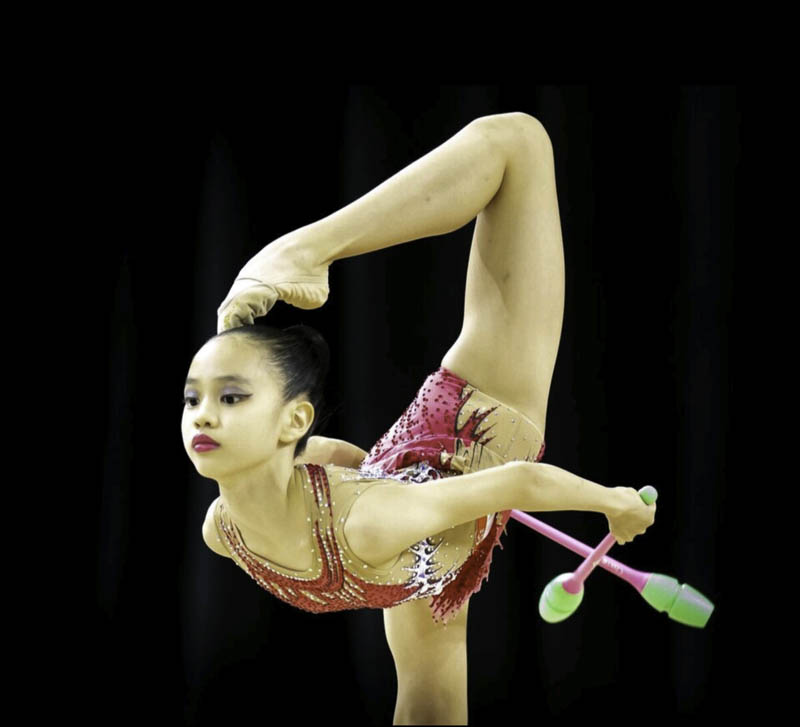 Sophia Ho Jin Wen was equally excited and nervous when she took off for her first major competition in Birmingham. The 15-year-old was pleasantly surprised that she made the cut to be part of the Team Singapore contingent amidst exceptional talent. She will compete with two other 15-year-old rhythmic gymnasts, making the trio the youngest among the Team Singapore contingent.
To make the final team for the Commonwealth Games is a feather in her cap. In the last two years, she battled injuries, burnout, and restrictions to training posed by the pandemic. However, the quietly preserving and resilient gymnast pushed on to realise her sporting goals. Prior to this, she took pride in competing in the Junior Asian Championships.
Being a resilient individual has been a winning quality that has enabled her to achieve what many other 15-year-old athletes would dream of.
The former Paya Lebar Methodist Girls' School (Primary) student started gymnastics when she was just eight years old. Then, her primary school was hoping to start a rhythmic gymnastics team. Sophia was spotted and encouraged to join the team when the coach went around scouting talents. With zero knowledge about gymnastics, her mother was hesitant for her to join the sport. However, Sophia was keen to join the team with her close friend. After the first competition, her friend quit the team as she found the training grueling. By then, Sophia loved the sport and stayed on.
Her mother, Joanne Ho, shared, "We knew she was serious about the sport when she fractured her ankle during training and was so downcast. Upon recovering, she went straight back to training. That's when we knew she means business."
Once again, she showed her passion and resilience earlier this year when she sustained a serious injury that hindered her participation in the selection to qualify for the 31st Southeast (SEA) Games. Nonetheless, she showed up at the competition as a volunteer to cheer her friends. She focussed on her recovery, got back on her feet, put in hard work, and qualified to be in the Team Singapore contingent.
"She understands and accepts pain, disappointments, and injuries as part of high-performance sport. She knows it is important to be patient with herself and allow time for these. All these (challenges) shall pass," shared her supportive mother.
Inspired by rhythmic gymnasts Yana Kudryatseva and Alina Maksymenko, Sophia hopes to advance to higher levels of competition. Believing in herself, staying calm and giving her best, has worked for Sophia, and she hopes it will get her through the Commonwealth Games.
The young gymnast shared her advice for aspiring gymnasts: "Trial and error is important. Everyone is different so, discover what works best for you. You have to see what works before or after competition and training rituals. Advice and experiences from others are always a great help. Importantly, just keep trying."
Name: Mohammad Mikhail Haziq Mohammad Ghazali
Sport: Artistic Gymnastics
Level: Extended Diploma in Sport Management
Age: 20
Former Schools: Henry Park Primary School, Zhenghua Secondary School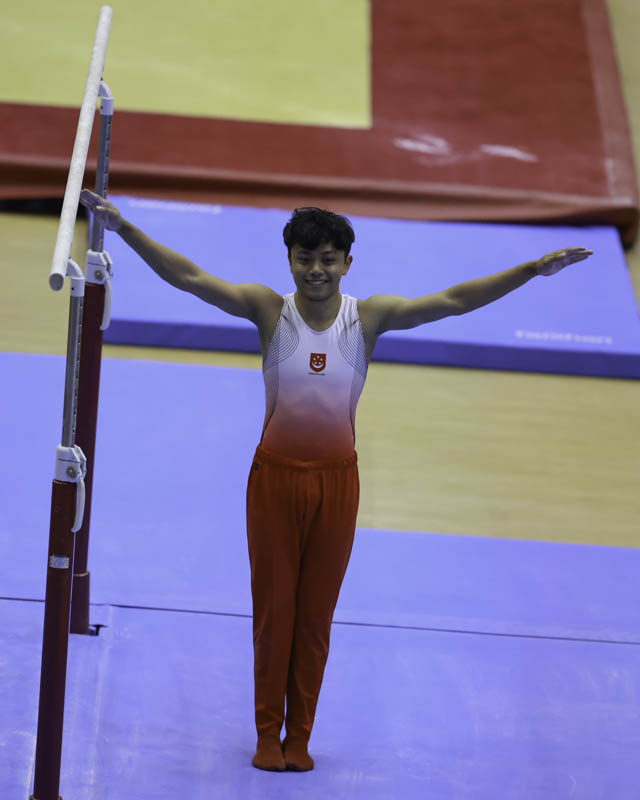 Artistic gymnast Mohammad Mikhail Haziq Mohammad Ghazali was first introduced to the world of gymnastics when his parents enrolled him to learn the sport recreationally when he was seven years old. The former Henry Park Primary School student also took up gymnastics and football as co-curricular activities. However, Mikhail chose to focus on gymnastics as he was performing well in the sport.
His turning point was his participation in an inter-school competition when he was 11 years old. Mikhail was a star gymnast at the competition, amassing three of the four golds on offer. Realising that he had a unique talent in gymnastics, Mikhail decided that he wanted to move on from school competitions to representing Singapore. At 13 years old, Mikhail started advancing his skills at the National Training Centre, and joined Singapore Sports School to further his sporting ambitions.
"When I entered Sports School, I was determined to train hard to participate in Major Games, especially knowing that Sports School would have the right environment to lead me to my goals," shared Mikhail. It proved to be a decision in the right direction as Mikhail made his debut at the 31st SEA Games in Hanoi, Vietnam, where he won a bronze medal in the Men's Artistic Team event. Mikhail also hopes to fly the Singapore flag high at his first Commonwealth Games in Birmingham.
He said, "I feel really honoured and thankful to be presenting Singapore in the upcoming Commonwealth games. I initially did not expect to be selected but I am grateful that my hard work is proving to be paying off."
Name: Izaac Quek Yong
Sport: Table Tennis
Level: Secondary 4
Age: 16
Former School: Ai Tong School
Izaac Quek Yong is a young paddler on the radar as he has already accomplished many notable 'firsts'. He was the first Singaporean to be World No.1 for players aged below 15. Within the year, he has made it to the final list of competitors representing Singapore at the Commonwealth Games – the first for Izaac. This is also the Secondary 4 student-athlete's first major Games outing.
Izaac has had a stunning run on and off the courts. He is one of the best table tennis players locally and is a role-model student-athlete in school, which earned him the Moo Soon Chong Outstanding Student-Athlete of the Year award for two consecutive years. Last year, Izaac flew the Singapore flag high at the World Table Tennis (WTT) Youth Contender series, where he won a total of 5 medals at the four stops in Europe. He was the title winner for U15 Boys' Singles in Lignano, Italy, and punched above his weight to clinch a gold medal in U19 Singles in Szombathely, Hungary. He also finished 3rd for U15 Boys' Singles in Wladyslawowo, Poland and Senec, Slovakia. In Hungary, Izaac also came in 3rd in U17 Boys' Singles. Izaac ended the year with a bang when he won 2 bronze medals in the World Youth Championships held in Portugal. Izaac, who has shown excellent sport performance consistently, was promoted to the national table tennis team in January 2022.
Izaac started table tennis training at Singapore Table Tennis Association's Bishan Zone Training when he was seven years old. He was picked to join the junior development squad and youth training squad. With his talent identified early, Izaac continued his sporting journey in Sports School.
On the lead-up to the Commonwealth Games, Izaac shared, "It was a tough three weeks of both technical and physical training. There were also days when we did video analysis of our opponents. I believe we did our best to prepare for the games and hope our hard work would pay off. I am really grateful to even participate in this major Games and to be playing alongside many of my seniors that I look up to like Koen Pang, Clarence Chew, and Ethan Poh. Since this is my first-ever time participating in such major Games, I hope I can make use of this opportunity as much as I can to gain experience. My goals are to just play to the best of my ability and learn from other better and stronger opponents."
Name: David Mok Pingwei
Sport: Weightlifting
Level: Diploma in Business, Year 1
Age: 20
Former Schools: Hong Wen School, Bendemeer Secondary School, ITE College Central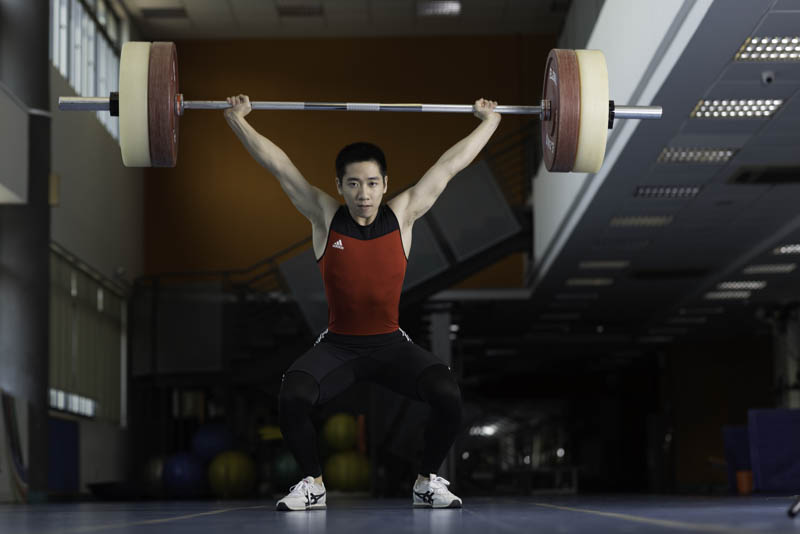 In a short one and half years since David Mok Pingwei started Weightlifting, he has already proved his mettle in lifting medals for Singapore in Weightlifting. He will be heading to Birmingham for his first major Games since he took up the sport.
Though David enjoyed sports, he had never pursued any sport seriously until his ITE lecturer-turned-coach Helena Wong asked him to try out Weightlifting during the Talent Optimisation Programme organised by National Youth Sports Institute. Before that, David's brush with sports has been playing table tennis as a hobby and rope-skipping as a co-curricular activity in Hong Wen Primary School, and playing Tchoukball in Bendemeer Secondary School.
After completing his Sport Management course in ITE, David joined Sports School's Diploma in Business Studies in 2022 to continue his studies. "My coach shared with me about the Sports School's programme, and I thought it would be a good decision to join as I wanted to extend my athlete-life runway before doing my National Service." Having studied at mainstream schools throughout his education journey, David appreciates the unique schedule that enables him to balance sports and studies and the flexibility accorded to student-athletes.
David admits that the lead-up to the Commonwealth Games has been mentally taxing and grueling, especially since he has to be careful with his food intake to keep within the weight category. However, he is determined to keep to the training plan and focus on performing well.
List Of Competitors Aquatics – Swimming
Maximillian Ang Wei and Amanda Lim Xiang Qi
Athletics
Kugapriya Chandran, Reuben Rainer Lee, Nur Izlyn Zaini and Veronica Shanti Pereira
Badminton
Loh Kean Yew, Loh Kean Hean, Teh Jia Heng, Terry Hee, Crystal Wong, Jessica Tan, Nur Insyirah Khan Abdul Hamid Khan, and Yeo Jia Min
Gymnastics – Artistic
Mohammad Mikhail Haziq Mohammad Ghazali
Gymnastics – Rhythmic
Sophia Ho Jin Wen
Table Tennis
Clarence Chew Zhe Yu, Ethan Poh Shao Feng, Izaac Quek Yong, Koen Pang Yew En, Wong Xin Ru and Zhou Jingyi
Weightlifting
David Mok Pingwei
Continue Reading →