Smita's 'Heart Work' Earns Commendation
ROAR Award Of The Month (May 2020)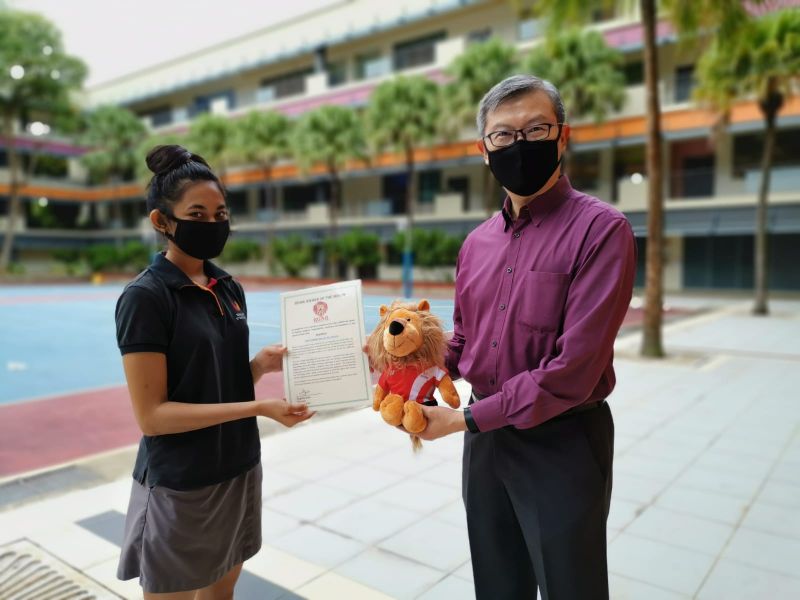 Smita Ishana Rai receiving the ROAR Award of the Month (May 2020) from Principal Ong Kim Soon
Driven by compassion for the less fortunate and a challenge by her mother, 16-year-old Smita Ishana Rai launched #SSPWECARE – The Invictus Fund in May 2020 to raise funds to help social service agencies in their daily operations, especially during the COVID-19 (Coronavirus Disease) pandemic.
Over two weeks, the fundraiser collected more than $7,500 through the Giving.sg platform which went to more than 80 social service agencies in their work with vulnerable groups in the community. To ensure the success of the project, the netballer developed a detailed communication plan and timeline, engaged her peers from the student leadership team and Netball Academy, as well as a group of parents to help with a publicity video. Smita also worked closely with school staff to execute her communications plan so as to help the needy.
On 3 July 2020, Smita received the ROAR Award for the month of May in recognition of her effort. The ROAR Award is presented to student-athletes who possess outstanding behaviour traits and exhibit the School Values of Respect, Integrity, Responsibility, Excellence and Resilience in their lives.
"We are proud of how Smita has demonstrated leadership, resilience and a heart for the less fortunate. She is truly a role model for all student-athletes," said Principal Ong Kim Soon.