All-Rounder Ashley Wins SPF Book Prize
2019 Singapore Police Force Book Prize Presentation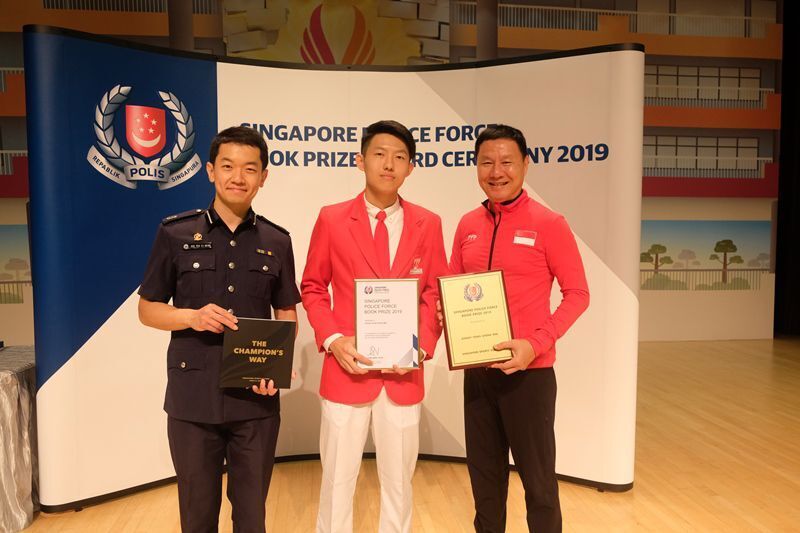 Coming from a team sport, footballer Ashley Yong Cheng Wai is used to sharing his wins with at least 10 other players. However, the Singapore Police Force Book Prize was not to be shared, as he snagged the award from about 40 shortlisted applicants.
Ashley received the SPF Book Prize from Deputy Commander Woodlands Police Division, Deputy Assistant Commissioner Mr Zed Teo in the presence of his peers on 9 July 2019.
Singapore Sports School IBDP Year 6's Ashley showed that he not only is able to excel in sport and studies, but is an exemplary role model to his peers and juniors in school, exhibiting good character traits and values. Just two months prior, Ashley was a recipient of the ROAR Award from Sports School for his kind deed towards a stranger.
In April 2019, Ashley was in a bus headed towards Clementi MRT Station when he noticed a primary school boy looking distressed. The International Baccalaureate Diploma Programme (IBDP) student-athlete chose to step forward and alleviate the younger boy's worry which had arisen from missing the bus stop he intended to alight at and was unfamiliar with his location.
Offering comfort and assistance in contacting the boy's mother, the 18-year-old footballer went the extra mile to accompany the boy at Clementi MRT Station to ensure the boy's safety till his mother arrived.