Shuttlers Win Historic Bronze
2022 Badminton Asia Team Championships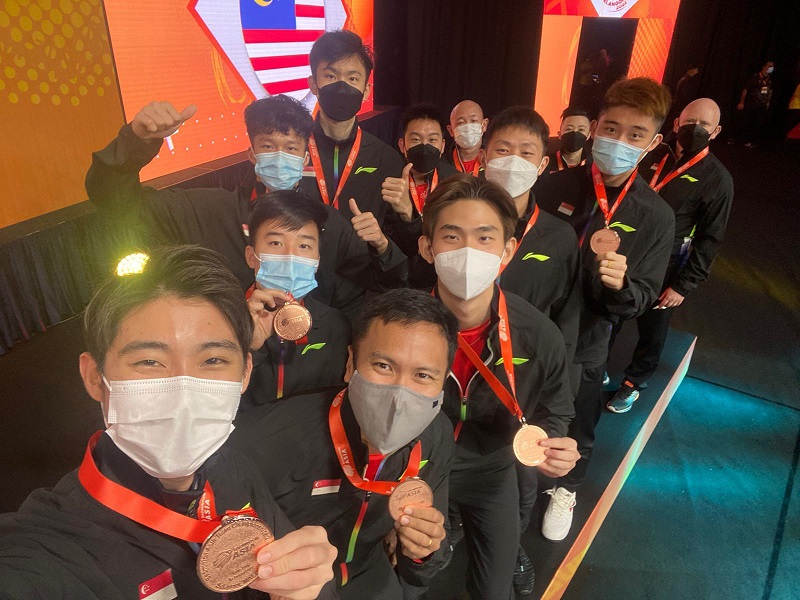 19 February 2022 was a day to remember for seven past and present shuttlers from Singapore Sports School. They were part of the nine-man contingent who won Singapore's historic joint bronze medal at the 2022 Badminton Asia Team Championships. They are post-secondary student-athletes Wesley Koh Eng Keat, Kubo Junsuke (both Diploma in Sport Management, Year 3) and Lim Ming Hong (Diploma in Business Studies, Year 2), and alumni Loh Kean Yew, Jason Teh Jia Heng and Terry Hee Yong Kai.
At the six-day competition held at Selangor, Malaysia, World Champion Kean Yew took the lead to score Singapore's first points in the Men's Singles semi-finals. He defeated Indonesia's World No. 55 Chico Aura Dwi Kuncoro 21-17, 21-19 in 38 minutes. The second point was scored by alumnus Jason Teh who put up a tough fight against Indonesia's Ikhsan Leonardo Imanuel Rumbay and won 18-21, 21-8, 21-9 in 59 minutes.
The two Doubles pairs - Wesley Koh and partner Andy Kwek Jun Liang, and Terry Hee and partner Danny Bawa Chrisnanta - had also fought hard but eventually succumbed to their Indonesian opponents in both the Doubles events, leaving Joel Koh to battle for the final match point to proceed into the finals.
However, Joel was also defeated by Indonesia's Christian Adinata 21-11, 21-14 in 35 minutes. This put Singapore in a joint third position with Korea and enabled them to book a spot in the Thomas Cup held in Bangkok from 8 to 15 May. To top it off, their feat at the competition has also pushed Kean Yew's world ranking up by three spots to 9th place, making him the 10th Singaporean to crack a badminton top-10 list.
Speaking of his experience at the competition, Wesley said: "This tournament has given me the chance to gain valuable experience by competing against world-class players. I have discovered new things about my play and gained a better understanding of what I need to improve on to raise my game to another level."
This competition has also given Wesley more confidence to achieve more. "Throughout the tournament, I have realised that our standard of play is not too far away from badminton powerhouses like Malaysia or Indonesia. We do have the potential to challenge them and beat them if we train with intent and conviction," shared Wesley.
Continue Reading →