New EW Barker Scholarship For Next Generation Of Champions
Singapore Sports School 15th Anniversary Celebrations Cum Awards Night 2019: Launch of EW Barker Scholarship
Posted: 15 February 2019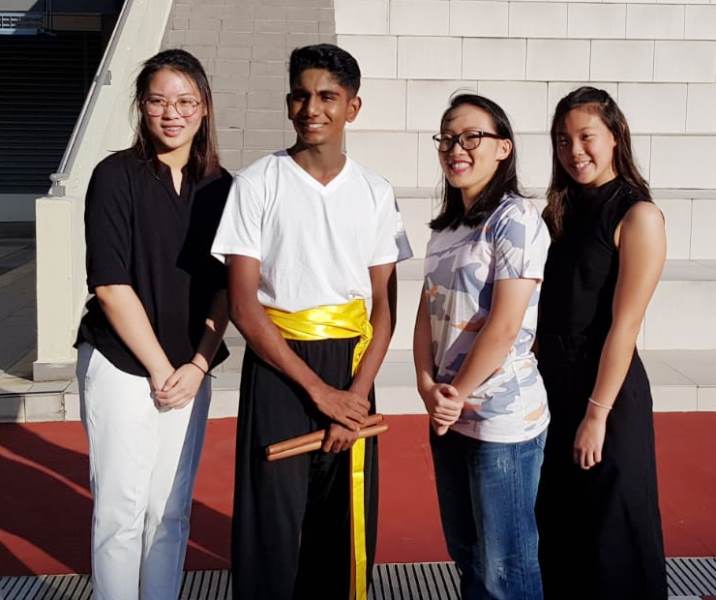 At the Singapore Sports School's 15th Anniversary Celebrations cum Awards Night 2019, guest-of-honour Deputy Prime Minister Tharman Shanmugaratnam launched the EW Barker Scholarship which recognises student-athletes who show both exemplary character and strong potential as high-performance athletes. This new scholarship serves as a boost to high-potential student-athletes chasing their sport dreams and will be offered to as many as 24 student-athletes each year in the secondary and post-secondary levels.
Funding for the Scholarship is from the EW Barker Endowment, supported by Temasek Foundation Nurtures. The EW Barker Endowment was set up in honour of the late Mr Edmund William Barker, a former law minister who was one of Singapore's pioneer leaders. He was also an avid sportsman and a fervent champion in Singapore's sport community.
Eighteen student-athletes are prospective recipients of the EW Barker Scholarship, including swimmer Clydi Chan (Secondary 3), runner Shan s/o Anandan (Secondary 3), netballer Raeka Ee Pei Ying (Secondary 4), and shooter Shirlene Hew Yun Ting (IBDP Year 5).
QUOTES
Clydi Chan
Secondary 3, Swimming Academy
I was beyond thrilled when I was told that I had been shortlisted for the EW Barker Scholarship. Anyone who had played sport or is playing sport will love Mr Barker. Mr Barker had a life after sport – in promoting sport. He was the first president of the Singapore National Olympic Council and in 1986, became the first Singaporean to be awarded the Olympic Order (Silver) for his outstanding merit in the cause of world sport and faithfulness to the Olympic ideal. There are some Sports School alumni who are following in his footsteps in promoting sport: Olympian sailor Jovina Choo the Continental Development Officer for the World Olympians Association; Commonwealth Games table tennis silver medallist Zena Sim the International Table Tennis Federation Head of World Cups and ITTF Challenge; Tao Li the Team Singapore Chef de Mission to the 2018 Youth Olympic Games; and Olympian hurdler Dipna Lim Prasad who has been serving on the Singapore National Olympic Council Athletes' Commission since 2014. I would also like to serve in the sports community after I stop swimming but I haven't gone to my first Sea Games yet – and I want to swim at the Olympics too, and medal. So, I shall focus on qualifying for my first Sea Games first.
***
Shan s/o S Anandan
Secondary 3, Track and Field Academy
Mr Barker competed in athletics, badminton and cricket, and represented Singapore in hockey when he was a schoolboy. Later, he was awarded the Queen's Scholarship and went to Cambridge to read Law. He demonstrated that sport and studies can mix. I am honoured to be considered for a scholarship named after him. I am already inspired and I know I will be even more motivated to do well on the track and in the classroom. Some of my schoolmates, through Values in Action activities, have been interacting with the elderly and feeble from old folks' homes. I hear that they are lonely and always welcome visitors. I will look at how I can become a befriender and visit them regularly, to help them pass the day in a more joyous way.
***
Raeka Ee Pei Ying
Secondary 4, Netball Academy
Mr Barker was the president of the SNOC for 20 years, from 1970 to 1990. He had done many sports in his younger days, being able to balance both sports and studies. He was instrumental in the development of Singapore sports, like motioning the construction of the first National Stadium and constantly raising the standards for Singapore sports. Without his contributions, the Singapore sports scene may not be as developed or well-known as it is today. To even be a prospect of this scholarship makes me feel very honoured as it is one of high prestige, and it pushes me to want to do better off and on the netball court. To me, it's not about how long the scholarship lasts for, because to be associated with this great man is already very invaluable. I appreciate the possibility of reaping the benefits of the scholarship in sport and academically.
***
Shirlene Hew Yun Ting
IBDP Year 5, Shooting Academy
I am honoured to be considered for the EW Barker Scholarship and to be associated with this great sportsman and statesman. Knowing that Mr Barker excelled in both his sports and studies and contributed a great deal to what Singapore is today, I am even more motivated each day to achieve my targets. Although I did not manage to qualify for the Youth Olympics Games last year, I continued to work hard and made it to the Asian Games. It was a great experience, but now, I am aiming for the Sea Games this year and in 2021, as well as the 2022 Commonwealth and Asian Games. In giving back to society, I will be volunteering at a local soup kitchen whenever I can. Sports School provides us with our meals whenever we need them, therefore I feel that we should not take for granted what others may not have.
***