Martina Wins Singapore's First Medal At Nanjing 2013 AYG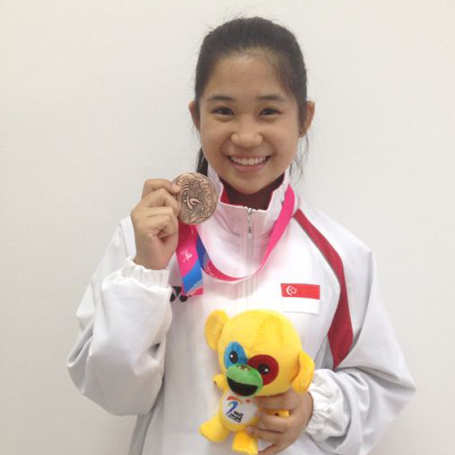 Shooter Martina Lindsay P Veloso won Singapore's first medal – a bronze – at the Nanjing 2013 Asian Youth Games' Women's 10m Air Rifle competition. Martina, 13, is the youngest shooter amongst the 38-strong field but age did not matter as she came within 0.1 point for a place in the final two and a shot at the gold medal.
Martina qualified for the Women's 10m Air Rifle final after finishing 5th during the qualifying round with a score of 409.8 over 40 shots. The top eight shooters qualify for the final. In the final, shooters fire an initial series of six shots, with an elimination after every subsequent series of two shots, until only the final two shooters are left.
After 10 shots, Martina was in second place with a score of 103.5, behind China's He Zichao, who shot a 103.9. Martina took over the lead from He Zichao after the 12th shot and maintained her lead after 14 shots with a score of 145.0 to He Zichao's 144.9. However, she could only manage to shoot a 9.5 in her 15th shot as she fell to second place after 16 shots with a score of 165.1 as He Zichao reclaimed the lead with a score of 165.4. Martina shot a 9.6 and a 10.5 with her next two shots and had to settle for bronze after she was edged out of gold medal contention by South Korea's Kim Jehee, who beat her by 0.1 point, with a score of 185.3 to Martina's 185.2 after 18 shots. He Zichao eventually claimed gold with a score of 205.3 to Kim Jehee's 203.9 after 20 shots.
"It was a case of 'so close yet so far'. I was 0.1 point away from a possible gold medal but nevertheless, I did my best and I am really happy to have won the first medal for Singapore at the Games," said Martina.
Martina's coach Lim Chea Rong, a former national shooter, was pleased with her performance.
She said: "It was a hard fought medal for Martina. She managed to pull herself up from fifth position after 6 shots, to be fighting for a spot in the final two, and narrowly missing it by 0.1 point. It was a really tight contest.
"Considering the fact that she had only started training for one-and-a-half years, and she has not even turned 14 yet, she has a lot of room for improvement. I believe she has enormous potential to do well in the sport."