Serving The Nation In Army, Sport
2019 NSF of the Year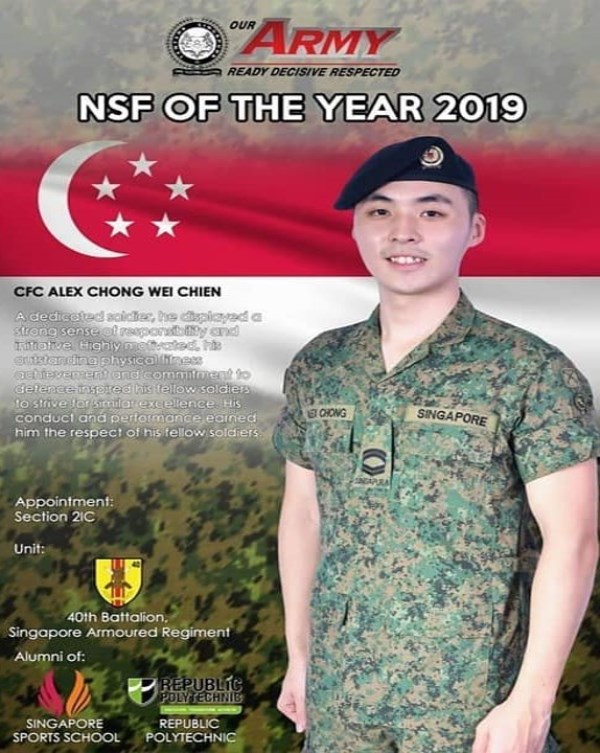 Singapore Sports School alumnus Alex Chong Wei Chien was conferred the 2019 NSF of the Year award by the Singapore Army. The award is presented to outstanding full-time National Servicemen (NSF) who has demonstrated professionalism, leadership and exemplary conduct during their National Service.
The former Bowling Academy student-athlete is now a Corporal First Class with the 40th Battalion of the Singapore Armoured Regiment. He was recognised for his "commitment to defence" which "inspired his fellow soldiers to strive for similar excellence".
Even in the midst of his National Service stint, Alex continued to serve the nation in sport, bringing glory to Singapore by winning the bowling Men's Trios bronze medal at the Jakarta-Palembang 2018 Asian Games. The bronze, won with two other Sports School alumni, Darren Ong Wei Siong and Muhammad Jaris Goh Ali Akbar Goh, ended a 12-year medal drought for Singapore in the event at the Games.
CITATION
"A dedicated soldier, he displayed a strong sense of responsibility and initiative. Highly motivated, his outstanding physical fitness achievement and commitment to defence inspired his fellow soldiers to strive for similar excellence. His conduct and performance earned him the respect of his fellow soldiers." Appointment: 2IC, Unit 40th Battalion, Singapore Armoured Regiment