Bowling Alumna Wins Scholarship
Asia Pacific Breweries (APB) Foundation Scholarship for Persons with Disabilities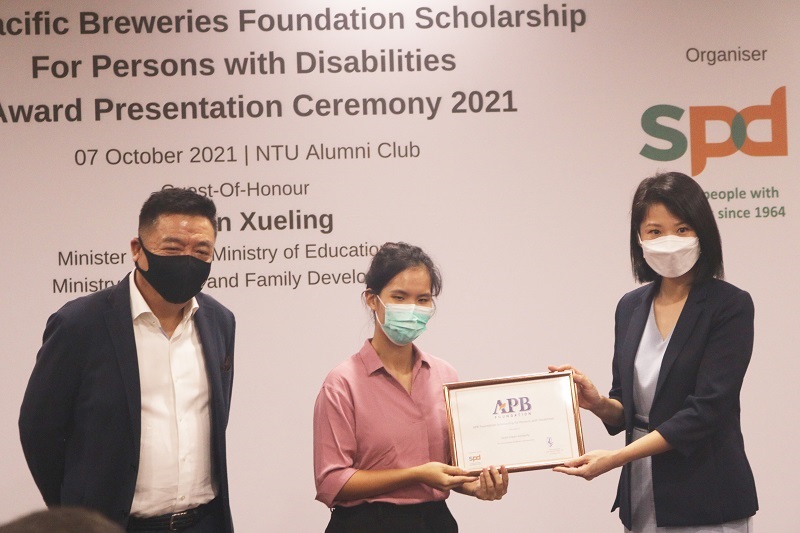 Bowling alumna Kimberly Quek is among the 6 recipients who received the Asia Pacific Breweries Foundation Scholarship for Persons with Disabilities on 7 October 2021. The scholarship will help support her educational expenses and aspirations.
At the age of 18 months, Kimberly was diagnosed with bilateral profound hearing loss, a hearing disability which left her being 95% deaf. However, her disability did not stop her in her pursuit for excellence. She learnt to lip-read at a young age and took auditory coaching classes till she was 10. Despite starting school one year later than her peers, she always topped the class academically. At Primary 5, she even started bowling seriously and discovered her talent in the sport. Through her hard work and passion for the sport, she was enrolled into Singapore Sports School where she found success at the bowling alley.
During her time in Sports School, she had represented Singapore and the school to medal at two world championships, 10 international and 18 national competitions. Academically, she was among the top student-athletes who graduated from the Class of 2019 IBDP cohort, leading her to win the Outstanding Deaf Student (Tertiary Education) Award 2019.
Kimberly is currently studying life sciences at the Yale-NUS College. She hopes that her achievements will encourage people to believe that some of the hardest things are achievable with diligence and determination.
Continue Reading →