Shooters Fired Up
ISSF World Cup, Cairo, Eygpt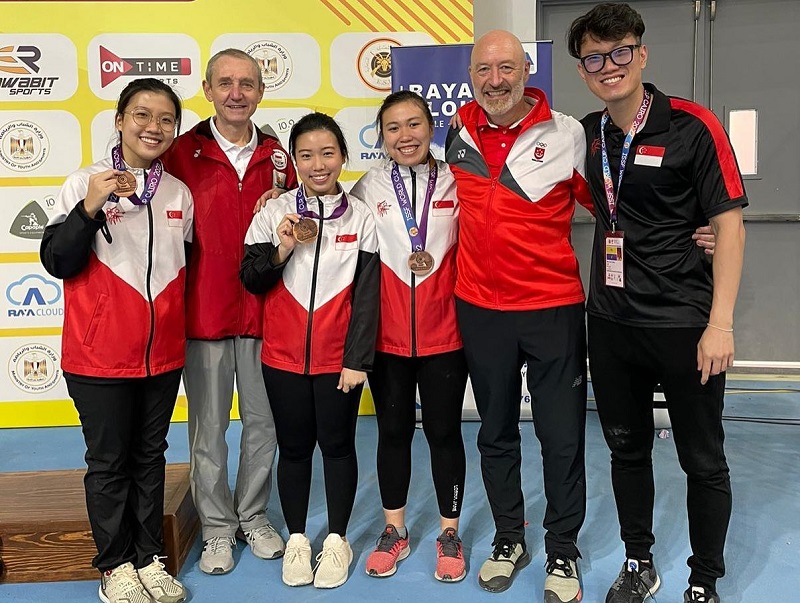 Photo: Singapore Shooting Association
After achieving success in several local and international competitions last month, including a successful outing at the ISSF Grand Prix in Jakarta, Fernel Tan Qian Ni (Diploma in Business Studies, Year 3) is going from strength to strength at the ISSF World Cup held in Cairo, Eygpt.
Teaming up with Ho Xiu Yi and sister Adele Tan Qian Xiu (both alumnae), the trio punched above their weights and defeated their Poland opponents to secure a bronze medal in the Air Rifle Women's Team event. Over the competition from 26 February to 8 March 2022, Team Singapore clinched a total of 3 medals – 1 silver and 2 bronze, putting Singapore's ranking in 15th place out of 60 countries on the medal table.
"The ISSF World Cup was the first World Cup for the team after two years of hiatus due to the pandemic, and the rush of adrenaline was real. I had to consistently remind myself to focus on the game and keep moving forward," shared Fernel.
On her achievement, the SEA Games-bound student-athlete said: "I'm delighted with the win, and the team didn't expect to make it through the top 8, especially since we were competing with a field of world-class athletes. Making it to the bronze medal match was even out of our expectations, but the team was still hoping for the best, and we fought very hard for every single shot in the finals."
Looking ahead, Fernel has also picked up a new event in the 50m Rifle 3 Positions Women event, and is looking to qualifying for the upcoming Asian Games and World Championships.
Continue Reading →