Passion For Teaching Celebrated In National Day Commendation Award
2020 National Day Award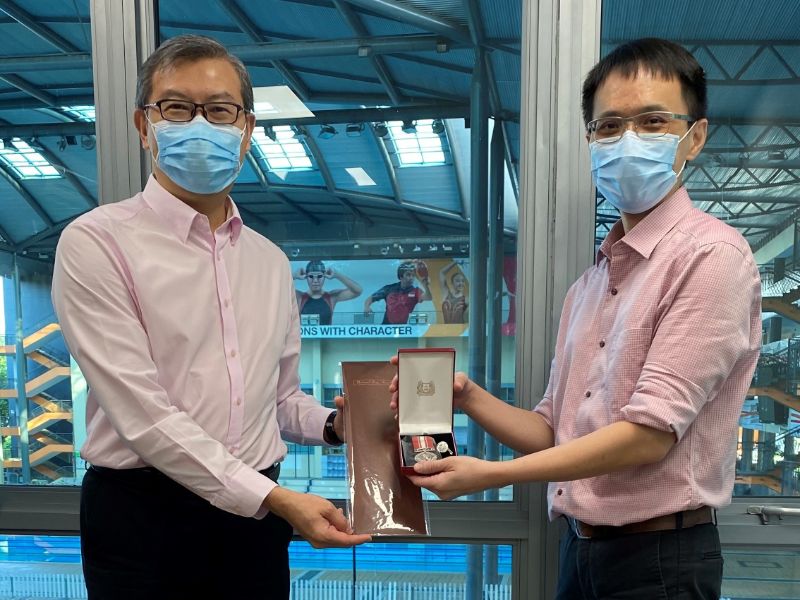 In recognition of his efforts in teaching and nurturing student-athletes, Tan Toh Hwee (Subject Head, Humanities) was given the 2020 National Day Award – Commendation Medal and necktie – by Principal Ong Kim Soon on 27 July 2021.
Instituted in 1996, the Commendation Medal is awarded to eligible candidates who have distinguished themselves through commendable performance and conduct, or significant efficiency, competence and devotion to duty. One criterion is that the person should be in the service of any organisation, association of body rendering services in the field of education.
Toh Hwee is certainly befitting of that title. From his 12 years of service as an economics teacher in Serangoon Junior College (2003 to 2014), to a two-year stint in the Academy of Singapore Teachers (2015 to 2017), to his nearly four years of service in Singapore Sports School (2018 to present), Toh Hwee has made significant contributions as an educator.
"I would like to thank past and present staff from Serangoon Junior College, Academy of Singapore Teachers and Singapore Sports School for helping me grow as an educator," said Toh Hwee of his award.
Dedicated and extremely well-liked as an economics teacher, Toh Hwee was involved in the Economics Instructional Programme Support Group and the syllabus review committee organised by Ministry of Education Curriculum Planning & Development Division. He also co-authored and published an article on Networked Learning Communities on Taylor & Francis and Professional Development in Education journal in 2020.
"Just like many teachers, I see myself as an educator who is trying to ignite and sustain student-athletes' interest in the learning of the subject that I am teaching, which is Economics. In order to motivate student-athletes, I role model the passion for learning in and out of the classroom. I believe it's important to be principled and consistent as the discerning student-athletes will see you for who you really are."
Continue Reading