PM Challenges Sports School To Be National Sports Academy Of Excellence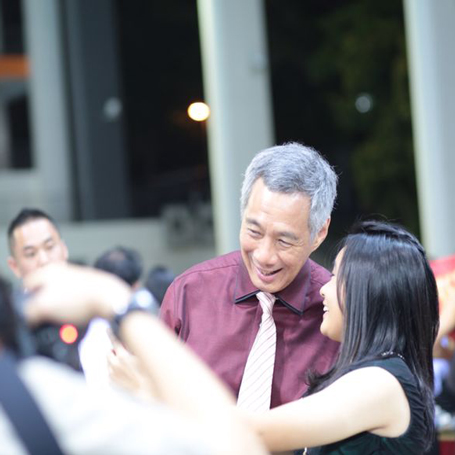 Prime Minister Lee Hsien Loong at Singapore Sports School's 10th Anniversary Awards Night on 22 January 2014. Picture by Alvin Toh.
Even as Singapore Sports School celebrates 10 years of excellence, Prime Minister Lee Hsien Loong threw it a challenge to become "a National Sports Academy of Excellence 10 years from now".
PM Lee, who was the guest-of-honour at the School's 10th Anniversary Awards Night on 22 January 2014, said the School had done well, but needs to continually review its work to stay relevant in the changing sporting landscape.
He noted that in Southeast Asia, other countries are investing significant resources to develop their athletes and they are closing the gap with Singapore, including in sports which Team Singapore does well. PM Lee cited Vietnam putting up a tough fight in swimming and table tennis at the Naw Pyi Taw 2013 Southeast Asian Games.
PM said more youths are aspiring to become top sportsmen, partly thanks to Sports School's success.
PM said to stay relevant, a strategic review committee will be formed to study ways to ensure that Sports School's student-athletes continue to be equipped with the best, both in sports and studies.
PM Lee said the review will study how the best sports academies in the world design their academic curriculum to meet the demands of an intensive sport and training regime, and build partnerships with polytechnics and universities in Singapore and overseas to offer more academic pathways to student-athletes such as the customised Diploma in Sports and Leisure Management programme with Republic Polytechnic. The strategic review will also look into ways to strengthen the Sports School's role in the sports eco-system, for example, by working with Singapore Sports Council and National Sports Associations more effectively, to develop promising athletes in the mainstream schools, too.
"Let's take a fresh look. We've come a long way. Let's see how we can do better, and what we should do next," said PM Lee. He then challenged the Sports School to become the national sports academy of excellence within the next 10 years.
The strategic review committee will be led by Ms Yeoh Chee Yan, Permanent Secretary of Ministry of Culture, Community and Youth, and Mr Richard Seow, Chairman of Singapore Sports Council. The strategic review committee is expected to submit a proposal by the end of the year.
In response to PM Lee's announcement, Ms Yeoh, who is Chairman of the Sports School's Board of Directors, said: "The Singapore Sports School has achieved much in its first decade and is poised to take off as a national sports academy of excellence. I look forward to working with Chairman of the Singapore Sports Council, the strategic review committee as well as the School Board and management team, to bring the School to greater heights. In the next lap, I hope to see us work even more closely with our partners to provide aspiring athletes every opportunity to pursue their dreams to do Team Singapore proud."
Mr Seow said sports and education are two vital areas that have great impact on the quality of life.
"I am honoured to co-chair this strategic review committee with Chee Yan, and am pleased to be able to play a small part in helping our young athletes achieve their sporting potential, to bring pride and enjoyment to the community.
"As Chairman of the Singapore Sports Council, I see this review as a terrific opportunity to continue the collaborative work done by the National Sports Associations, the Singapore National Olympic Committee, the Singapore Sports School and the Singapore Sports Council. Our focus must be on our athletes, to provide them with well thought out and defined pathways, that will help them achieve sporting excellence and bright futures ahead," said Mr Seow.
PM Lee also launched the Sports School's 10th Anniversary commemorative book, "Rise To The Challenge". On a copy of the 192-page book which will be displayed in The Champions' Heritage Centre, PM Lee wrote: "Go forth and excel, for the Sports School and for Singapore!"
Mr Tan Teck Hock, who joined the Sports School as principal on 15 December 2013, reiterated the Sports School's mission to help talented student-athletes achieve their sporting ambitions and have a good education.
"It takes a village to raise a child, and a nation to raise a champion. We have come this far because we can work together for Team Singapore – because of strong support from MCCY, MOE and SSC, the encouragement from parents, the close partnership with the sports community and tertiary institutions – and not least of all, because of our dedicated staff. The Singapore Sports School will endeavor to groom more champions for Team Singapore," said Mr Tan.
Quote
"The School has provided a viable professional pathway for its student-athletes, for example, the through-train Diploma in Sports and Leisure Management with Republic Polytechnic. This has benefitted athletes like Isabelle Li. Isabelle won a Women's team gold and Singles silver at last month's Sea Games.
"This May, she will be graduating from Republic Poly with a near-perfect GPA. She can go on to work in the sports industry, while continuing to train for the Rio 2016 Olympic Games. Good luck, Isabelle. Work hard, and go for it."