Sports School Turns 16!
School Anniversary Lunch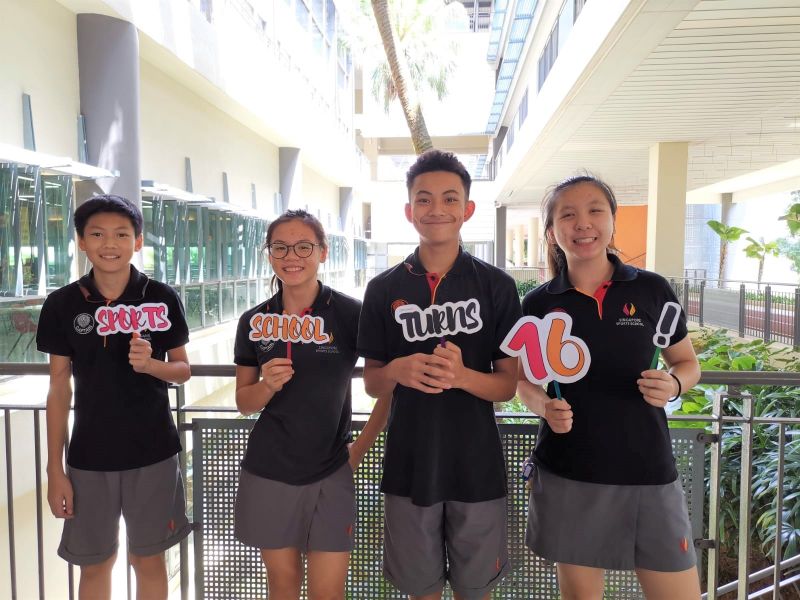 It has been a yearly affair for student-athletes and staff to gather at The Arena on 2 April to celebrate the school anniversary over a sumptuous meal together. Due to enhanced precautionary measures taken in consideration of COVID-19, celebration were done differently this year with the school population having the lunch in a staggered manner.
Mr Ong Kim Soon, Principal, also addressed the school in a different way this year. Over the public announcement system, he shared: "Today is a special day for our school. 16 years ago on 2 April 2004, our then Prime Minister Mr Goh Chok Tong officially opened the Singapore Sports School. In his speech, he challenged the first batch of 141 pioneer student-athletes to contribute to Singapore by winning in international sports competitions, and also building a career and contributing to society as good citizens.
For you, these aspirations start on the day you enter Sports School; and it starts with you building your character – good character of a true athlete, grounded on Integrity, Excellence, Respect, Responsibility and Resilience. Besides many Olympians and World Champions who have done Singapore proud, Sports School has also produced many alumni who have gone on to serve our community as good businessmen and women, civil servants, lawyers, administrators, and in many other fields. These alumni are fulfilling the vision of what Sports School is set out to do. And I know you will be able to do the same as you pursue your dreams," said Mr Ong.
He also cheered the school on and motivated them to stay positive during this difficult time.
"Today, many local and overseas competitions have been cancelled or postponed, including the Olympics. But the day will come when we overcome the Covid-19 virus and we can resume training at full capacity to compete again. As athletes, we always focus on training to become better. When we overcome it one day, we know it will be worth the struggle and it will be worth the fight. So, do not lose heart, whether it is in the fight to overcome the virus, to improve ourselves, to master our studies, or to overcome negative thoughts, let us put up a good fight!"