Home
> Admissions > Admission to Polytechnic Diploma Programmes
Admission to Polytechnic Diploma Programmes
Overview
Singapore Sports School collaborates with Ngee Ann Polytechnic and Republic Polytechnic to offer customised athlete-friendly diploma programmes leading to the following qualifications:

The customised diploma programmes are conducted at Sports School's campus and provides student-athletes a flexible academic programme which helps them balance the demands of sport and studies.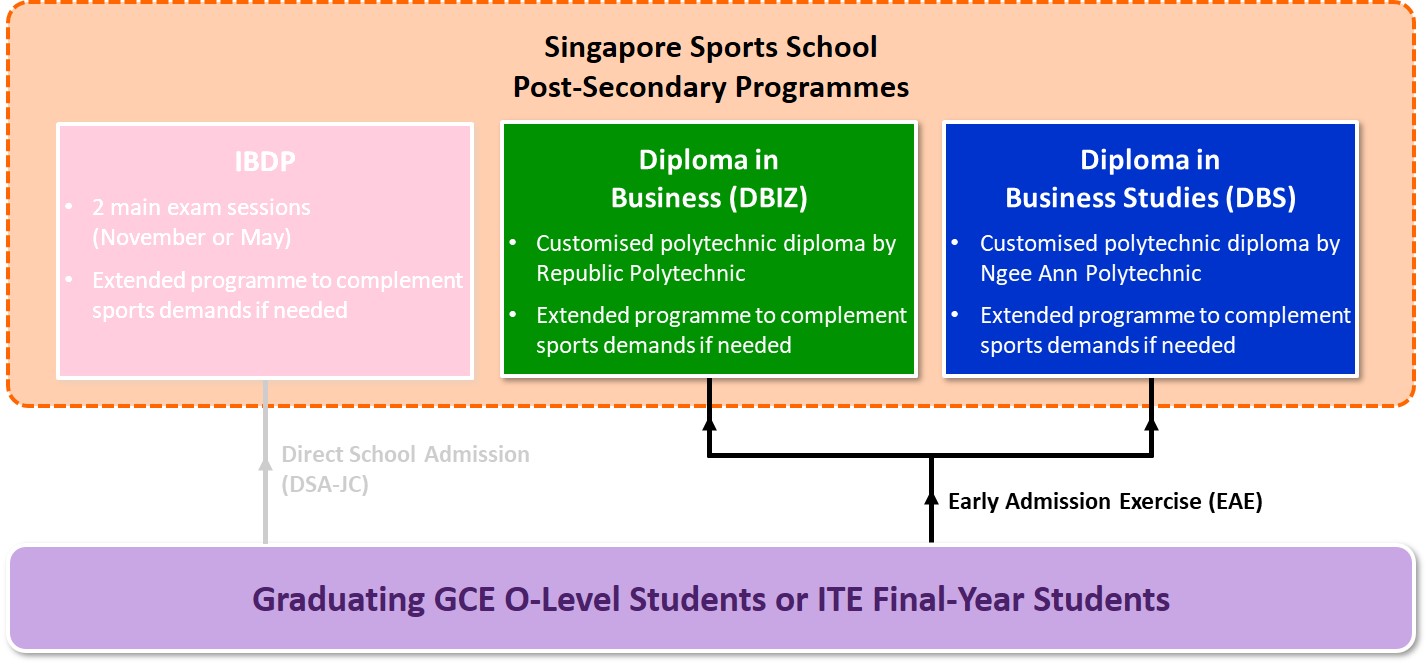 Eligibility Criteria
Polytechnic EAE is open to graduating GCE O-Level students and final-year Nitec and Higher Nitec students from the Institute of Technical Education (ITE). Successful applicants under the Polytechnic EAE will be given conditional offers before taking their GCE O-Level Examinations, or before their final Grade Point Average (GPA) for Nitec or Higher Nitec are released.

Shortlisting Criteria For Conditional Offer
Applicants should:
Have represented Singapore Schools/National Youth/Age-Group teams, or attained outstanding sport achievements
Have demonstrated good conduct
[For graduating GCE O-Level students] Have offered relevant subjects and achieved good academic performance in Secondary 3 and 4 school examinations
[For final-year ITE students] Be doing relevant Nitec or Higher Nitec courses for the two Polytechnic programmes and achieved good performance
Academic Criteria For Those Given Conditional Offer
[For graduating GCE O-Level students] Meet the required ELR2B2 and Minimum Entry Requirement (MER) in GCE O-Level Examinations
[For final-year ITE students] The minimum GPA requirements for each polytechnic course are:

a) Final net GPA 3.5 and above for Nitec holders (including CCA bonus points); and

b) Final net GPA 2.0 and above for Higher Nitec holders (including CCA bonus points).
How To Apply
Under "Applying to join Singapore Sports School at the academic level", choose either:
Post-Secondary NP-SSP Diploma in Business Studies (DBS), or
Post-Secondary RP-SSP Diploma in Business (DBIZ)
Please get ready the documents
(if any) related to learning disabilities or special education needs
.
Combine documents into
one
pdf/png/jpeg/jpg file
[Max File Size: 4 MB]
After you clear Sports School's shortlisting, you may then submit your application in the
EAE Portal
during the EAE application window from:
8 to 14 June 2023 for final year ITE students, and
22 to 28 June 2023 for graduating O-Level students.
After that, please wait for the respective polytechnics to contact you for further selection process, before a conditional offer can be granted by the respective polytechnic.